Some cancers make a big entrance with big symptoms. Others move in quietly and might be hard to spot. Like thyroid cancer.
---
This cancer attacks the thyroid gland in your neck, often without symptoms. Many times, people only learn they might have thyroid cancer when a healthcare provider finds a lump (thyroid nodule) during a routine checkup or unexpectedly when they're tested for something else.
Hearing you might have cancer can leave you with many questions and worries. But there's good news. Thyroid cancer is highly treatable. At Cleveland Clinic, we'll quickly run the tests you need to get you started on a personalized treatment plan — one that always keeps you and your unique diagnosis in mind.
Why Choose Cleveland Clinic for Thyroid Cancer Care?
Personalized care:
Our providers use the newest molecular testing to tailor your treatment and make it the most effective for you. We'll take a small sample of your thyroid cells (biopsy) and take a close look at them. This helps us design a treatment plan especially for you.
Skilled collaborative providers:
Our thyroid cancer team and other providers will work together to decide on the treatment plan that will give you the best possible results. Meet our team.
Compassionate care:
Cancer is tough. We get that. That's why our providers are not only experts at their jobs, but they're compassionate people, too. They're always ready to listen and support you.
High-volume specialty:
Cleveland Clinic has the largest thyroid cancer surgery program in Ohio and nearby states. We do more than 1,000 surgeries a year, giving us a high level of experience.
National recognition:
U.S. News & World Report consistently ranks Cleveland Clinic a top hospital in the nation. Newsweek has also named us a top hospital in the world.
Specialized knowledge:
Our specialists are experts in robotic endocrine surgery, including robotic thyroidectomy (thyroid removal). This minimally-invasive procedure removes all or part of your thyroid gland through an incision under the armpit (axilla) rather than the neck.
Virtual visits:
We know treatment can be hard — and sometimes you might not feel up to an in-person follow-up appointment. Our virtual visits give you a way to meet with your providers one-on-one from home. All you need is an internet connection and a smartphone, tablet or computer.
Thyroid Cancer Diagnosis at Cleveland Clinic
At Cleveland Clinic, we believe in comprehensive care. That means if you choose us, you'll have a team of specialists working hard to make sure you get all the care you need when you need it. In addition to our expert oncologists, your team might include:
Otolaryngologists (ear, nose and throat specialists).
Surgeons.
Pathologists (tissue specialists).
Radiologists (imaging specialists).
Geneticists.
Nurse practitioners.
Physician assistants.
At your first appointment, your provider will talk with you about your medical history and do a physical exam. They'll pay special attention to your thyroid, examining any nodules (unusual lumps of cells) they find. If they find nodules, they'll do an ultrasound of your neck to figure out how many nodules you have and how big they are. The ultrasound can also tell us if any of your lymph nodes have cancer cells.
If your healthcare provider thinks you might have thyroid cancer, they may order more tests to confirm or rule out the diagnosis. These tests may include:
A cancer diagnosis can be a real shock. You might be feeling anxious, worried and overwhelmed. You want to feel confident that you've chosen the right care team — one that will listen to your concerns, answer your questions and, most importantly, give you the best possible care. That's why we encourage second opinions.
Our highly skilled thyroid cancer team is here for you. They'll take the time to answer questions, explain treatment options and offer their expertise. And because we know that cancer doesn't wait, we always try to schedule your appointment with us as soon as possible. A second opinion can give you peace of mind knowing that you're in the most capable, compassionate hands.
Thyroid Cancer Treatment at Cleveland Clinic
Once we know for sure that you have thyroid cancer, we'll start working with you to build your personalized treatment plan. Your plan will include the type of treatment you'll have, when you'll have it and your recovery goals. We'll also let you know if there are any clinical trials available.
Surgery
For most patients, thyroid cancer treatment includes surgery. Your surgeon may remove either part of your thyroid (lobectomy) or the whole gland (thyroidectomy). Our nationally recognized providers deliver excellent results using the newest surgery techniques, like robotic thyroidectomy, whenever possible. You and your surgeon will talk about which surgery is right for you.
Hormone replacement therapy
If you have surgery to remove your thyroid, you'll need hormone replacement therapy to make sure your body works properly because you won't be able to make your own thyroid hormone. Your endocrinologist (hormone specialist) will give you a pill that you'll take every day. This pill will supply your body with a synthetic thyroid hormone and decrease the chance of thyroid cancer coming back.
Other thyroid cancer treatments
In addition to surgery and hormone replacement therapy, your provider might include other treatments in your care plan like:
Follow-up care
Once your treatment ends, you won't go back into the world without support. You'll keep getting regular follow-up care with your providers so we can prevent and treat any side effects that may happen after thyroid cancer treatment. We'll also continue to keep a close eye on you so we can catch any changes quickly — when they're most treatable.
Taking the Next Step
Hearing that you have cancer — even a highly treatable one — can change your world in an instant. We understand how stressful this can be and want you to know that you don't have to face your thyroid cancer journey alone. Cleveland Clinic healthcare providers will be by your side, supporting you every step of the way so you can feel your best for years to come.
Request an Appointment
Getting an appointment with Cleveland Clinic's thyroid cancer experts is easy. We're here to help you get the care you need.
---
Billing & Insurance
Manage your Cleveland Clinic account. Find billing information and financial assistance, plus FAQs.
---
MyChart
Securely access personalized health information at any time, day or night.
---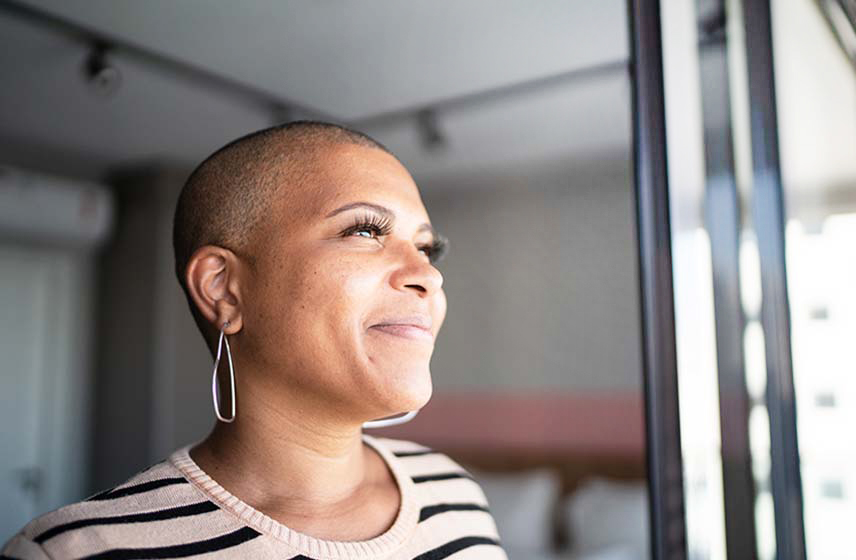 Survivorship
Learning you have cancer can be stressful, shocking and challenging. From the moment you get the news, you're a survivor. As you face the challenges that go along with cancer treatment and recovery — physical and emotional — we'll be right there with you.
At Cleveland Clinic, survivorship care is one part of your journey. We offer a wide range of services, resources, clinics and support groups to help with any physical, emotional, financial and spiritual needs you might have related to your cancer diagnosis. Lending a helping hand along the way, we want you to not only survive, but thrive on this journey and beyond.