It might start with a pain in your side — like maybe you've pulled something. But it turns out something's up with your usually quiet kidneys.
---
Whether you've started to have constant side (flank) pain, blood in your pee (hematuria) or increasingly high blood pressure, it's important not to ignore these warning signs. Kidney cancer can be silent in its early stages — until the tumor gets bigger and causes noticeable problems and pain.
If you're diagnosed with kidney cancer, you might be in a state of disbelief. How could this possibly happen? And why did it happen to me? A cancer diagnosis of any kind is scary, but knowing what to expect and having an expert care team you can trust can make all the difference. You'll get that at Cleveland Clinic. Our healthcare providers are here for you. They'll give you the care and support you need to make your way through your kidney cancer diagnosis, treatment and recovery. We won't let you go through it alone.
Why Choose Cleveland Clinic for Kidney Cancer Care?
Kidney Cancer Diagnosis at Cleveland Clinic
At your first appointment, your provider will give you a physical exam and talk with you about your symptoms and your medical history. Your provider might also order tests to find out if you have cancer.
Urinalysis
Sometimes, you might have blood in your pee — but you can't see it. It can be microscopic. That's why we'll likely have you pee into a cup and test this sample in our lab under a microscope.
Blood tests
We'll take a few blood samples and test them to see how many red blood cells you have. If you have too few, you might have anemia, which is common with kidney cancer. We also look for other things that could signal the possibility of kidney cancer or that can affect how we treat it — like how much of a waste product called creatinine is in your blood using a creatinine clearance test.
Imaging tests
Your providers might have you do one or more imaging tests to get pictures of your kidney so they can take a closer look at what's going on in there. These may include:
CT scan: This special X-ray uses a computer to take pictures inside your body.
MRI: This test uses large magnets, radio waves and a computer to see inside your body.
Ultrasound: This test uses high-frequency sound waves to create pictures displayed on a monitor. It can show if there's a solid mass (tumor) in your kidney.
Biopsy: During this procedure, a thin needle is inserted into the tumor, and a small sample of your tissue is removed. You'll have local anesthesia, so you won't feel any pain or discomfort. A pathologist will look at the tissue under a microscope to check for cancer cells. A kidney biopsy isn't always reliable, so your provider may or may not recommend this test.
Getting a second opinion for kidney cancer
Any cancer diagnosis is alarming and can come as a shock. Finding out you have kidney cancer can leave you wondering what's next and how to make sure you have the very best care. It's important to feel confident in the team that will help you navigate this journey. At Cleveland Clinic, we encourage second opinions. You can trust our highly skilled kidney cancer providers to answer your questions and listen to your concerns. We can help confirm a diagnosis and offer our expert advice on treatment options.
And there's no need to worry about upsetting your current provider if you reach out to us. We consult with other providers all the time and would never do anything to upset your relationship with yours.
We also know that timely diagnosis and treatment is key to a good outcome, so we always try to get you in to see us for a second opinion as soon as possible. We want you to feel in control of your care and have peace of mind knowing you're in capable and compassionate hands.
Meet our kidney cancer care team
Choosing Cleveland Clinic for kidney cancer diagnosis and treatment means you'll get support from a team of experienced providers across different specialties. They all work together to confirm your diagnosis and craft a detailed treatment plan that's personalized for you, your health and your needs. Your care team could include:
Radiologists (imaging specialists).
Pathologists (body tissue specialists).
Nurse practitioners.
Physician assistants.
Locations
Our healthcare providers see patients at convenient locations throughout Northeast Ohio and Florida.
Kidney Cancer Treatment at Cleveland Clinic  
If testing confirms you have kidney cancer, you and your care team will meet to talk about the best treatment for you. Most people with kidney cancer will undergo treatment.
If your tumor is small and not aggressive (growing quickly), your team may recommend active surveillance of the disease — or keeping a close eye on it. You'll meet regularly with your care team for health checks and to make sure the tumor isn't changing or growing. Otherwise, surgery is the most common treatment option.
Surgery
Your provider may recommend removing only the cancerous part of your kidney (partial nephrectomy) or removing all of your kidney, the surrounding tissues and maybe even some lymph nodes (radical nephrectomy). Our surgeons use minimally invasive and robotic procedures whenever possible. We've also perfected the minimally invasive single-port partial nephrectomy, which speeds up recovery. Your provider will let you know if this procedure is right for you.
Ablation
This procedure uses a hot electrical current (radiofrequency ablation) or cold gas (cryoablation) to destroy cancer cells. A needle is placed into the tumor (no cuts) under local anesthesia, and the tumor is heated or frozen.
Radiation therapy
If you only have one kidney or can't have surgery, your provider might recommend radiation therapy to ease your symptoms. This treatment typically uses high-powered X-rays to kill cancer cells.
Targeted drug therapy
We might use targeted drug therapy when surgery isn't an option. This treatment blocks genetic mutations (changes) that can turn healthy cells into cancer.
Immunotherapy
Immunotherapy uses medications to boost your own immune system and destroy cancer cells. Immunotherapy is revolutionizing the way we manage advanced kidney cancer, but it's typically not used for earlier cancer that can be cured by surgery.
Chemotherapy
Chemotherapy isn't typically used to treat kidney cancer. But it can sometimes be helpful after immunotherapy or targeted drug therapy.
Taking the Next Step
Dazed and confused. And maybe a little scared. You might feel all of that and more after a kidney cancer diagnosis. Knowing you can rely on a world-renowned cancer team for expert care and compassionate support is the first step toward coping with the challenges of your life-changing diagnosis. And we're here to help you move forward toward a healthier future.
Appointments
Getting an appointment with Cleveland Clinic's kidney cancer specialists is easy. We're here to help you get care.
---
Billing & Insurance
Manage your Cleveland Clinic account. Find billing information and financial assistance, plus FAQs.
---
MyChart
Securely access your personal health information at any time, day or night.
---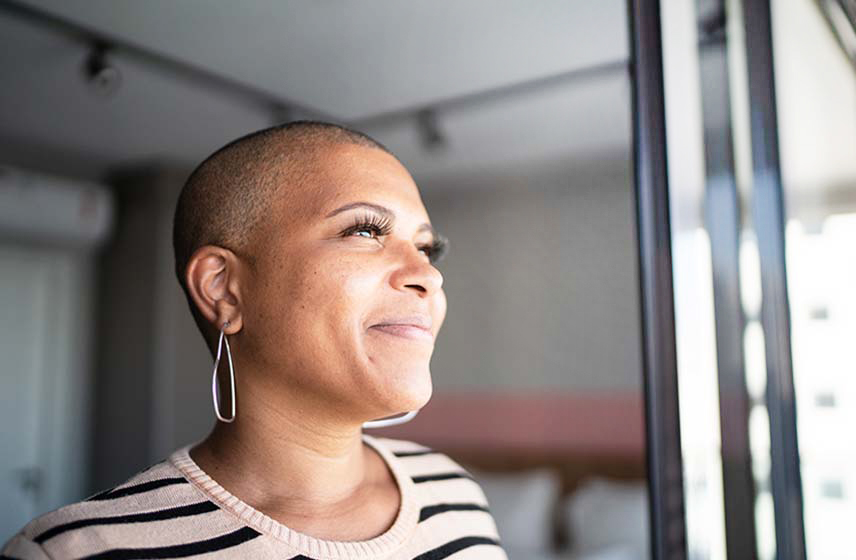 Survivorship
Learning you have cancer can be stressful, shocking and challenging. From the moment you get the news, you're a survivor. As you face the challenges that go along with cancer treatment and recovery — physical and emotional — we'll be right there with you.
At Cleveland Clinic, survivorship care is one part of your journey. We offer a wide range of services, resources, clinics and support groups to help with any physical, emotional, financial and spiritual needs you might have related to your cancer diagnosis. Lending a helping hand along the way, we want you to not only survive, but thrive on this journey and beyond.