How can an organization standardize and sustain a culture of empathy from the bedside to the board room? In this episode, Carol Santalucia, the founder of Cleveland Clinic's Communicate with H.E.A.R.T. ® program, reveals the importance of listening to caregivers.
Subscribe: Apple Podcasts | Google Podcasts | Blubrry | Stitcher | SoundCloud | Spotify
Podcast Transcript
Adrienne Boissy:
Welcome to another episode of Studies in Empathy, a Cleveland Clinic podcast, exploring empathy, in patient experience. I'm your host, Adrienne Boissy, Chief Experience Officer here at the Cleveland Clinic in Cleveland, Ohio. I'm very pleased to have Carol Santalucia, Director of Patient Experience Business Development here. Carol, welcome to Studies in Empathy.
Carol Santalucia:
Thank you.
Adrienne Boissy:
Well, we've known each other a long time, so this feels like an extra treat, but talk to me about where your journey with empathy began.
Carol Santalucia:
Great. Well, it's true. We have known each other a long time, and it's a treat for me as well. Really I have to say it's a treat anytime I get to talk about empathy, talk about compassionate communication. I started at the Cleveland Clinic in 1983, many, many, many years ago. In my early job I was an ombudsman, and I think that's when we first met.
I loved that job. Sometimes people thought that was a little bit crazy, that I would love a job where people came to me with problems, but I loved it because all I had to do was listen to them and empathize with them, and then try to solve their problems. It almost always worked. Not always, but it almost always worked, and sometimes it felt like magic to me.
I did that for many, many years and went on to manage the department, but what really I think changed my career here was that I started to understand that what I thought was easy, those skills I just talked about, wasn't easy for everyone. I learned that some of my brilliant, compassionate colleagues would send people to me, rather than try to deal with someone that was upset.
They did it for the right reason. They did it because they knew I would help them, and I would help them. I would do it efficiently, I'd be happy to do it. The problem was that the patient felt they didn't care and I did. I knew that wasn't true. I knew that I wanted to change that. I wanted to teach the skills that came pretty naturally to me.
Adrienne Boissy:
I think it's important to remind our audience that you are really the creator and founder of the Communicate with H.E.A.R.T.® program, which is around how do we train all aspects of communication, particularly to people who are interacting with other caregivers, but in particular patients and family members.
Carol Santalucia:
Right.
Adrienne Boissy:
In our world, ombuds is what might be a patient relations person or a patient liaison, I hear them called.
Carol Santalucia:
Right. There are a lot of different names.
Adrienne Boissy:
Yeah. We have quite a crew of them here, because on occasion we do get complaints or patients have concerns about their care. Talk to me, in that work, what you found is the most important. You talked about listening, but as we think through apology and how do we recover that service, talk to me about what you learned during that time.
Carol Santalucia:
Sure. It's why the Respond with Heart program made so much sense to me, because as I thought about what it was I did without even thinking about it, it was hearing the person, really listening to them. Then it was showing some empathy, really that I understood their frustration. Then it was saying I'm sorry, and after that it was really responding to the problem and then thanking them for giving me the opportunity. That became a very easy guideline for me to teach others to do this in their own words, in their own authentic way, but to do those things. To hear, then to empathize, then to apologize, then respond and thank.
I often talk about the fact that if you try to solve the problem before you do those things, it doesn't work. People don't hear you because they're angry. It really delights me when I hear somebody tell me that the light bulb went off. The other day I ran into a physician who said that frequently, when she is ready to respond to someone who is upset, she's ready to give all these reasons, and then she says, "No. Do the H, do the H, do the H," which means hear them, and I really liked that. It's like that makes sense to me.
Adrienne Boissy:
A couple things you mentioned, right? We talk about the "I understand." If you're saying "I understand" to somebody too early, that often backfires in somebody's lap. Have you seen that happen?
Carol Santalucia:
Yes. Yes. Actually, "I understand" is not a thing to say, because you don't always understand what they're going through. I think that a better way to show empathy is to say, "I can see that this is frustrating," or, "I can see that you're upset," or, "Tell me more about this. I want to hear." It's natural sometimes to say "I understand" or to say "I'm sorry" before you've done anything else, and I see so many times where that just doesn't work.
What I love about this is that it's not intuitive to everyone, and so when you can teach them these skills, it makes them feel so much more confident and secure and able to do the work that they come to work to do. People come here because they really want to help people. I am convinced of that. They want to do a good job and sometimes it gets frustrating, and I think that this is an opportunity to help them.
In fact, I do want to share with you, I was in a meeting once with a group of surveyors. I think they were here from the Joint Commission or maybe Magnet, and they asked a question of a group of nurses. This was years ago, probably decades ago. They said, "What do you do around here for customer service?" One of the nurses said, "Well, we have this Respond with Heart program, but that's really for us. It really helps us know how to respond."
I loved that, because it's true. It is for our caregiver. They're our most valuable resource. If we can empower them and give them not necessarily the words, but the idea, the guidelines around how to respond in those situations, they feel better.
Adrienne Boissy:
Something else I sometimes see our caregivers do is intervene, saying, "I'm sorry, but." my two least favorite words paired together. You I'm sure have seen that in your own practice. What do you encourage people to say? What should that sound like to say?
Carol Santalucia:
Instead of saying "but," say "and." It's so cute, because again, that's one of those things that you wouldn't think of, and the reality is, if every time you're ready to say "but" you say "and" instead, it has a different meaning. It's a nuance, but it's a different meaning.
When you say "but," you negate what you just said, and people hear it that way. If you say, "I am so sorry, and I really want to help you, what can I do," that has a different meaning than, "I'm sorry, but," because then it feels like you're saying, "But that's just the way it is."
Adrienne Boissy:
Yeah. It's funny. The other day I had called for an appointment, and I was told that I could get an appointment in a year from now, and I said, "What?" I started laughing, and the person on the phone said, "Well, why are you laughing? You're taking this really well. You're laughing." I said, "Well, I'm laughing because this is the most ridiculous service experience I've had in some time." They said, "Well, it's just the way it is. These people are very busy." I just thought to myself...
Carol Santalucia:
Did they know who they were talking to?
Adrienne Boissy:
This is just going in a wrong direction. I agree, even in that moment, even though I know it intuitively, just without the real authentic pause to acknowledge the impact was frustrating, and I wasn't going to go back and I wasn't going to wait and all that stuff. It does change in shape, and especially as we're thinking as organizations about earning loyalty, right, and exceeding people's expectations in the new era that we live in, I think this is all the more crucial.
One of the things that you have done for the enterprise is training really around the globe. It's not just you're training Cleveland Clinic caregivers, right? You're training external audiences, talking to external audiences, partners who care about the same things we do and are trying to drive real change in their organizations. Talk to me a little bit about what you've observed with respect to does empathy transcend culture, or how does it play out in different cultures that you have seen and observed around the globe?
Carol Santalucia:
Yeah. I've done some work in Brazil and in Indonesia and in Spain, and it is such an honor to do this work no matter where it is, because it's all about helping healthcare communication be more empathic. It is really such an honor, and yes, empathy does transcend culture. I have not seen any culture yet that isn't impacted by having work and communication that is more empathic. I have not seen it. We worked with a group from Brazil, and actually wrote a paper about the fact that we saw the same things here that they saw there in terms of the impact of empathy.
I think, to answer your question, when I see it be the most successful, it's when the leaders embrace it. There are some organizations that call us and we will do some work there, but they think that's enough. They've engaged us, we've done a train-the-trainer session, and they can check the box. That doesn't work. When it is successful, it's when leaders embrace it and they role-model the behaviors and they reinforce the behaviors, they recognize and reward the behaviors. They say thank you to their caregivers, their employees who are really modeling these skills. That's when it becomes real.
One of our Communicate with Heart sessions is called Lead with Heart, and it's all about showing the leader what's important to embrace this and make it successful. In essence, it's really leading with both strength and empathy. You have to lead with strength, because you have to be clear about your expectations. You have to be accountable yourself and hold others accountable, but you also have to be empathetic. You have to show the same empathy to your team of employees or caregivers that you want them to show others. I think that's a very, very significant part of the work, whether here or elsewhere, anytime we're talking about empathetic communication.
Adrienne Boissy:
We had that moment on our own team yesterday, right, on the phone, where I think there was a conversation that went awry. It was refreshing to see us talk about that and own it in that setting and make apology. Whether it was all warranted or whose perspective was right actually wasn't the discussion, right? It was a much more interesting and, I thought, powerful discussion.
Carol Santalucia:
I thought so too. I was really pleased. I think that there isn't anyone who can escape the need for this. Everyone, whether it's the highest-level executive or the person at the bedside, or the person that is cleaning the room or bringing the food tray, we all need empathy.
I saw a quote, and I don't know who said it, but it was one of those things you see on the internet, so of course it has to be true. No, but this quote was really, I think, very, very powerful. In fact, I wrote it down. "A physician once said, `The best medicine for humans is love.' Someone asked, `What if it doesn't work?' He smiled and said, `Increase the dose.'"
I really like that, because I know the word "love" sometimes makes people a little bit squeamish, but love looks like a whole bunch of different things. To me what it means is that we have to care about each other. We have to care about each other enough to say, "Hey, how are you doing? I'm here for you. I'm grateful for you. I appreciate what you said yesterday. Thank you for showing your honest emotion." I think that was a great example yesterday of that.
Adrienne Boissy:
Yeah. I've also recognized in some of my own patients that not everybody is ready for love, for empathy. The first couple of times I met this individual that I'm thinking of ... in his 50s, very strong male ... but he constantly seemed unhappy with life or what was going on, stressors. Our visits were somewhat strained just by that dynamic because I wouldn't share, but I couldn't understand what was going on and constantly felt like I wasn't meeting his needs.
Then, probably like seven years into our relationship, one day he says that he was abused in his family growing up, and he wanted to know whether or not I thought he should confront his mom, because he felt his mom knew about what was going on and didn't do anything about it, and now she was ill. To your point, I think part of it is also hanging in there, right? Maybe it's increasing the dose of love or time or patience such that someone, when they're ready, right, is receiving it.
Carol Santalucia:
You're so right. It's meeting them where they are, and that's what you did. I mean, there are some people that do not like to be hugged and you've got to respect that, but that doesn't mean you can't show them what I'm calling love in another way. It's showing them that you care about them.
That was a great example of just waiting. You don't always have to wait seven years, but sometimes you do, and it's being there for him. Obviously, for someone like him, you built that foundation of trust, and he felt safe enough and he trusted you enough that he could ask you that question. That's pretty beautiful.
Adrienne Boissy:
Well, I didn't mean to make it about me. It's your interview, Carol.
Carol Santalucia:
You do this so well.
Adrienne Boissy:
Talk to me about we are working, because I think you brought up an important point, which is sometimes I bump into, in my own leadership, I assume everybody feels the same way that you and I do, that we're the believers and just why wouldn't you get on board with us, or why wouldn't you believe this is important? The truth of the matter is, as you alluded to in some different people, different organizations, that not everybody does, and we need to adapt to that, adapt the training to that, adapt approach to that.
You did develop specific training for managers and leaders as to how to best coach and guide their caregivers and teams. Talk to me about some important lessons in there. What can we do as leaders better? You said we need to be strong and empathic, but how do we equip leaders to do that?
Carol Santalucia:
That's great. I love that question. The Lead with Heart session is full of lots of tips and tools, but I'm going to share a couple with you. One of them is an exercise on leading with both strength and empathy. We talk about what each looks like, and then it's about an introspective moment of saying honestly to yourself ... you don't even have to share it with anyone ... but, "Where do I fall on this scale?" We all have both, but some of us are way tipped in one way or the other.
I even share personally that I used to be tipped way more on the empathy side. No surprise, right, but that I had to learn to step up the strength as well, because it's not fair to a team if you are not strong in that you're clear about what you expect from them. You hold everybody to the same accountability and that kind of thing. If you have too much of that and none of the other, you have a team that operates because they're afraid, not because they're engaged.
Then we talk about what that looks like, and then we talk about what it sounds like and we use phrases that really exemplify the strength, such as, "I expect this will be done by Friday," phrases that really exemplify the empathy, such as, "I can see that this has been frustrating for you," and we talk about how you put them together. It's really pretty cool.
There's another great exercise that we do about personal accountability. It's not about holding someone else accountable in this exercise. It's all about your own personal accountability. There is a self-assessment that we do. Again, I really believe in self-assessment and introspection. It's how we grow. It's how we learn from the times we make mistakes.
We have this great assessment, and some of the questions or statements on this assessment are things like, "I do not gossip," and then there's this scale. On a scale of 1 to 5, how much is that true? Another one is, "I am very present to other people," and another one is, "I never have the meeting after the meeting, where I ..."
Adrienne Boissy:
Say why the meeting was awful?
Carol Santalucia:
Right, exactly. People are allowed to write this down and not share it if they don't want to, but usually people share it. I've seen people say, "You know what, I commit to not gossiping anymore," and we have this great conversation then around, you know, do we gossip in healthcare. Everyone says, "Of course we do." Then we say, "Is it hurtful?" "Yeah, it really is," then a discussion around being present in the moment. It's just so powerful.
Then there's another segment that we do on gratitude. I could go on and on and on, but I'll stop with this one. There's a segment on gratitude and how important it is to take a moment to just say thank you or "I appreciate you." It doesn't have to be a big deal. It doesn't have to be a coupon. It doesn't have to be a certificate. It's just a thank-you.
Carol Santalucia:
We also talk about ... and this is great. There's a great book that Tom Rath and Donald Clifton wrote called How Full Is Your Bucket? We talk about how easy it is.
Adrienne Boissy:
Is a kid's book?
Carol Santalucia:
No, it's adult.
Adrienne Boissy:
Because my kids have that book.
Carol Santalucia:
Okay. Interestingly enough, I learned that about three years ago as I was talking about the adult version. Think about that. It's a valuable lesson for kids that we adults sometimes haven't learned, about the ease of filling someone else's bucket. Then I learned that Tom Rath and Donald Clifton wrote How Full Is Your Bucket? for Kids, and so I had to buy one for my grandson, who at the time was five.
Adrienne Boissy:
It's a great book.
Carol Santalucia:
It's great. He brought it to kindergarten for show and tell. I said to my daughter, "Don't underestimate how important this lesson is to him now, so that when he is an adult, he understands it and appreciates it." Those are some of the things that we talk about in the Lead with Heart session.
Adrienne Boissy:
It's funny. Some of that, now that you're bringing it up, we had Christine Porath on stage for the summit last year, and some of that work about incivility and these microaggressions. All of those are just spinning off of that central concept, that we are hurting people with our words or actions in small ways, right? Not huge transgressions but microaggressions, or we're filling their bucket.
Carol Santalucia:
That's right.
Adrienne Boissy:
We get to choose every time. You, I know in my own leadership, have done that for me several times, of just, "Hey, keep going." You know, "Hey, you're doing great." Sometimes I was deserving of that and sometimes probably not, but it always meant a lot to me.
Carol Santalucia:
You're always deserving of it, and I think it all comes down to trust and it comes down to caring about each other. It's really important that we in healthcare focus on that and build that, because it's hard work. I look at my colleagues who do the clinical work, and I'm always in awe. It's just such brilliant, amazing work that's going on.
Carol Santalucia:
That's not the only part that's hard. The hard part is the emotional part, in dealing with people who are, for whatever reason, struggling. We have to do it for each other.
Adrienne Boissy:
How do you fill your bucket, Carol?
Carol Santalucia:
Oh, wow. Well, that's a great question. I fill my bucket by spending time with my family and friends. It's just the best, and with my work family. I love the work that I do. I mean, I fill my bucket in so many ways. I love to read, I love to travel. I'm in a couple of book clubs.
Adrienne Boissy:
Okay, that's enough.
Carol Santalucia:
Enough of that, yeah. I think it's so important, and I know that it's hard. I don't always take the best care of myself, and I work at that because that's part of filling our bucket.
Adrienne Boissy:
Yeah. Can we talk about that? This is actually hard to do. It's hard to fill your own, much less show up as your full self, as we were just talking about.
Carol Santalucia:
Yeah. It's inspired by that.
Adrienne Boissy:
How can we help people do that, in an environment that's so fast-paced and dynamic and things are changing every day? I know if I send you in, you'll do it, but how are you approaching those audiences and those caregivers?
Carol Santalucia:
Well, two things. When I think about the caregivers that are doing this work right at the point of service, it's really, really hard. I think that anytime, we can hear them, respect them, listen to what their concerns are and respond to them, and I will even say inspire them. I love to go into a group of caregivers and talk with them about the importance of what they do, and really connect with them and listen to them. I know it ends up being an opportunity for them to leave feeling a little bit inspired.
That's not enough. That's not enough. I appreciate so much when I've heard you talk about "Don't offer me another yoga class," because I do believe we have to fix the things that are causing the stress. I also think that's a little bit unrealistic, because I know we're always going to have stress.
One of the most recent Heart sessions we created ... and I talked with Amy Greene from Spiritual Care about this years ago, and we sat down and started hammering it out ... is called Recharge with Heart. It gives people tools and tips and ideas for how to be introspective and help in the moment de-stress when they're feeling this stress. It also talks about how to build resiliency. Then thirdly, it talks about how to support each other in this work so that we are more resilient.
I agree wholeheartedly that the systems and the processes have to change so it's less stressful. I also am one who believes that I've got to own this. I've got to figure out ways to help myself. Therefore I want to help others, teach others, share with others. I don't mean to say teach in the sense that I have all the answers, but share with them ideas on how to do this, and that to me is very exciting. It is all about the patient. I like to say I was into patient experience before it was popular.
Adrienne Boissy:
Before it was cool?
Carol Santalucia:
Yeah, before it was cool, and I will say that it's not only about the patient. It's about the employee, the caregiver, as well. It's all about relationships, every single day that we have. In fact, I've done a lot of work with our Office of Caregiver Experience, because I really believe if we focus on them and really listen to them and their ideas, I think we'll have a much better chance at creating this culture that we want to create for our patients.
Adrienne Boissy:
When it doesn't work amongst our caregivers, why is that? What do you see as reasons? Because we've got the models, we've got the training, we've got inspiring people like you, and sometimes it still goes awry.
Carol Santalucia:
Sure. It often still goes awry. I think there are a variety of reasons that it goes awry, one of them being processes and systems that are just not working. When you have to say you're sorry to somebody over and over and over again for the same thing, it gets pretty frustrating.
I also think it's personalities. I think that it's personalities that maybe have not had an opportunity to be really honest with each other. Sometimes it's leadership of an area that does not spend any time showing that empathy that we just talked about and listening to their employees, and therefore then people kind of get on a bad cycle, if you will.
I think that when it's not working, our managers and leaders have to step in. We can't allow it to just not work. We have to step in and talk about it. I can remember years ago going into a team, my team, that I knew there were some hurt feelings, and I just laid it out and I said, "We have to talk about this, because it's way too important." That's granular, I know. At a loftier level, I just think it's all of the things that we talk about every day.
Adrienne Boissy:
Well, I think the point is valid around what we tolerate is part of our culture, right? What we tolerate on our own teams, what we tolerate out on the floors, what we tolerate when we walk by.
Carol Santalucia:
That becomes our culture.
Adrienne Boissy:
Those are all pieces of it. I remember something very similar in my own, that it was accepted that two people didn't talk to each other on the same team.
Carol Santalucia:
That's not okay.
Adrienne Boissy:
Right. It wasn't okay at all. It had been that way for some time. Part of it was, of course, that situation isn't ideal for the two individuals, but it's also what does it say to the other 10 members of the team who are watching a leader not address it?
Carol Santalucia:
That's right.
Adrienne Boissy:
Right? Not seeing it change over that span of time.
Carol Santalucia:
That speaks volumes, and then that trickles down. That goes back to your question of why doesn't it work. That's why it doesn't work.
I also think that we have a great example of that here, in that in healthcare, we're doing some pretty great things. As leaders, we need to make sure everyone feels connected to that. We're not making widgets. We are saving lives and making lives better. For us to take that concept and make sure that everyone on our team, no matter what they do, understands that they contribute to that, that they make a difference in that.
It's that great thing that went around the internet a while ago with the janitor at NASA, and John F. Kennedy was touring NASA and he came upon this janitor and he said, "So what do you do here?" He said, "My job is to put a man on the moon." He understood that what he does matters.
In healthcare, we do something pretty cool. I think as leaders, it's our job to make sure every single person on this team ... I like to say every person that wears that badge ... understands that they're a part of that, and without that role, we couldn't do this work.
Adrienne Boissy:
It's an absolute privilege to lead, and it can be a very lonely place. How often are you sensing or seeing leaders willing to talk about that? Is that something we're comfortable talking about or not?
Carol Santalucia:
I think many leaders are not comfortable talking about it, because they think they need to be tipped on the strength side and not the empathy side. I do think there's a discomfort, and I think when you kind of push the envelope but in a gentle way, I think there is frequently great results that come from that. Frequently, not always. It's not always going to work, but it'll never work if we don't try.
I also think a really important part of this is something that a friend said to me a long time ago, and that is find your tribe. Find people that are passionate like you are, people that believe what you do, and rely on them for a dose of rejuvenation, if you will, or a dose of just getting back to feeling great about this work. Because it is hard, and I think as leaders we need to find our tribe, and really support each other and rely on each other, and know that we always have each other's back.
Adrienne Boissy:
I want to clarify something you said, because you were commenting on strength and empathy as though they are two ends of a spectrum, and I know you're not saying if you're empathic, you're not strong and if you're strong, you're not empathic.
Carol Santalucia:
Right.
Adrienne Boissy:
They're skills. You need to have both.
Carol Santalucia:
That's exactly what I'm saying, is that you have to have both.
Adrienne Boissy:
Awareness around what your comfort level is.
Carol Santalucia:
That's right. In reality, because our comfort level might be at one or the other, we often don't exhibit the other, and that's why it's important again to be very self-reflective about it, and think about where I need to step up the strength and where I need to sprinkle in a little more empathy, because you need both. Exactly. You're exactly right. You need both.
Adrienne Boissy:
Got it. What do you think we're missing, or the work yet to do around empathy in our organization and really as a field? You have worked both within the Cleveland Clinic and beyond. What is left to do? Where are the greatest opportunities in the landscape?
Carol Santalucia:
Yeah, that's a great question. I think that we have made great strides here. There's no question about that. We have a long way to go. Somebody asked me once, "When is it hardwired, when can we stop working at it," and I said never.
Adrienne Boissy:
Never.
Carol Santalucia:
Never. Just like anything else, we have to constantly work at it. It's got to be front and center. I think the hardest part is not achieving what we've achieved. It's sustaining what we've achieved and continuing to grow. I'm not sitting here saying that we get it right all the time because we certainly don't, so it's continuing to grow, continuing to get better, but to sustain the gains that we have made.
I believe very, very strongly that it takes inspiring our caregivers, as I said, listening to our caregivers and really connecting with them about this work, so that they feel the passion that brought them into healthcare in the first place. There are plenty of people that came here because of passion to help people, and it's no longer a part of who they are because they feel so busy and so overworked and so unheard, that nobody's listening to them. That's a really important step to sustaining a culture of empathy.
I think that the other extremely important piece of it is having leaders that talk about it, that tell stories about it, that, as I said before, reinforce it, role-model it. I cannot expect somebody else to be exhibiting empathy if I'm not doing it. I think those are two things that are really, really important as we look to sustaining a compassionate culture of communication.
Adrienne Boissy:
It's an interesting point to maybe end on, because for all of our surveys, for all of our questions we're asking perhaps both our caregivers and certainly our patients, we're never asking in a consistent, mandated way, "Did you feel cared for? Was somebody empathic to you, or did you feel seen as a human being?" I think, for the first time, we're trying to do that this year to standardize that across the system.
Carol Santalucia:
I love that.
Adrienne Boissy:
Of all the questions we ask, listening to you, it just strikes me that that's still one of the most important ones to keep asking.
Carol Santalucia:
I think it's very, very important to patients, and I think it's also very, very important to our teams.
Adrienne Boissy:
Well, I think you heard it from Carol. If all of us had you on our shoulder, walking around all day filling our bucket, boy, the world would be a better place. Thank you so much for joining us today.
Carol Santalucia:
Thank you, Adrienne. It's really my pleasure.
Adrienne Boissy:
This concludes Studies in Empathy podcast. You can find additional podcast episodes on our website, my.clevelandclinic.org/podcasts. Subscribe to Studies in Empathy podcast on iTunes, Google Play, SoundCloud, Stitcher, or wherever you get your podcasts. Thank you for listening. Please join us again soon.
Studies in Empathy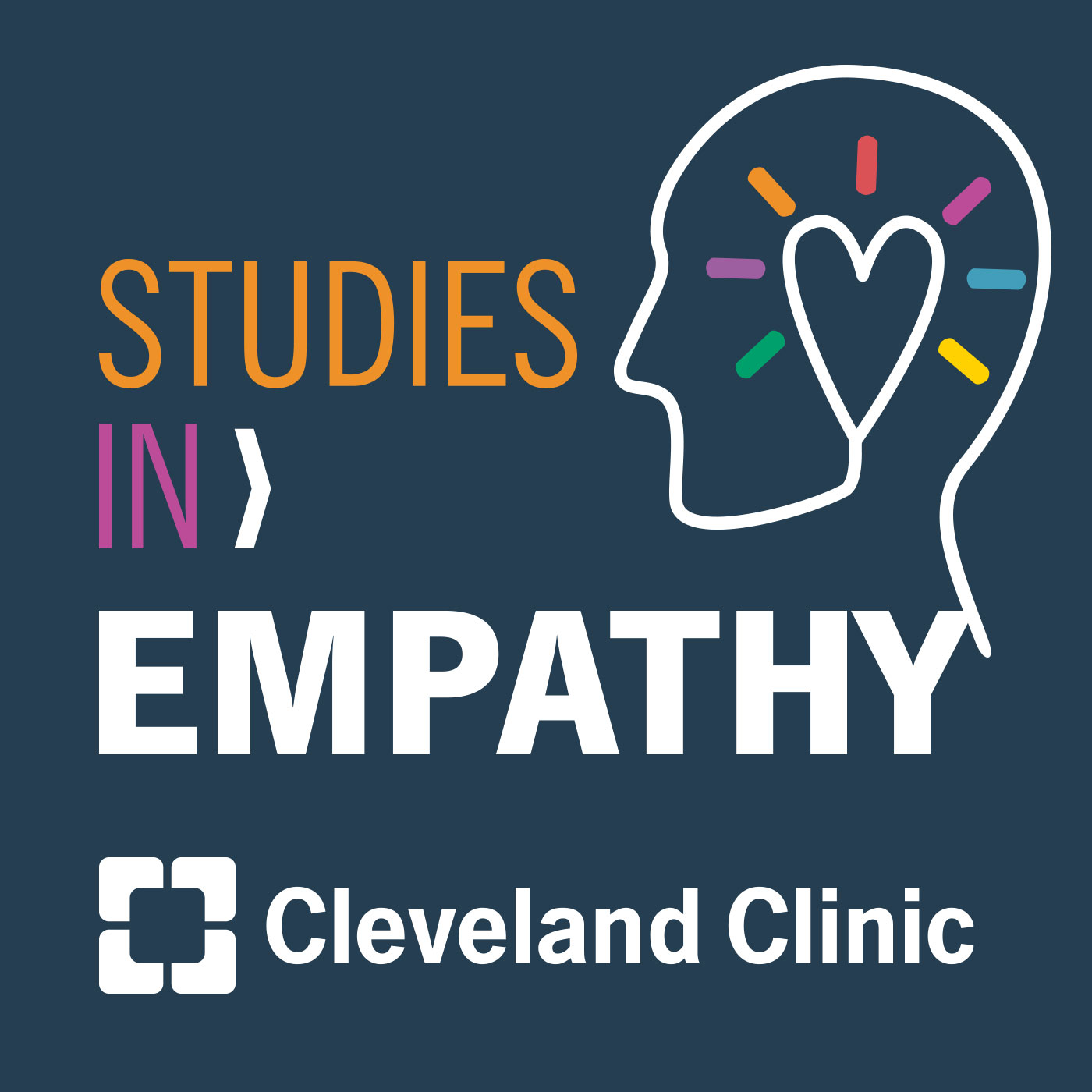 Join Cleveland Clinic Patient Experience leaders and a diverse group of guests as we delve into the human(e) experience in healthcare. Thought leaders share insight, anecdotes, and perspectives on empathy as a functional concept for Patient Experience leadership, and also just about everything else we do in healthcare- quality, safety, burnout, and engagement leadership.
Subscribe: