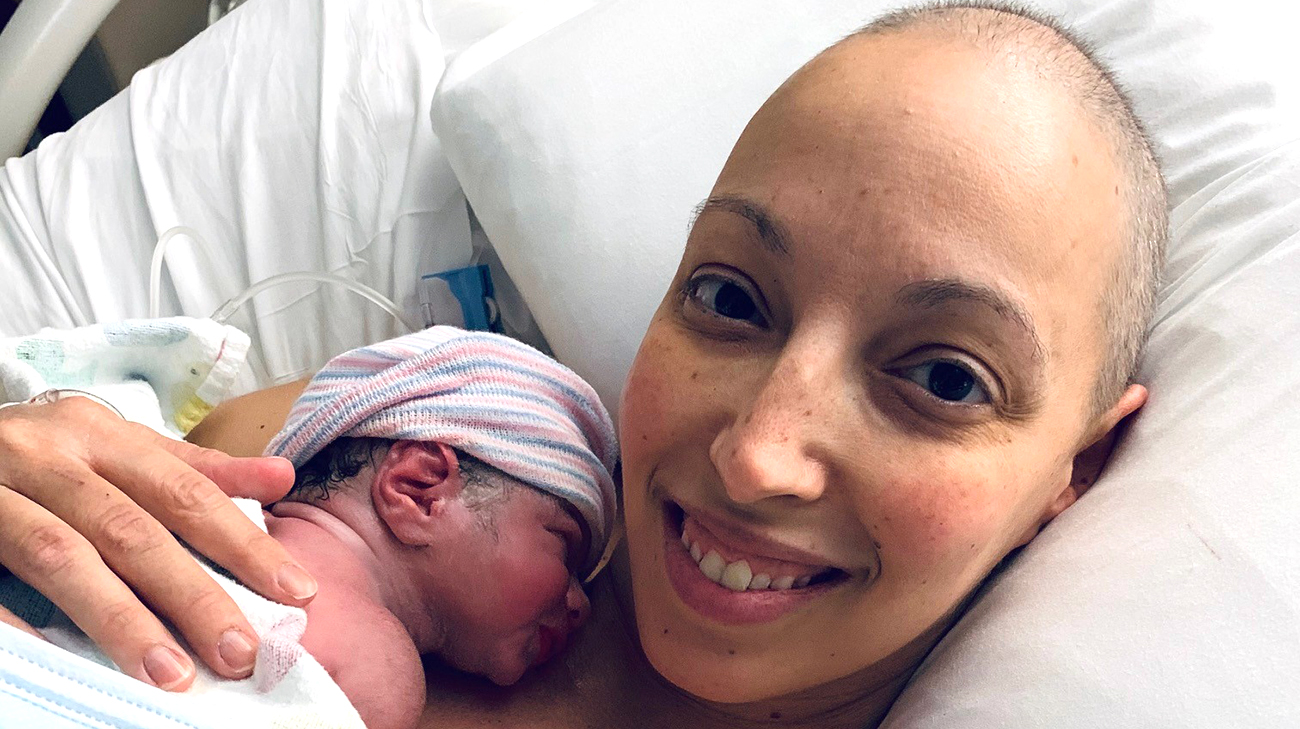 While nursing her first son, Luka, Stephanie Rifici Thorkelson noticed a lump in her breast. Because she had experienced occasional clogged milk ducts and cysts from more than a year of nursing, she initially assumed the lump was just another clogged milk duct. However, when it didn't dissipate after a month or so, she visited her Ob/Gyn. A mammogram followed by a biopsy revealed a breast cancer diagnosis. She received the results shortly after learning she was pregnant with her second child.
It was a question that had never occurred to Stephanie until her life suddenly changed: Can I get treatment for breast cancer while pregnant without hurting the baby?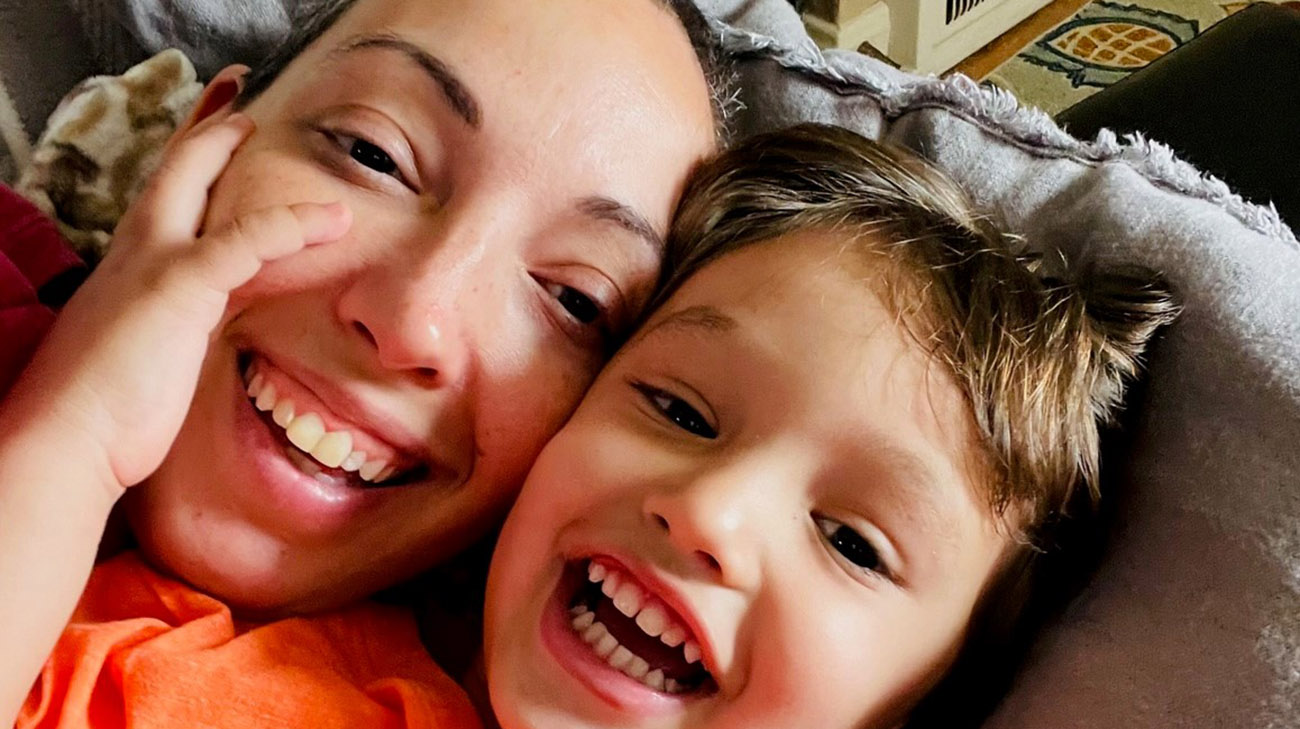 Stephanie with her first son, Luka. (Courtesy: Stephanie Rifici Thorkelson)
"All this news – pregnancy and cancer –within a week," says Stephanie, now 35, and the mother of two sons, 3-year-old Luka and 18-month-old Leo. "We were very excited because we had been trying to get pregnant, but scared, too, because of all the unknowns. Would treatment be safe while I was pregnant?"
"It was hard to navigate through all the opinions and emotions," explains Stephanie. "It was never a question for me, though. We wanted to keep the baby, no matter what. We just had to figure out the logistics of treatment."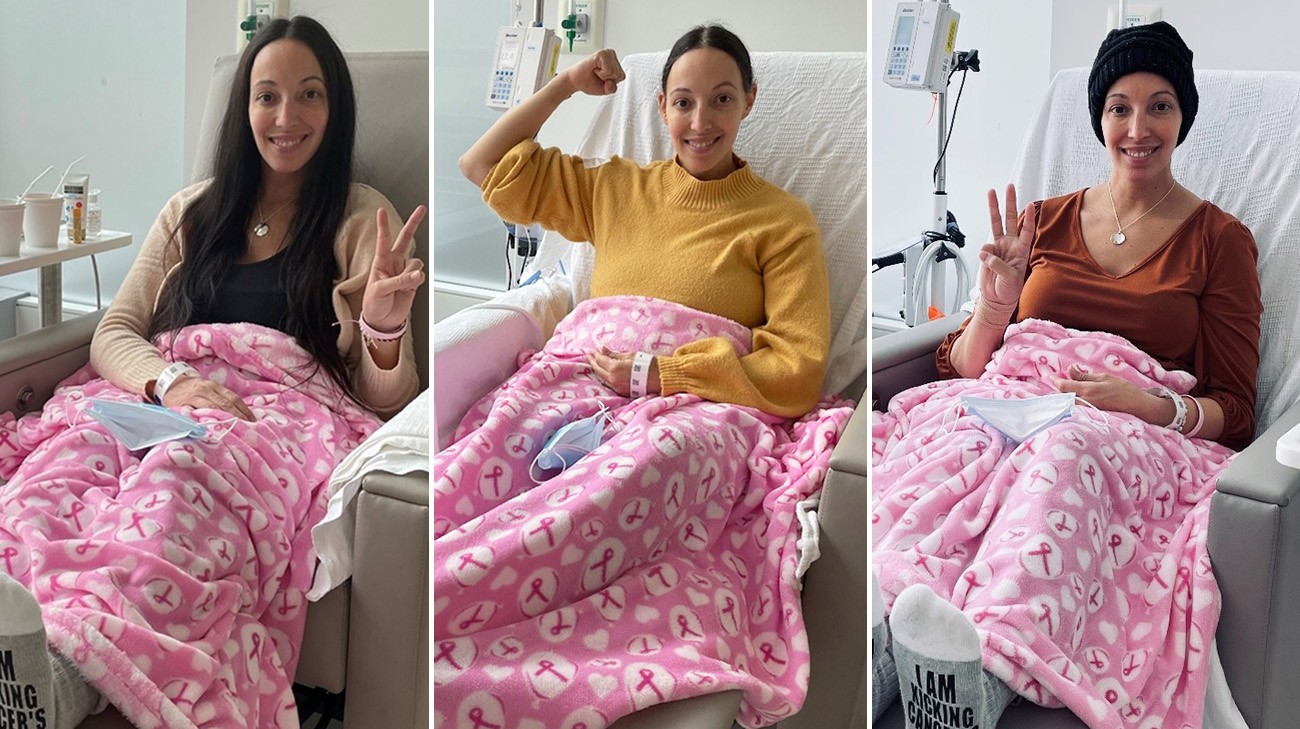 Stephanie underwent four rounds of chemotherapy treatment during her second trimester. (Courtesy: Stephanie Rifici Thorkelson)
Stephanie learned she had triple-negative breast cancer (TNBC) , which represents about 15% of all invasive breast cancers. The condition can be fast-growing and challenging to treat. Due to her age and cancer type, she underwent genetic testing. Results came back negative, indicating Stephanie is among the 5% of women under the age of 40 who get breast cancer with an unknown explanation. "It's the million dollar question – 'Why does breast cancer happen?'" states Stephanie's breast surgeon, Stephanie Valente, DO.
Empowered with that knowledge, Stephanie came to Cleveland Clinic for a second opinion, where specialists from the Young Women's Clinic for patients with breast cancer including surgeons, medical oncologists, radiation oncologists, radiologists, plastic surgeons, psychosocial specialists, rehabilitation specialists, geneticists and fertility specialists would collaborate to carefully guide her through her complex health journey. With Stephanie's and Evan's input, the team devised a treatment plan focusing on both patients: Stephanie and her fetus.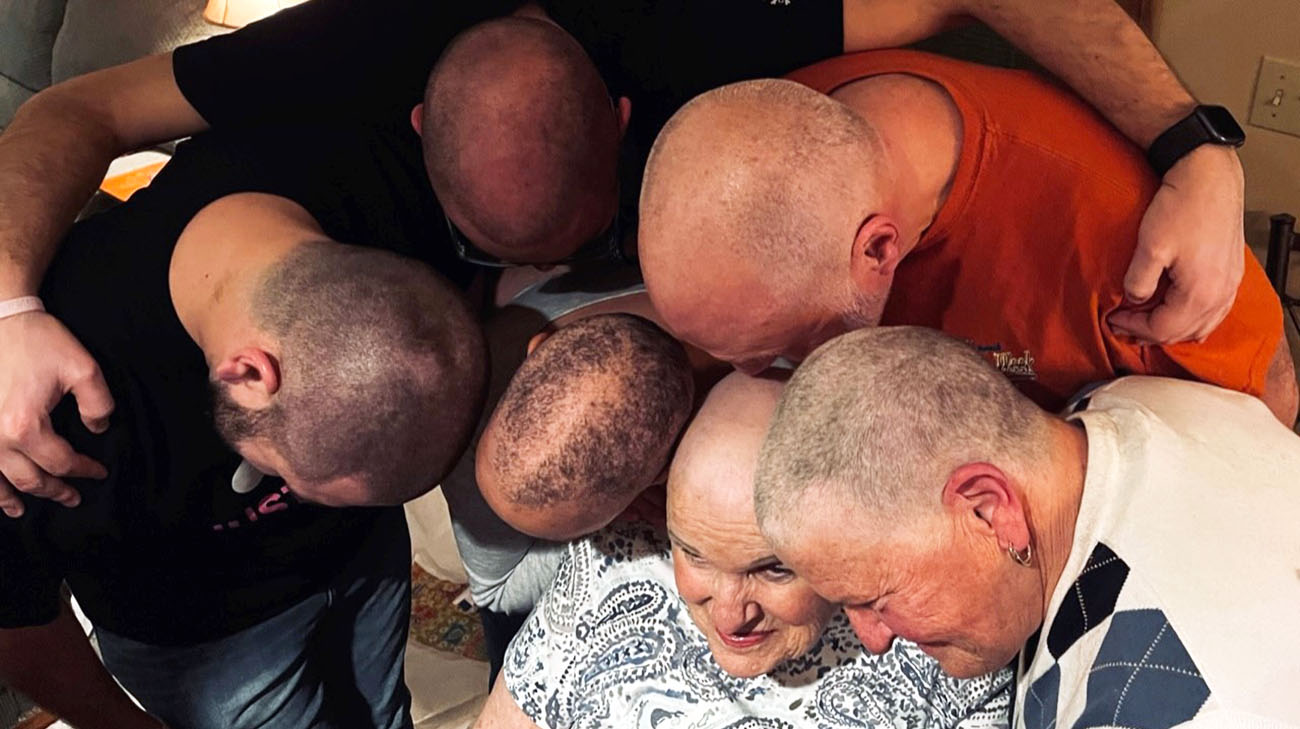 Soon after receiving chemotherapy Stephanie lost her hair. She says family and friends shaved their heads as a way of showing their support. (Courtesy: Stephanie Rifici Thorkelson)
"Our goal was to get Stephanie cancer-free and maintain a healthy pregnancy and baby," explains Dr. Valente. "Our challenge was the timing."
Because chemotherapy can be dangerous to the baby in the first trimester of gestation, as well as in the latter stages of pregnancy, the team held off on chemotherapy until the second trimester. Thus, surgery was the first order of business. Stephanie underwent a lumpectomy – a surgery in which the tumor is removed but the breast remains intact – when she was about 14 weeks pregnant. A lymph node biopsy, performed at the same time, revealed the cancer had not spread outside of the breast.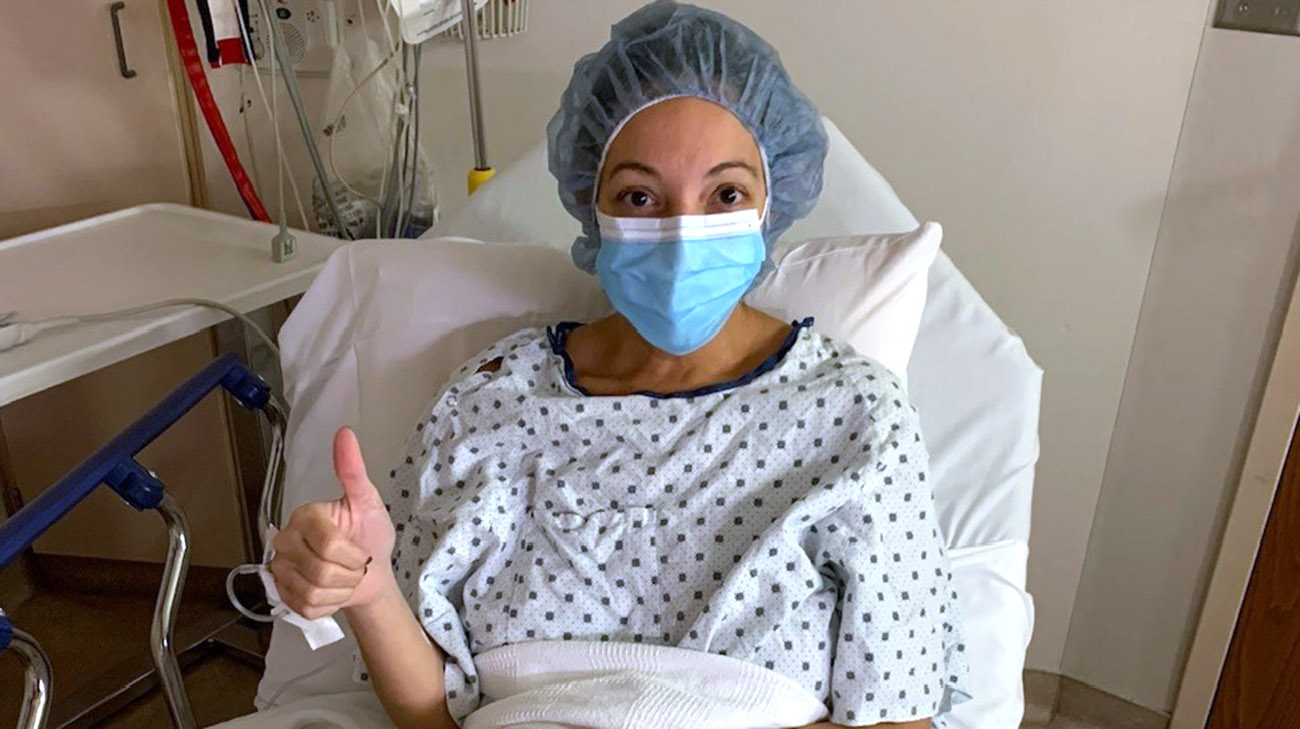 Stephanie prior to undergoing a lumpectomy where surgeons removed the tumor and the breast remained in tact. (Courtesy: Stephanie Rifici Thorkelson)
After recovering at home for a month without complications, Stephanie was now able to undergo chemotherapy. She received four rounds of treatment, every three weeks, and experienced few side effects, besides hair loss. Her team of physicians including Ob/Gyn and maternal fetal medicine specialist Katherine Singh, MD, who specializes in high-risk pregnancies and Erin Roesch, MD, a medical oncologist who specializes in chemotherapy for breast cancer, closely monitored Stephanie and the fetus during treatment to ensure both remained healthy.
"The doctors wanted me to get as far as I could get in pregnancy – at least 36 weeks –to ensure the baby was OK and that I would have the best outcome," adds Stephanie.
Shortly after 36 weeks, Stephanie gave birth to a healthy boy she named Leo. She was able to breastfeed him for about a month before her next phase of chemotherapy began, using a drug that could be toxic to the baby if breastfeeding were to continue.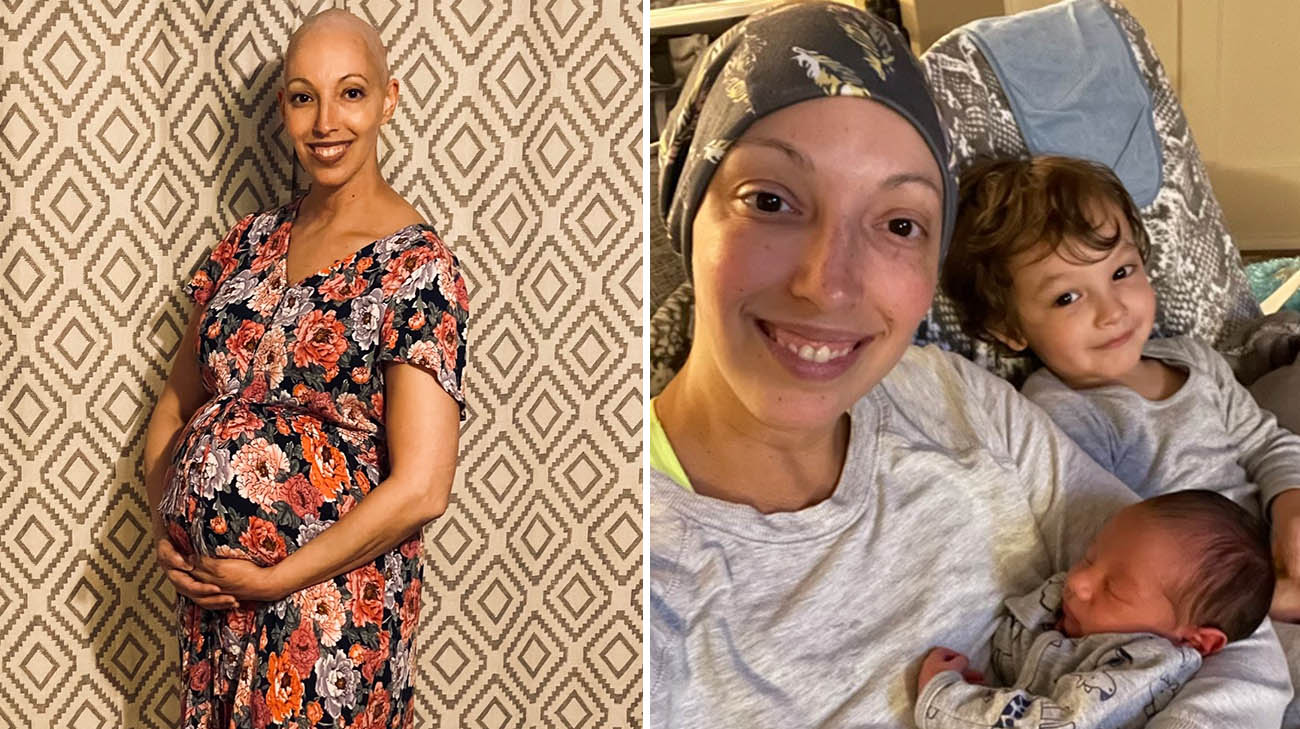 Stephanie at 33 weeks pregnant. (left) Stephanie with sons Leo and Luka.(right) (Courtesy: Stephanie Rifici Thorkelson)
"With Luka, I was able to breastfeed for 13 months, and it was such a good bonding experience," states Stephanie. "I hated having that taken away from me, with Leo, but I'm blessed I was able to do it for a month."
Adds Dr. Valente, "During pregnancy and when nursing, women go through so many body changes it can be difficult to understand what is normal. The majority of lumps and bumps may be benign, but you should always check them out if they seem abnormal, as Stephanie did."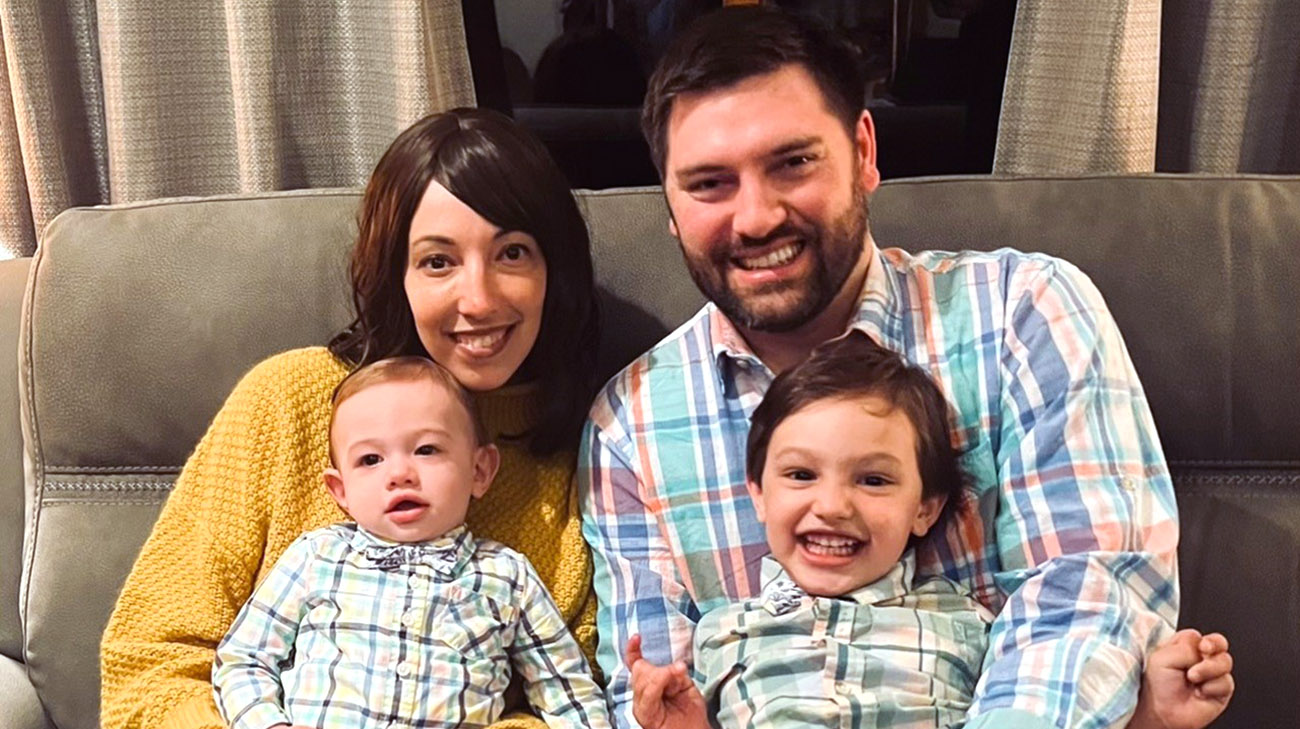 Stephanie with her husband, Evan, and sons, Leo and Luka, after completing cancer treatment. (Courtesy: Stephanie Rifici Thorkelson)
Stephanie's reaction to her second phase of chemotherapy was a bit more difficult and complicated by caring for a toddler and a newborn. Evan and other family members and friends were a big help, especially during the rounds of radiation that followed. That was a difficult time because it was often too painful for Stephanie to hold either child due to side effects from radiation.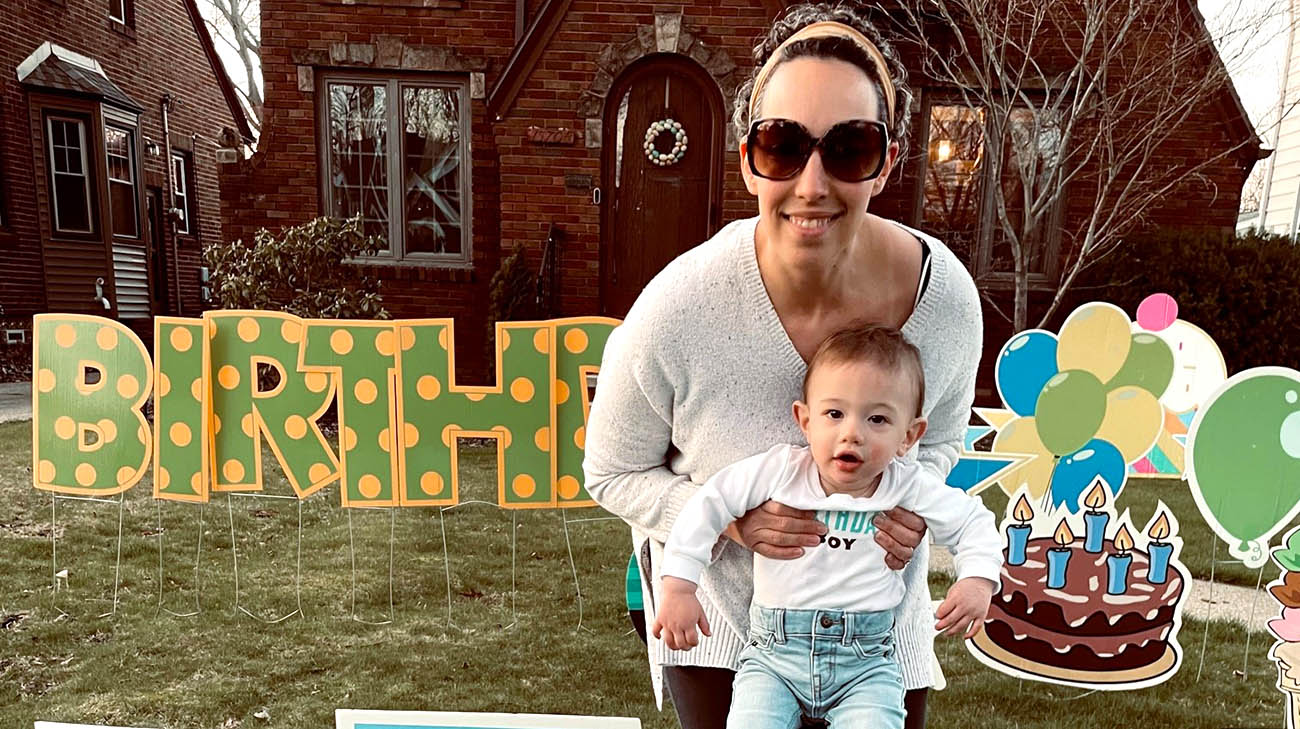 Stephanie and Leo celebrating Leo's first birthday. (Courtesy: Stephanie Rifici Thorkelson)
Once Stephanie completed all her treatments in January 2022, follow-up tests revealed she was cancer-free. She currently has no evidence of cancer and has returned to work as a flight attendant.
Today, she and her family are thriving. She hopes other women in her situation will know cancer can affect anyone and it's important to pay attention to changes in one's body. "Life is so short and we're given so many blessings. My view is just don't sweat the small stuff, and don't take things for granted."
Related Institutes: Dermatology & Plastic Surgery Institute, Digestive Disease & Surgery Institute , Cleveland Clinic Cancer Center, Ob/Gyn & Women's Health Institute
Patient Stories
Patient Stories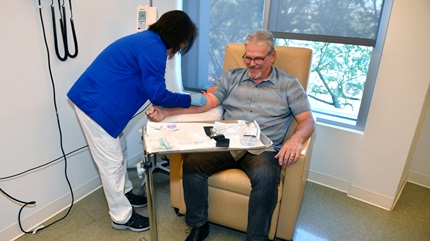 Dec 7, 2023
"The most frustrating thing in the world is not being able to remember something when it was just told to me two minutes ago. Now, with this drug, there's a chance I won't get worse for a while."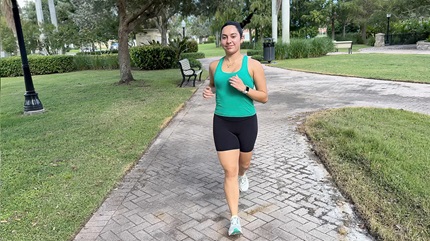 Dec 5, 2023
"Being able to run that 5k from start to finish with the same family members who supported me through the surgery was huge and I can't thank Dr. MacKechnie enough for getting me to that spot."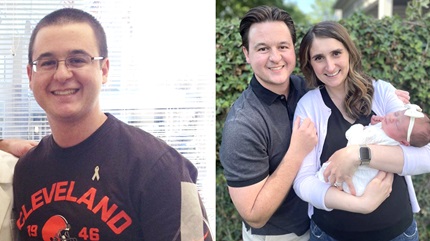 Nov 30, 2023
"At the time of my diagnosis, I was thinking, 'I'm 24. I'm a lifelong nonsmoker. I'm not supposed to get cancer.'"