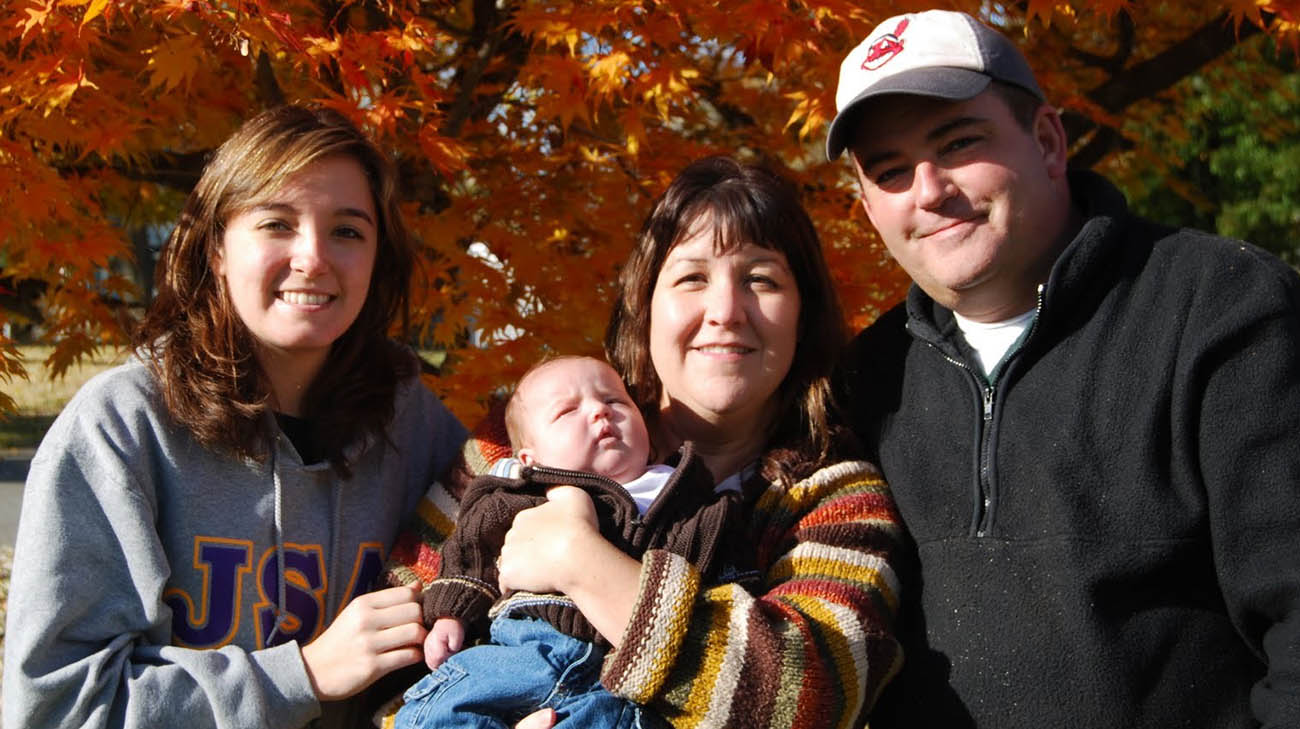 Fearful she would die at any minute, Tammie Purcell begged the anesthesiologist to tell her the gender of her unborn baby. However, there was no time for that.
Moments later, Tammie was under sedation and young William Joseph, nicknamed Liam, was born by emergency C-section at an Ohio hospital, about four weeks early. Still unconscious, Tammie was then taken by helicopter to Cleveland Clinic's main campus. A team of specialists, led by Eric Roselli, MD, would desperately work to save her life, threatened by a Type A aortic dissection.
"Everything had to go exactly the way it went that day, or I'm sure I wouldn't have made it," says Tammie, a Firestone High School social studies teacher, in Akron, Ohio, of her 2011 medical crisis. "It's miraculous I'm alive."
Her journey began on a hot, late August day. She had spent much of it floating in the pool behind the home she shares with her husband, Scott, waiting for the start of school the following Monday. With another month before her baby was due, first-time mom Tammie had experienced a rather uneventful pregnancy, except for some occasional spikes in her blood pressure. Besides that, there was no indication of what would eventually be looming ahead.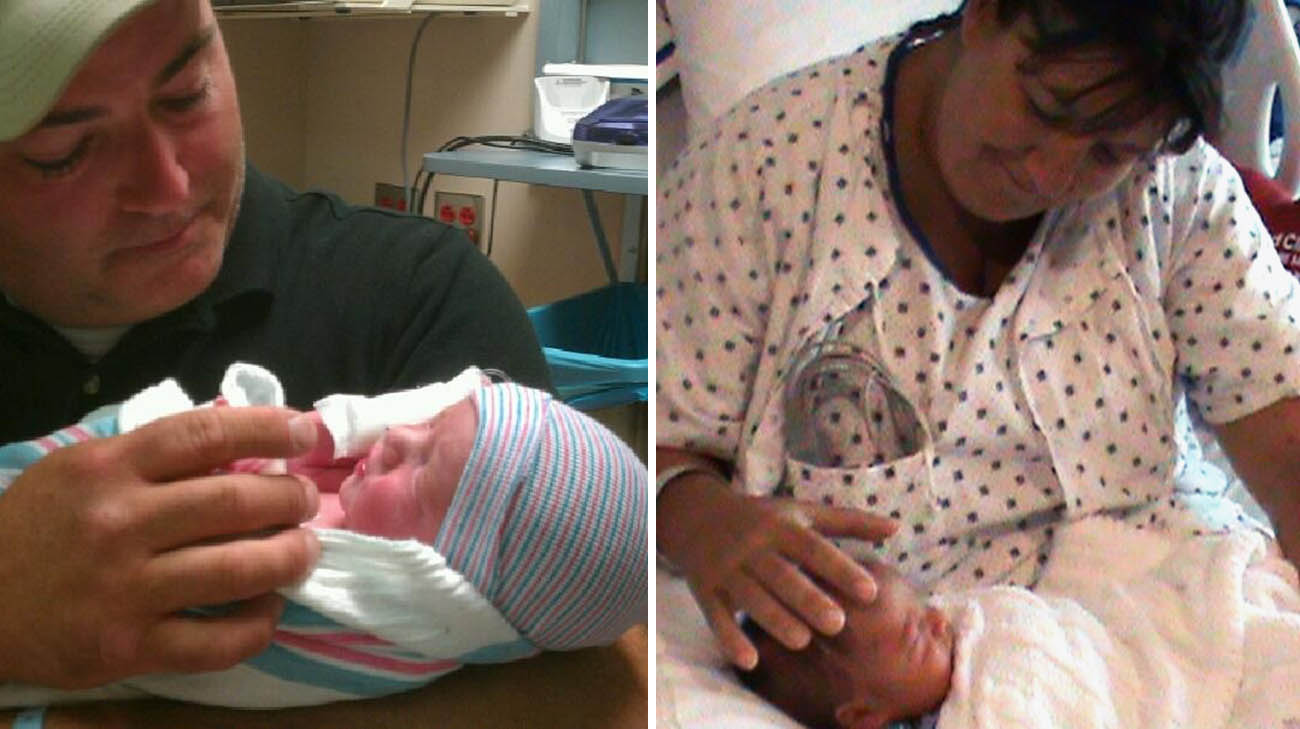 Scott and Tammie holding Liam, shortly after he was born. (Courtesy: Tammie Purcell)
When she went inside to prepare dinner, Tammie was suddenly brought to her knees by a devastatingly sharp pain in the middle of her chest. "It was horribly and indescribably painful, like I had been hit in the chest by a car," she recalls. "I couldn't breathe."
Hearing her cries, Scott rushed to her side, assuming she needed her asthma inhaler, but Tammie instinctively knew that wasn't the problem. "I thought I was having a heart attack. All I wanted was for the baby to be OK."
After fast-arriving paramedics sped her to a local hospital, the emergency room doctor – who had just read a medical journal article about the condition – identified that Tammie was suffering from an aortic dissection, a life-threatening tear in the inner layer of the aorta that disrupts the normal flow of blood.
Seen most often in older men, aortic dissections sometimes occur in young people, usually those with a predisposition for certain heart ailments. That included Tammie, who unbeknownst to her, had an aneurysm in her aorta. With pregnancy increasing her blood flow to sustain her baby, the added volume, along with fluctuations in her blood pressure, likely caused Tammie's condition to worsen, resulting in the dissection.
The cardiologist notified Cleveland Clinic. An hour or so after giving birth, and after several family members prayed over Tammie just before she left by helicopter, she was wheeled into a Cleveland Clinic operating room prepared especially for her.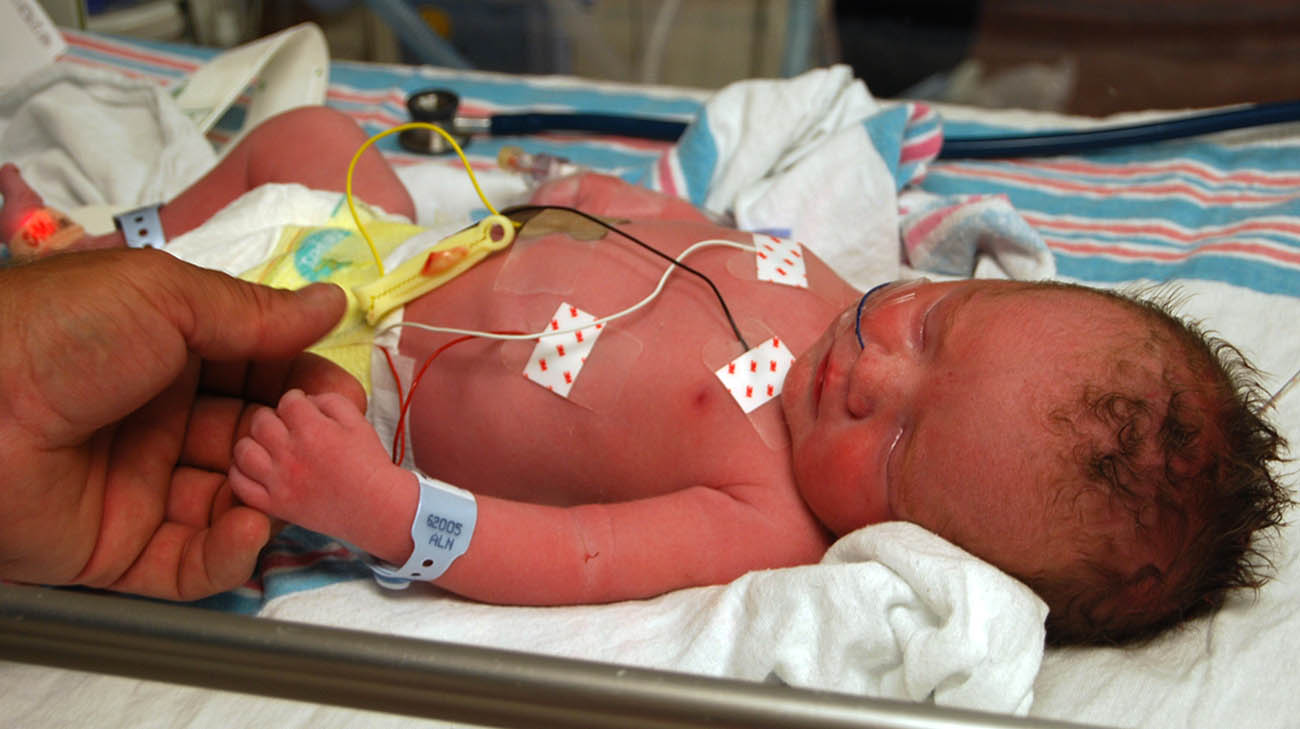 Doctors delivered Liam by emergency C-section four weeks early. (Courtesy: Tammie Purcell)
"Later, my brother told me he had heard the cardiologist on the phone, asking the (Cleveland) Clinic to let them know if I made it," Tammie says. "That's when he knew how serious it was."
An army of Tammie's relatives, led by her mother, Miriam Ray, and Scott, made their own trek to Cleveland. They waited patiently as Dr. Roselli and team performed a delicate, 10-hour emergency operation. Meanwhile, a cousin stayed with Liam, who was transferred to the neonatal intensive care unit at another local children's hospital.
According to Dr. Roselli, if Tammie hadn't undergone surgery right away, the condition would likely have killed her within 24 hours: "Her aorta wasn't just dissected next to her heart, where the aneurysm was, but it extended all the way down to her leg, through her whole aorta."
Using the branched modified frozen elephant trunk technique developed at Cleveland Clinic, he performed an extended repair of her severely damaged aorta. He shaped an artificial tube made of synthetic material into a graft that served to correct damage to key blood vessels extending from her aortic arch. He also repaired a number of valves and placed stents in other damaged areas, including arteries that extend to her lower body.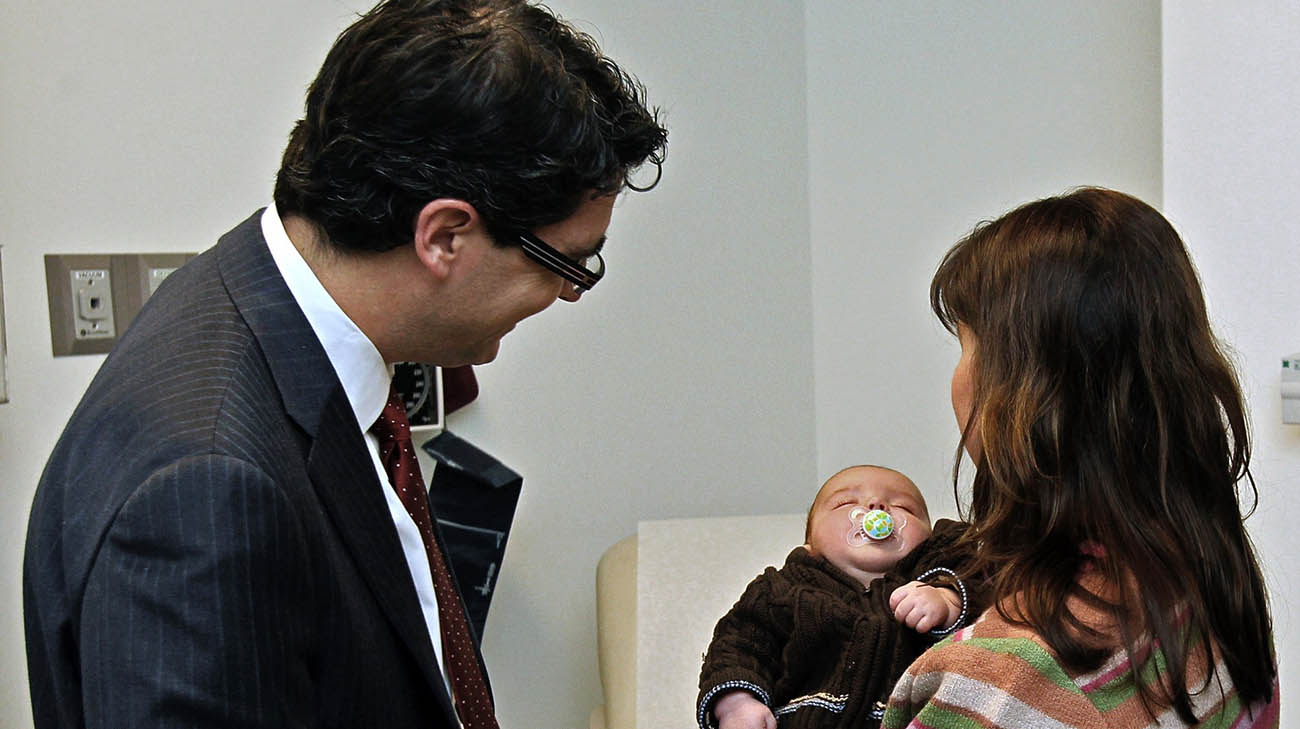 Dr. Roselli meeting Liam for the first time at Cleveland Clinic, in 2011. (Courtesy: Tammie Purcell)
Despite the passage of time, Dr. Roselli has clear memories of the lengthy, complex, and ultimately, successful operation. "It's an awesome thing when we rescue somebody from a bad situation. In order to do it, we have to have a team from a bunch of different disciplines come together for the patient."
Her journey to recovery began soon after, in the cardiac surgical intensive care unit, followed by the step-down unit, which is where she met cardiologist, Milind Desai, MD, for the first time. "The unfortunate reality is with aortic problems you become a lifelong patient. We monitor the area that was repaired to make sure the connections aren't coming apart. In addition to that, we put Tammie on a strict medical regimen to control her heart rate and blood pressure," Dr. Desai says.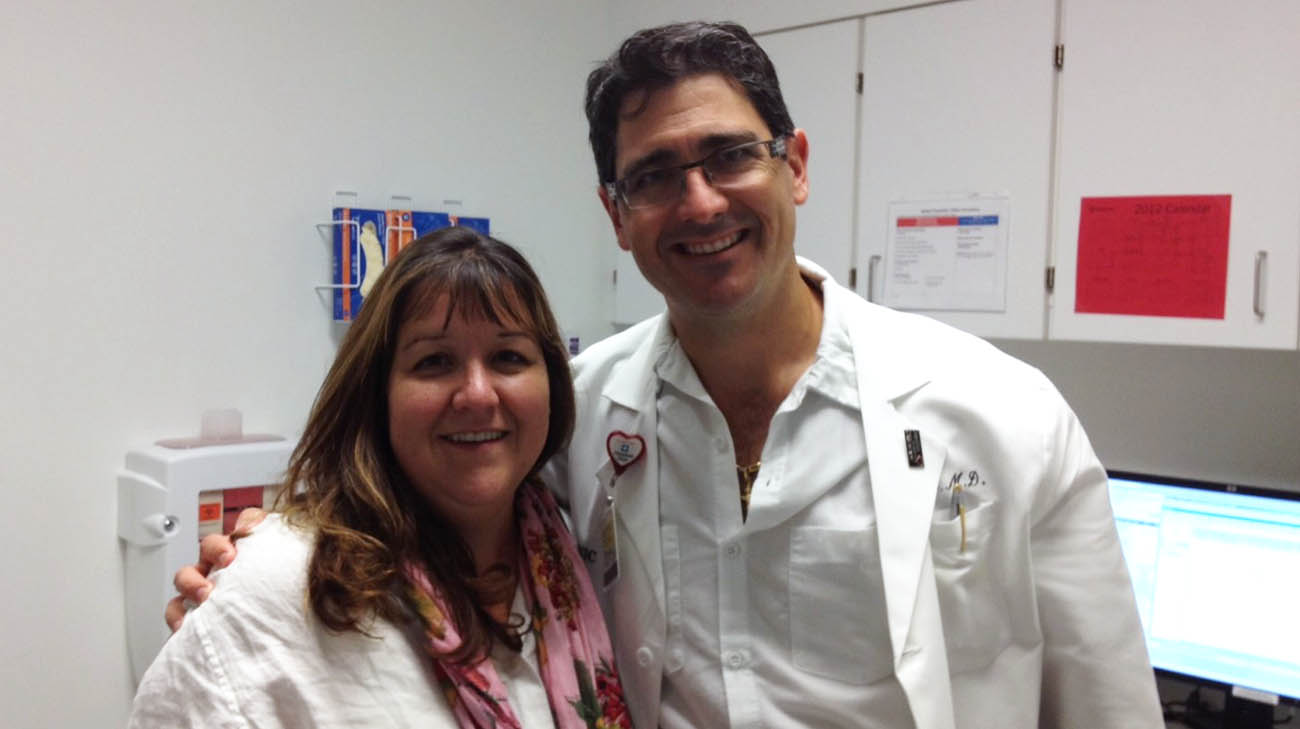 Tammie with Dr. Roselli, during one of her follow-up appointments, at Cleveland Clinic (pre-COVID). February 13 is Aortic Aneurysm Awareness Day in Ohio. (Courtesy: Tammie Purcell)
Two weeks later, Tammie returned home. Soon after, she endured another stay in a hospital closer to home, to treat a related transient ischemic attack (TIA), a mini-stroke caused by a blood clot. In the years hence, she's been in good health.
Tammie meets annually with Dr. Roselli and Dr. Desai to monitor the health of her heart and aorta. While her life-threatening ordeal was harrowing, she is grateful it occurred because it prompted a thorough review of Liam's heart. Cases similar to Tammie's often extend to first-degree family relatives as well. Soon after his birth, doctors discovered a ventricular septal defect (VSD), a hole in the heart. Over time, his condition worsened, resulting in a leak that was surgically repaired in 2017, before it became an emergency, by Cleveland Clinic Children's cardiothoracic surgeon Hani Najm, MD.
Tammie still marvels at her good fortune the day of her aortic dissection, as everyone involved not only saved her life, but – ultimately – Liam's, too.
Related Institutes: Heart, Vascular & Thoracic Institute (Miller Family), Cleveland Clinic Children's
Patient Stories
Patient Stories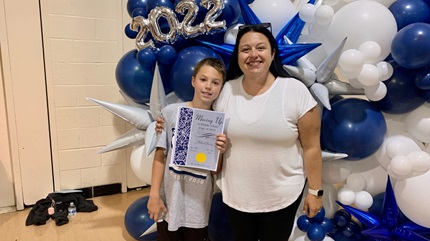 Aug 1, 2022
"When and what you eat, and when and how you exercise matters."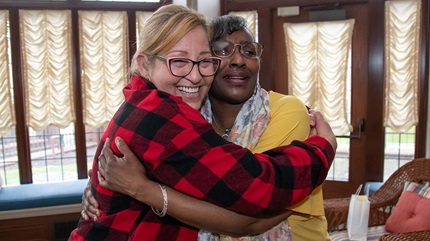 Jul 28, 2022
"I was surprised we would both have an opportunity for a new life. I am so grateful for that."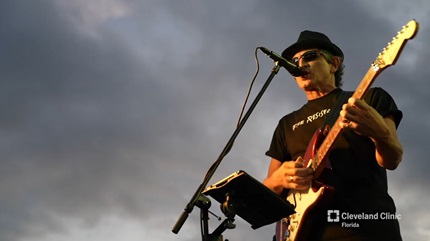 Jul 19, 2022
After seeing Dr. Navia, I knew there were more options