Union Hospital Cancer Care
Union Hospital Cancer Care
Learning that you or someone you love has cancer can be one of the most difficult things you'll ever go through. Union Hospital provides cancer care options allowing patients to focus on treatment and recovery without the additional burdens that lengthy travel may create. Board-certified physicians work with patients to develop the treatment options that are best for them, close to home. Should our board-certified hematologists and oncologists recommend chemotherapy, treatment is available on the Union Hospital campus.
Patients are usually referred to cancer specialists by their doctors. If you or a loved one has a diagnosis of cancer, talk to your doctor about cancer care options at Union Hospital.
Regional Cancer Center of Union Hospital
Regional Cancer Center of Union Hospital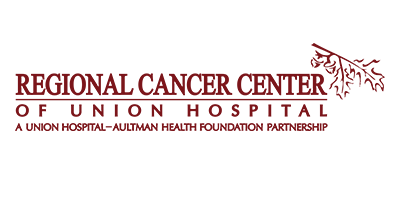 For many years, the Regional Cancer Center of Union Hospital has provided life-saving cancer treatment to individuals living in or around Tuscarawas County thanks to a partnership between Union Hospital and Aultman Hospital. The center is conveniently located on the Union Hospital campus in Dover, allowing patients to stay close to home and eliminating concerns about long drives for care.
The board-certified radiation oncologists, therapists and physicists on staff work together as a team to deliver quality, compassionate cancer care.
Radiation Therapy
The center features state-of-the-art equipment, including a linear accelerator with IGRT capability, capable of providing advanced cancer care provided at larger cancer care facilities.
The Varian Clinac iX linear accelerator uses precise doses of radiation to kill cancer cells without harming surrounding healthy tissue. Such accuracy is even more important when there are critical structures or organs near the tumor.
On-Board Imager more accurately directs the beam of radiation at the tumor and away from healthy tissue surrounding it.
Cone Beam CT ensures the proper targeting of the tumor and that the patient is correctly positioned for each treatment.
RapidArc Technology delivers radiation in a way that will shorten treatment time and improve the accuracy of the radiation dose around the tumor.
Radiation oncologists Philip Schneider, MD, and Laird Olson, MD, have more than 60 years of combined experience in radiation oncology.
For more information about radiation therapy or the Regional Cancer Center of Union Hospital call 330.364.8959.
Appointments and Patient Information
Location: Union Hospital Regional Cancer Center
300 Medical Park Drive
Dover, Ohio 44622
For questions or to speak with a member of our team, please call 330.364.8959.
Insurance and Financial Assistance Information
For questions about insurance plans accepted and financial assistance at the Regional Cancer Center of Union Hospital, please call the Aultman Hospital Patient Outreach Team toll-free at 800.900.6321.