Overview
Ohio University's Heritage College of Osteopathic Medicine at Cleveland Clinic's South Pointe Hospital is a groundbreaking new venture between the university and clinic to create an integrated campus for the study of Osteopathic Medicine.
The partnership's primary focus is to address the pressing need for more primary care physicians in northeast Ohio and the rest of the country. Experts predict a national shortage of more than 45,000 primary care physicians within the next decade. This collaboration will increase access to care, stimulate medical innovation and address the need for more affordable, community-based healthcare. The inaugural class of 51 students began classes in July 2015 and Cleveland Clinic is working closely with the college to ensure clinical training slots are available to interested students.
Cleveland Clinic Physician Diversity Scholars Program
Cleveland Clinic is proud to partner with Ohio University Heritage College of Osteopathic Medicine (OU-HCOM) to introduce the Cleveland Clinic Physician Diversity Scholars Program. The program represents the strong commitment of both organizations to embrace and encourage diversity among the providers caring for the diverse population of our communities, while also ensuring
they are providing care of the highest quality.
The Physician Diversity Scholars Program takes a proactive approach to building diversity by giving underrepresented minority medical students a unique opportunity for growth and engagement. The program seeks to help these become well-rounded, accomplished scholars with the ability to make a positive impact on the diversity of Northeast Ohio's healthcare industry.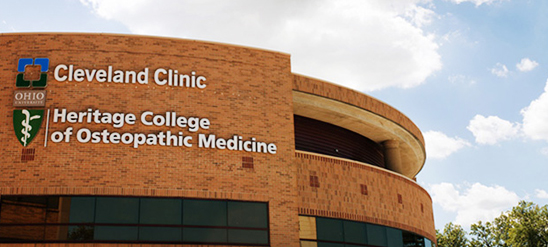 Find More Information
For future students interested in discovering more information about the program please go to: https://www.ohio.edu/medicine/about/campuses/cleveland
How to Apply
The scholars program is open to all underrepresented minority medical students at Heritage College, Cleveland, including those already enrolled at the medical school at the time that the program begins in July 2017.
In addition to completing the online application, applicants are required to submit the following:
Written statement explaining why you should be considered as a candidate for the program and what you hope to gain through participation in the program (maximum 250 words)
Written description of your commitment to living and working in northeast Ohio (maximum 250 words)
We anticipate that, as the number of underrepresented minority students at Heritage College, Cleveland continues to increase, we might need to select scholars in the future, but at this time, we want all underrepresented minority students to benefit from this program.
To complete the online application, please go to https://www.ohio.edu/medicine/about/campuses/cleveland/ diversity-scholars