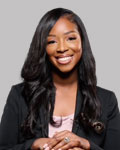 Jessica Daugherty is the chief executive officer of the Cleveland Clinic Rehabilitation Hospital, Beachwood. In this role, Mrs. Daugherty oversees the day-to-day operations of the hospital and closely collaborates with medical and administrative staff to develop and deploy clinical programs. Those programs focus on quality, safety and outcomes with a commitment to delivering a world-class care experience to patients and their families.
Mrs. Daugherty has over 10 years of experience in nursing and healthcare. She joined Select Medical in 2017 when the hospital opened as a Clinical Nurse Liaison. She was quickly promoted into various roles within business development with her last role serving as Senior Market Director of Business Development before transitioning into hospital operations. Most recently Mrs. Daugherty served as the chief operating officer at Beachwood.
Mrs. Daugherty holds a master of healthcare administration degree and a bachelor of science in nursing, both from Ohio University.