A Partnership
A Partnership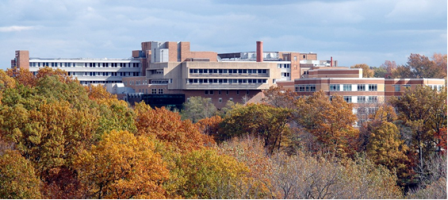 Fairview Hospital: The history of Fairview Hospital's Family Medicine Residency Program begins in 1976, in partnership with Cleveland Clinic. Our mission remains the same - to prepare future family physicians for lives of service to their patients, profession and communities.
Founded in 1892, Fairview Hospital is a faith-based community hospital with 517 licensed beds. Fairview is a fully accredited hospital by the Joint Commission, with a certified Level II Trauma Center. Cleveland Clinic Cancer Center at Fairview Hospital, located directly across the street from our main building, is accredited as a Comprehensive Cancer Center by the Commission on Cancer, with an accredited Breast Health Center.
Fairview Hospital's strong clinical Centers of Excellence include:
Fairview Hospital is the flagship of Cleveland Clinic health system on the West Side of Cleveland.
Our program is able to utilize Cleveland Clinic educational resources, including Sports Medicine, Dermatology, Electives, Community preceptors and speakers.
Cleveland Clinic: Founded in 1921 by four Cleveland physicians who believed in integrating surgical care with research and education, Cleveland Clinic is one of the nation's largest medical centers and leading centers of graduate medical education. Each year, more than 950 physicians manage more than 1 million outpatient visits and 45,000 hospital admissions.
Researchers work directly with clinicians to develop and transfer the latest discoveries to the patient as quickly as possible. This commitment to research has made possible countless medical breakthroughs and innovations, earning the Clinic a worldwide reputation for excellence. Research is actively pursued by more than 500 full-time research scientists and assistants, fellows and students.
Teamwork
Teamwork
Cleveland Clinic Family Medicine: Established as a department in 1997, there are now 107 board-certified family physicians practicing at Cleveland Clinic and its family health centers with plans to continue adding additional physicians to meet patient care demands. In addition to their clinical roles, family physicians have already made significant contributions in the arenas of managed care leadership, primary care sports medicine and in medical education.
Cleveland Clinic family physicians also are actively involved in teaching medical students in their offices and precepting residents at the Center for Family Medicine. Some family physicians are also certified in Sports Medicine and are involved in teaching residents and fellows in the area.