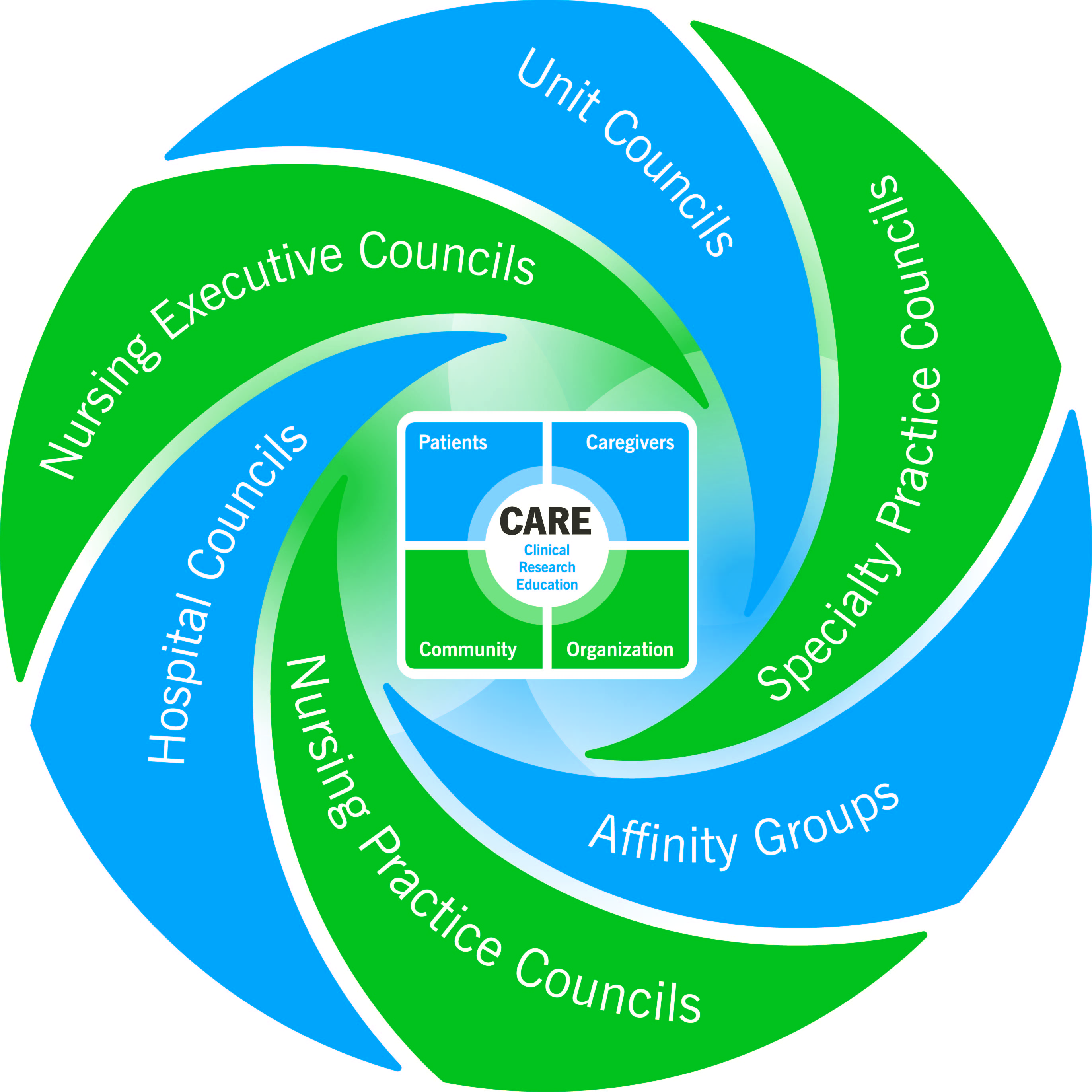 Structure
Cleveland Clinic Akron General employs a model of Nursing Shared Governance to serve as the formal infrastructure to promote a culture that involves nurses, who provide direct care services, in shared leadership; collaboration and exchange of ideas; opportunities for and accessibility to continuous learning, information and resources; decision making; innovative and participatory change management; and engaged action regarding their practice and ownership of the professional practice environment with clarity of vision and shared purpose. Shared governance is a journey, not a destination (Hess, 2004) and is evidenced by our continued growth towards an exemplary professional practice rich with new knowledge, innovation, and improved empirical outcomes.
Process
The responsibility, accountability and commensurate authority for establishing and maintaining standards of nursing care and practice belong to nurses. Each council has an identified role and partnership with the other councils to contribute to the whole, utilizing evidence based practice as the foundation for practice decisions. Healthy partnerships are sustained through consensus decision making and responsible constructive communication.
All Shared Governance Councils have an identified scope, focus, council charge, membership, and an identified realm of authority. A universal tenant for all councils is that the decisions made are to be consistent with the mission, vision, and values of Akron General and the Department of Nursing, The ANA Scope and Standards of Nursing Practice, The ANA Code of Ethics, Nursing's Social Policy Statement, the Nursing Philosophy of Akron General and the requirements set forth by the Ohio Board of Registered Nurses.
Because the Akron General model of care, Relationship-Based Care (RBC) focuses on three caring & healing relationships: (1) relationship with patient/family; (2) relationship with colleagues; and (3) relationship with self; the council structure is aligned with these caring relationships to influence a flourishing professional practice consistent with values of a caring and a healing health care environment in which humane, compassionate, and competent care is at the heart of every action with every person, every time.
Outcomes
Shared governance councils sponsor projects that advance Akron General standing strategic goals demonstrating excellence in clinical outcomes related to patient outcomes; nursing workforce outcomes; and organizational outcomes. Each council develops annual goals consistent with the commission of attaining a pervasive perception among nurses that they provide high quality care to patients. Each council establishes operational systems and processes that provide an environment that positively influences:
Patient overall satisfaction evidenced by Press Ganey scores
Efficient, effective and safe patient care evidenced by cost savings and improved patient outcomes
Hospital Consumer Assessment of Health Plans Survey (HCAPS) scores
Nursing Sensitive Indicators measured by National Database of Nurse Quality Indicators (NDNQI) data
Nurse satisfaction as indicated by Press Ganey Data