Single-port Surgery
Single-port surgery uses only one incision versus three to five for traditional laparoscopy. This means that there is less scarring. The procedure is applicable to many types of surgeries, including those involving kidney removal and donation.
What is Single Port Surgery?
Single-port surgery is surgery that is performed through a single port – or incision – in a patient's navel (belly button). Cleveland Clinic urological surgeon Jihad Kaouk, MD is among only a handful of surgeons across the nation now performing these procedures.
Single-port surgery is a form of minimally invasive – laparoscopic – surgery. In traditional laparoscopic surgery a telescopic rod connected to a video camera, or laparoscope, is inserted through a small incision in the abdomen. Three to five additional small incisions are made and used as "ports" in which to insert instruments to remove a kidney, for example, or to repair the urinary tract. Because laparoscopic surgery usually results in fewer complications and a more rapid recovery, patients often can return home the same day.
What are the Advantages and Disadvantages of Single-Port Surgery?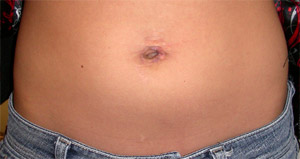 Umbilical incision 3 weeks after single-port nephrectomy (kidney removal) leaves little to no scarring.
Because it uses only one port, single-port surgery leaves little to no scarring and may reduce complications that commonly occur after traditional open and even traditional laparoscopic abdominal surgery. Patients are reporting less discomfort and faster recovery compared with those undergoing traditional laparoscopy.
For surgeons, the single-port approach is more challenging than traditional laparoscopy because the surgeon has less freedom of movement with all instruments using the same entry point. Specially designed flexible instruments help to overcome that limitation.
What Procedures can be Done Using the Single-Port Approach?
donor nephrectomy (living kidney donation)
nephrectomy (removal of a kidney)
cystectomy (removal of the bladder)
prostatectomy (removal of the prostate)
cryoablation (freezing of cancerous tissue)
sacrocolpopexy (treatment for pelvic organ prolapse in women)
treatment of varicocele (an enlargement of the veins within the scrotum)
reconstruction of the urinary tract
Who is a Candidate for Single-Port Surgery?
For certain procedures, patients considered for laparoscopic surgery also may be candidates for a single-port procedure. Patients may not be eligible if they have had multiple major abdominal surgeries or are morbidly obese, as both conditions limit visibility and movement inside the abdomen.
Who Performs Single-Port Surgery at Cleveland Clinic?
Jihad Kaouk, MD, Director of Robotic Urology at Cleveland Clinic, recently performed the first robotic single-port surgeries for renal pelvis reconstruction/revision (pyeloplasty), and surgical removal of the prostate gland (single-port radical prostatectomy), showing promise that surgeons desiring to learn and apply these highly technical procedures can now be assisted by robots.
"For single-port surgery to advance to the next level, use of robotics is going to be necessary," said Dr. Kaouk. "This demonstration of the technical feasibility of using robotics opens the door for further advances. However, considerable additional technological advances are necessary to increase the widespread usage of robotics in single-port laparoscopy." Dr. Kaouk also has performed several other single-port transumbilical surgeries, including radical prostatectomy, radical cystectomy (removal of the bladder), renal tumor cryoablation (using cold energy to kill tumor tissue in the kidney), vaginal prolapse surgery (repair of the vaginal canal), and varicocelectomy (surgical correction of enlarged veins in the scrotum) in children.
Robert Stein, MD, has helped pioneer the field of single port surgery which involves performance of major surgical procedures with nearly scar-free results. At the present time he has performed the greatest number of single port reconstructive Urologic surgeries and pyeloplasty operations in the world. He has also performed several robotic single port procedures and was the first to use a GelPort device for single port robotic surgery.
Cleveland Clinic is a non-profit academic medical center. Advertising on our site helps support our mission. We do not endorse non-Cleveland Clinic products or services. Policy