Carotid Artery Disease: Carotid Endarterectomy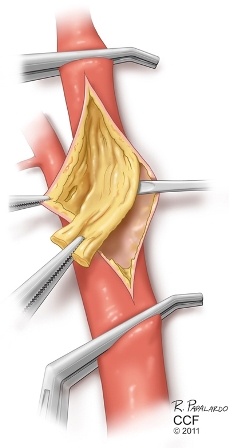 What is a carotid endarterectomy (CEA)?
For some patients with carotid artery disease, the surgical removal of the plaque within the carotid artery (the artery that supplies blood to the brain) may be recommended. This procedure is called a carotid endarterectomy. Carotid endarterectomy is the most commonly performed surgical treatment for carotid artery disease.
Why is this procedure performed? Why do I need this procedure?
Carotid endarterectomy (CEA) may be recommended for patients who have had a transient ischemic attack (TIA) or a mild stroke due to significant carotid artery disease. For these individuals, carotid endarterectomy can be highly beneficial in preventing future strokes.
CEA may also be offered to those with severe narrowing or blockage (usually at least 80 percent) in the carotid artery who have not had symptoms related to this disease.
The decision to proceed with surgical therapy has to be made on an individual basis by the patient and his or her physician.
If a patient has a stroke, it is important to get to an Emergency Room to obtain prompt medical treatment within three to six hours. For more information on stroke, visit here.
Where is the procedure performed and who performs carotid endarterectomy?
This procedure is performed in the hospital surgical suite by a vascular surgeon.