Carotid Artery Disease: Carotid Endarterectomy
Overview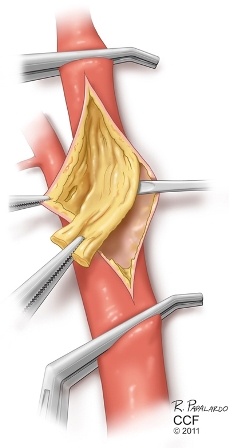 What is a carotid endarterectomy (CEA)?
For some patients with carotid artery disease, the surgical removal of the plaque within the carotid artery (the artery that supplies blood to the brain) may be recommended. This procedure is called a carotid endarterectomy. Carotid endarterectomy is the most commonly performed surgical treatment for carotid artery disease.
Why is this procedure performed? Why do I need this procedure?
Carotid endarterectomy (CEA) may be recommended for patients who have had a transient ischemic attack (TIA) or a mild stroke due to significant carotid artery disease. For these individuals, carotid endarterectomy can be highly beneficial in preventing future strokes.
CEA may also be offered to those with severe narrowing or blockage (usually at least 80 percent) in the carotid artery who have not had symptoms related to this disease.
The decision to proceed with surgical therapy has to be made on an individual basis by the patient and his or her physician.
If a patient has a stroke, it is important to get to an Emergency Room to obtain prompt medical treatment within three to six hours. For more information on stroke, visit here.
Where is the procedure performed and who performs carotid endarterectomy?
This procedure is performed in the hospital surgical suite by a vascular surgeon.
Procedure Details
How do I find out if I am a candidate for a carotid endarterectomy?
You will need to make an appointment with a vascular surgeon to evaluate you, review your medical history, and perform diagnostic tests to see if you are a candidate.
How do I prepare for carotid endarterectomy?
A few days before the procedure, pre-procedure tests may be performed to ensure that it is safe to perform the surgery. Your surgeon may order a cerebral angiogram to better define your brain anatomy. A cerebral angiogram is an invasive diagnostic test that is used to produce X-ray pictures of the inside of blood vessels in the head. In many instances now, however, this information can be obtained from either CT angiography or MR angiography. These are non-invasive methods to obtain information regarding your carotid arteries and your brain, and these can be performed without risk of stroke.
You may need to discontinue certain medications before the procedure. Your health care team will provide specific instructions to help you prepare for the procedure. Nearly all patients will remain on aspirin through the procedure. It is important to check with your physician before stopping aspirin or plavix, if you are on these medications.
What happens during the procedure?
A carotid endarterectomy is performed under general (the patient is asleep) or regional (the patient is awake and the area to be operated upon is numbed) anesthesia. The surgeon makes an incision in the neck at the site of the blockage. The surgeon can temporarily reroute blood flow around the blockage or narrowing and isolate the area. The surgeon then makes a length-wise incision along the portion of the artery containing the plaque. The plaque is removed and the surgeon stitches the defect closed using a patch of material to widen the artery and prevent narrowing from occurring again. Blood flow to the brain is restored through its normal path.
How long does the procedure last?
The carotid endarterectomy normally takes approximately 1 ½ to 2 hours and is extremely well-tolerated by most patients.
What happens after the procedure?
Recovery from the procedure is rapid, as most patients are discharged home the day after the procedure.
Results of the procedure
Your doctor will discuss the results of the procedure with you. For most people, this procedure helps prevent further brain damage and reduces the risk of stroke. However, unless patients adopt a healthier lifestyle, plaque buildup, clot formation and other problems in the carotid arteries can return.
Risks / Benefits
What are the risks and potential complications of the procedure?
As with any surgery, there is a risk of complications. In the hands of an experienced surgeon, there is minimal risk for bleeding, infection, blood clots, brain damage, stroke or heart attack.
The risks of this procedure vary, depending on the severity of your carotid artery disease, location of the blockage, whether you've had a previous stroke and the presence of other coexisting medical conditions. If this surgery is recommended as a treatment option for you, please talk with your health care team about why the procedure is recommended, the benefits and risks of the procedure, as well as the hospital's surgical outcomes.
Are there any side effects of a carotid endarterectomy?
While the operation can result in some postoperative neck pain, most of this can be relieved with standard, over-the-counter pain medications, such as extra strength Tylenol.
Resources
Outcomes for Carotid Endarterectomy at Cleveland Clinic
Cleveland Clinic's Department of Vascular Surgery is recognized throughout the world for its success with carotid endarterectomy and its many published reports concerning this operation. During the past 4 years, members of the department have performed CEA in 868 patients with an in-hospital mortality rate of only 0.7 percent and a stroke risk of just 3.0 percent and heart attack 0.6 percent. The average length of stay in the hospital following CEA is only two days. Learn more about our outcomes for carotid endarterectomy and stenting.
Doctors vary in quality due to differences in training and experience; hospitals differ in the number of services available. The more complex your medical problem, the greater these differences in quality become and the more they matter.
Clearly, the doctor and hospital that you choose for complex, specialized medical care will have a direct impact on how well you do. To help you make this choice, please review our Miller Family Heart and Vascular Institute Outcomes.
Cleveland Clinic Heart and Vascular Institute Vascular Medicine Specialists and Surgeons
Choosing a doctor to treat your vascular disease depends on where you are in your diagnosis and treatment. The following Heart and Vascular Institute Sections and Departments treat patients with all types of vascular disease, including blood clotting disorders:
Section of Vascular Medicine: for evaluation, medical management or interventional procedures to treat vascular disease. In addition, the Non-Invasive Laboratory includes state-of-the art computerized imaging equipment to assist in diagnosing vascular disease, without added discomfort to the patient. Call Vascular Medicine Appointments, toll-free 800-223-2273, extension 44420 or request an appointment online.
Department of Vascular Surgery: surgery evaluation for surgical treatment of vascular disease, including aorta, peripheral artery, and venous disease. Call Vascular Surgery Appointments, toll-free 800-223-2273, extension 44508 or request an appointment online.
IVC Filter Retrieval Clinic - to make an appointment, call Vascular Medicine at 216.444.4420. Ask for Dr. Bartholomew in the Filter Retrieval Clinic. Your appointment will include a consultation with Dr. Bartholomew and the physicians who will perform the IVC filter retrieval procedure.
You may also use our MyConsult second opinion consultation using the Internet.
The Heart and Vascular Institute also has specialized centers and clinics to treat certain populations of patients:
Learn more about experts who specialize in the diagnosis and treatment of vascular and arterial disease.
Contact
If you need more information, click here to contact us, chat online with a nurse or call the Miller Family Heart and Vascular Institute Resource & Information Nurse at 216.445.9288 or toll-free at 866.289.6911. We would be happy to help you.
Becoming a Patient
Conditions
Treatment Guides
Diagnostic Tests
Diagnostic tests are used to diagnose your abnormal heartbeat and the most effective treatment method.
Webchats
Our webchats and video chats give patients and visitors another opportunity to ask questions and interact with our physicians.
Videos
Interactive Tools
Resource Links
*A new browser window will open with this link. The inclusion of links to other websites does not imply any endorsement of the material on those websites nor any association with their operators.
Surgical Outcomes
Why choose Cleveland Clinic for your care?
Our outcomes speak for themselves. Please review our facts and figures and if you have any questions don't hesitate to ask.