Kidney Pain
Kidney pain is felt in the sides or back. It is often mistaken for back pain. Kidney pain can be caused by kidney stones, urinary tract infection, kidney infection, an injury or kidney cancer.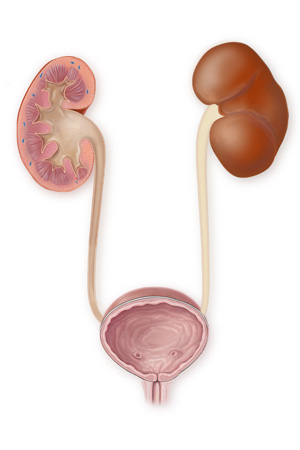 What is kidney pain?
People often mistake kidney pain as back pain.
Unlike back pain, which usually occurs in the lower back, kidney pain is deeper and higher up the back. The kidneys can be found underneath the ribcage, on each side of the spine. Pain from the kidneys is felt in the sides, or in the middle to upper back (most often under the ribs, to the right or left of the spine). The pain may also progress to other areas, such as the abdomen or groin.
Kidney pain is a result of swelling or blockage in the kidneys or urinary tract. Other symptoms such as fever, vomiting, or painful urination are clues that the pain is a result of a kidney problem.