Kidney Ultrasound
A kidney ultrasound, also called a renal ultrasound, uses sound waves to examine the kidneys. It also looks at the bladder. You may be asked to come to the test with a full bladder so that the area can be viewed with first a full, then empty, bladder.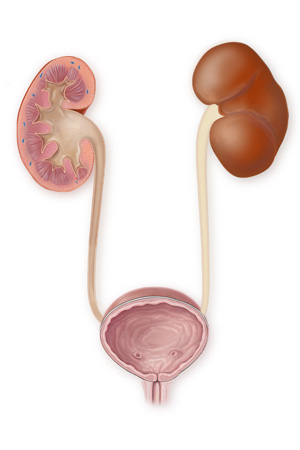 What is a kidney ultrasound?
A kidney ultrasound looks at the right and left kidney and also the bladder. (See illustration.) Your doctor may also need a "post void" done with this exam. This requires you to come with a full bladder to get a volume of the bladder before and after you empty it.
What is an ultrasound?
Ultrasound (also known as sonography or ultrasonography) is a diagnostic procedure that transmits high-frequency sound waves, inaudible to the human ear, through body tissues. The echoes are recorded and transformed into video or photographic images of the internal structures of the body.
Ultrasound images help in the diagnosis of a wide range of diseases and conditions. Ultrasound is used to create images of soft tissue structures, such as the gall bladder, liver, heart, kidney, female reproductive organs -- and even of fetuses still in the womb. Ultrasound can also detect blockages in the blood vessels.
Ultrasound may be used with other diagnostic procedures or by itself. Studies have shown that ultrasound is not hazardous. There are no harmful side effects. In addition, ultrasound does not use radiation, as X-ray tests do.