Presurgical Evaluation Process
When is surgery a recommended treatment for epilepsy? Learn about the specific criteria that makes surgery a recommended treatment.
What happens when medications are unable to control seizures?
Drs. So & Lachhwani discuss the next steps when medications don't work.
When medications are unable to control seizures, Cleveland Clinic Epilepsy Center doctors perform a careful evaluation to determine the best alternatives for treatment. Norman So, MD, a neurologist specializing in epilepsy treatment, and Deepak Lachhwani, MD, a pediatric neurologist, discuss the presurgical evaluation process for patients.
This in-depth video covers the process of diagnosing and treating patients, whether adults or children, including the tests that may be required, collaborative meetings of multidisciplinary experts, and the circumstances under which surgery is recommended.
Presurgical Evaluation Flowchart
Our presurgical evaluation flowchart explains when surgery is either recommended or ruled out when medications are not effective.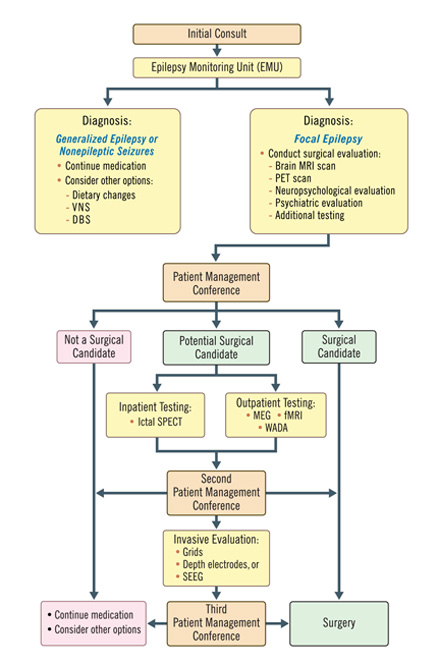 Appointments
To make an appointment, call us locally at 216.445.0601 or toll-free at 866.588.2264.
Need appointment or locations information for services in Cleveland and nearby suburbs?
Interested in epilepsy services in Florida?
Cleveland Clinic Florida's adult epilepsy program is offered at the Weston campus, located just south of Fort Lauderdale.