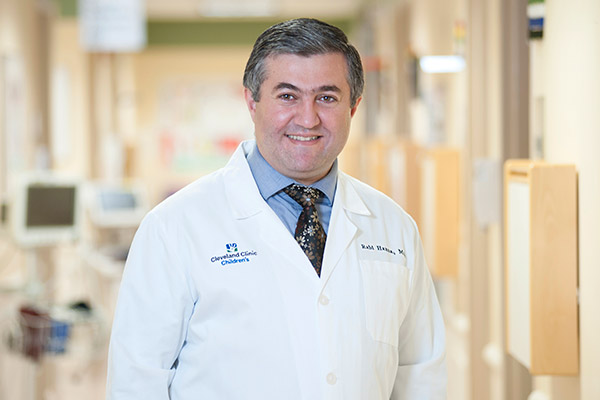 In October 2018, Cleveland Clinic Children's received certification as a center to provide the first FDA-approved CAR T-cell therapy for pediatric and young adult patients with relapsed or refractory B cell acute lymphoblastic leukemia.
CAR T-cell therapy is an innovative cancer treatment for pre-B acute lymphoblastic leukemia (ALL), explains Rabi Hanna, MD, Chairman of Pediatric Hematology & Oncology.
With this therapy, physicians extract T cells (a type of white blood cell) from the patient's blood, add an artificial receptor and then reintroduce the reengineered cells into the bloodstream to attack leukemia cells.
"The treatment is the first therapy of its kind available in the United States," says Dr. Hanna, who holds The Lee and Jerome Burkons Research Chair in Oncology.
Philanthropic funding, including support from endowed chairs, enables the study of innovative treatments that can prove beneficial to patients.
Dr. Hanna was involved in clinical trials of CAR T-cell therapy. "We saw great success in patients who had refractory lymphoma, and we are so excited to offer this approved therapy for ALL. The key thing is that this treatment is personalized to the patient. We are able to obtain the patient's own immune cells – the "soldiers" of the body."
FDA certification is required for this treatment because of potential life-threatening side effects, he says. Despite the risks, this therapy represents an important advancement in treating pre-B acute lymphoblastic leukemia.
"It will save lives," Dr. Hanna says. "Up until now, we have had no other treatment to offer these patients who had grim prognoses."
Describing the therapy as "a combination of personal gene therapy and cellular therapy," he says it lasts inside the body so that it doesn't have to be given again.
"This is the first FDA-approved gene therapy for this type of leukemia. It is very exciting, and we see this as the first of many cellular therapies to come for specific types of leukemia," he says. "Leukemia affects many organs and involves many specialists, and we believe this is going to be important to providing the very best care to our pediatric patients moving forward."