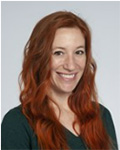 Biography
Alexis Supan earned her Bachelor of Science degree in Dietetics from The Ohio State University. She completed a dietetic internship at MetroHealth Medical Center in Cleveland, Ohio and became a registered and licensed dietitian in 2009. She has also earned a Master of Public Health degree from Case Western Reserve University. Her area of focus for her MPH was on Health Promotion and Disease Prevention.
Prior to joining the Cleveland Clinic Center for Integrative and Lifestyle Medicine. Alexis spent time working as a clinical dietitian at Marymount Hospital and as an outpatient dietitian at a bariatric surgery center. In this time she received advanced training in weight loss and earned a Certificate of Training in Obesity Interventions for Adults. Since joining the Cleveland Clinic in 2021 Alexis has been a regular contributor to Cleveland Clinic Health Essentials. She has also contributed to other publications such as Cleveland Magazine, Today.com and Everyday Health.
Alexis enjoys talking about food and nutrition with both patients and colleagues. She is passionate about educating others on how to make realistic and sustainable changes that can help improve their health and quality of life. She currently splits her time between seeing patients individually and speaking to groups on specific health and nutrition concerns or interests they have.
Alexis lives in Lakewood with her husband and their two cats, Macaroni and Cheese. In her free time she enjoys playing volleyball, travelling, and cooking.
Areas of Focus
Alexis' primary focuses are but not limited to:
Weight loss
Eating well for longevity and overall health
Diabetes
Food intolerances
Reducing pain through diet
Digestive concerns: IBS, colitis, bloating, diarrhea, constipation
Education/Training
Bachelor – Dietetics, The Ohio State University, Columbus, Ohio
Master of Public Health – Concentration in Health Promotion and Disease Prevention – Case Western Reserve University, Cleveland, Ohio
Additional Training – Certificate of Training in Obesity Interventions for Adults
Certifications/Licenses
Locations