Overview
Overview
The Maternal Fetal Medicine Fellowship at Cleveland Clinic will provide subspecialty obstetricians with a unique set of clinical skills to care for complex obstetrical patients, and it will develop the trainees' abilities to function and collaborate on innovative models of care delivery in order to improve maternal and fetal outcomes.
The program will provide fellows with enhanced education and clinical training in medical and obstetrical complications of pregnancy, imaging and prenatal diagnosis, and fetal intervention. Fellows will learn how to evaluate, treat and manage the full range of maternal-fetal disorders.
In addition, fellows will learn research methodology related to their individual area of interest. The program will provide education on quality and safety implementation so that they can continue to advance the practice of maternal-fetal medicine.
Cleveland Clinic is a major teaching institution and a leader in clinical care. By combining the large clinical obstetrical volume and the state of the art research facilities of the Lerner Research Institute, fellows will gain experience to become leaders in the field of maternal-fetal medicine.
Cleveland Clinic has several large delivery units in Northeast Ohio and a fetal intervention program. The Cleveland Clinic system is responsible for the majority of deliveries in Cuyahoga County.
The Maternal-Fetal Medicine Fellowship will include:
3 months of Labor and Delivery as the supervising physician
1 month in Surgical Intensive Care and Medical Intensive Care
2 months of genetics training
14 months of research
12 clinical months that span both inpatient and outpatient care in maternal-fetal medicine
4 months of flexible elective time
During the months of clinical service, fellows have an opportunity to experience the full gamut of clinical practice including both inpatient and ambulatory care. The office based experience provides an opportunity for fellows to refine their prenatal diagnosis skills as well as deliver consultation and antenatal care.
During the two clinically focused years, the fellows will attend a continuity clinic in which they will manage high risk pregnancies in conjunction with maternal-fetal medicine faculty.
Throughout the second year, the fellow will have a concentrated research opportunity that is not encumbered by any clinical activity other than night call and continuity opportunities. The fellow will have 4 months of elective time, during which the individual will have the opportunity to do research, broaden their exposure to specific clinical areas, or refine other skills that may require more focused training. When the fellow is on Main Campus during these elective months, they will have the opportunity to work with the Fetal Intervention program and the Special Delivery Unit that manages pregnancies that require quaternary care.
For more information about the Maternal-Fetal Medicine Fellowship program contact:
Chad Schlesinger, MBA-HCA
Sr. Program Manager
OB/Gyn and Women's Health Institute
schlesc@ccf.org
216.444.5335
Diversity & Inclusion
Discover the role diversity and inclusion plays at Cleveland Clinic and at its Graduate Medical Education program, as well as our diversity and inclusion efforts.
Learn more
Current Fellows
Current Fellows
Class of 2026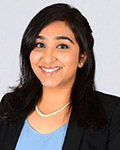 Easha Patel
Medical School: Virginia Commonwealth University School of Medicine
Residency: Virginia Commonwealth University Health System
Class of 2025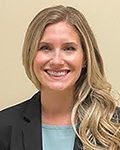 Sarah Graves
Medical School: University of South Alabama College of Medicine
Residency: Virginia Commonwealth University Medical Center
Class of 2024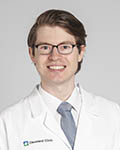 Justin Moore
Medical School: St. George's University School of Medicine - Grenada
Residency: SUNY at Buffalo School of Medicine
How to Apply
How to Apply
The Maternal-Fetal Medicine Fellowship accepts one fellow per year. All positions are filled through the National Residency Matching Program (NRMP) match. International applicants are invited to apply through the NRMP as well.
How to Apply
The Maternal-Fetal Medicine Fellowship application service participates in the Electronic Residency Application Service (ERAS). Our application requirements are the same as the standard ERAS application.
Please note: Applicant must have completed an ABOG approved residency program. All applicants must send their CREOG scores to the below Program Manager when the application is submitted.
International Medical Graduates
Frequently asked question by graduates of international medical school regarding the application process:
U.S. clinical experience is preferred but not a requirement

USMLE Step I
USMLE Step 2
3rd year CREOG score

Please review the ECFMG requirements for additional information
Deadline
Application deadline is in conjunction with the SMFM Common Application dates.
Interviews
Interviews will take place in August and invitations are sent via ERAS in conjunction with the SMFM Common Application dates. Detailed information regarding the actual interview day, traveling to Cleveland, hotel accommodations, etc. will be provided to the applicant once the interview is confirmed.
Remember to register with NRMP before you are interviewed.
For further questions, please contact:
Chad Schlesinger, MBA-HCA
Sr. Program Manager
OB/Gyn and Women's Health Institute
schlesc@ccf.org
216.444.5335