Resident Quotes
Resident Quotes
"I chose Fairview because I wanted to train at a program that was friendly, flexible, and supportive, while still offering a high-quality education. I also wanted a program that stressed the importance of preventive care, and offered OMT training because I hope to continue utilizing these after I graduate. In addition to all this though, the residents, faculty, and staff were what really impressed me and made me want to travel all the way from Texas!"
- Austin Tutt, DO, PGY3, University of N. Texas College of Osteopathic Medicine
---
"Fairview has mastered the balance of providing a curriculum that is both challenging and supportive. Not only are the faculty easy to work with, they are extremely knowledge. Beyond the outstanding personnel and experiences, the resources offered by the Cleveland Clinic allow residents explore nearly every potential interest. I am particularly grateful for the flexibility our program offers in developing our own curriculum. Faculty support to pursue one's career interests is abundant. Fairview combines the intimacy of a small community program with the academic rigor of a large academic institution."
- Daniel Urcuyo, MD, PGY3, Lerner College of Medicine of Case Western Reserve University
---
"Two parts of our residency program that stick out as strengths of our program are the ownership you have over your patients and the support from the entire program. From the first day of residency, you are considered the PCP for your patients and have immediate responsibility and ownership over their care and health. I think this mentality has helped me to learn more about medical knowledge and relationship building than I would have otherwise. At the same time, everyone in the program from the attendings to older residents to other staff has been so helpful and supportive and I never feel like I am alone or that I can't go to somebody if I need help with a patient!"
- Christopher Oh, MD, PGY2, University of Illinois College of Medicine
---
"I am so happy to be a part of the Fairview family medicine team! The program provides a very supportive work environment with a strong emphasis on resident well-being and patient-centered education. I love that we are trained in ways to help us develop strong patient relationships and work towards mastering the art of medicine!"
- Randi Amstadt, DO, PGY2, Ohio University Heritage College of Osteopathic Medicine
---
"I am loving my experience at Fairview! I knew this program was special from my audition rotation - as a student I felt well supported by the faculty, staff, and residents, and I was impressed by the resources and breadth of experience offered. As a resident, I'm growing every day and still receiving just the right amount of support. I wouldn't want to be anywhere else, and am so grateful to be part of the Fairview team!"
- Dane Shafer Klink, DO, PGY2, Ohio University Heritage College of Osteopathic Medicine
---
"As a PA working at a Residency program in Illinois my decision to return to medical school revolved around my understanding that it was residency where my future as a physician would be most sculpted. With this insight, I examined programs from multiple levels. Cleveland Clinic Family Medicine has met and exceeded all expectations. This is a place where the relationships come first. Faculty, staff, and co-residents work in unison to produce for patients on a consistent level of team I have rarely witnessed in past experiences. CCF has given me the opportunity to meet life-long friends while simultaneously strengthening the skill set I seek, all the while confidently cultivating the physician I strive to be."
- Joel Willis, DO, PGY2, Lake Erie College of Osteopathic Medicine
---
"I feel right at home in Fairview's Family Medicine Program. There is a great positive energy in the building every day I arrive at work. Everyone is very encouraging and willing to help on a daily basis. There is a huge learning curve when transitioning from medical school to residency. Fairview's faculty, residents, and staff have been there every step of the way to answer my questions and help me with everyday tasks in the clinic. I'm looking forward to the next three years at Fairview."
- Gabriel Mancini, DO, PGY1, Ohio University Heritage College of Osteopathic Medicine
---
"I chose Fairview because I think it provides a "best of both worlds" situation for training as a Family Physician. We have the resources of the internationally-known medical system of the Cleveland Clinic at our fingertips, but we train in a community setting where I really feel valued, respected, and "at home" coming to work every day."
- Julie Foucher-Urcuyo, MD, PGY1, Lerner College of Medicine of Case Western Reserve University
Resident Wellness & Support
Resident Wellness & Support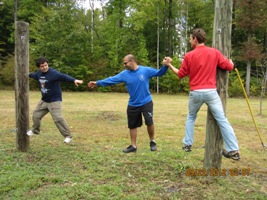 Advisor System
Each resident is assigned a faculty advisor who they will work closely with as they grow and develop as a physician. Advisor meetings are scheduled on a quarterly basis although residents can request to meet with their advisors any time they wish. These meetings are an opportunity to bring any educational or personal issues they wish to discuss and for the advisor to review academic and professional progress. Your advisors (as are all faculty members) are available as mentors throughout residency and beyond.
Annual Resident Retreat
Every Fall a residency retreat is held off-site for a time of fun, laughter and team building. Each retreat is unique and interactive as well as an opportunity for residents, faculty and their families to deepen their connections and sense of community.
Resident Support Groups
Support Groups are an integral part of our residency life. During your Intern year this is a monthly meeting, second-year a quarterly meeting and during third-year twice a year. This is a by class dinner experience facilitated by the Behavioral Science faculty providing a confidential space to process the life of being a resident.
The goal of this group is to promote and teach physician/resident well-being and to help resident's develop resiliency, manage stress and develop a mutually supportive community of colleagues.
The objectives of our support groups:
To develop a community by encouraging friendships and collegiality based upon open communication, mutual care and support
To share resources and provide peer support to help residents through the stressors of their residency
To provide integration and learning of strategies for self-care as preparation for a career in medicine
To provide a safe environment to address stressors, communication problems, personal and relational concerns, to share celebrations & concerns, develop coping skills and discuss residency concerns
Resident Forums
Twice a month our chiefs meet with the residents as a group for a time of conversation. This is a chance to share celebrations, discuss concerns and talk with the group about residency activities.
KORU Mindfulness
Koru Mindfulness is a unique, evidence-based curriculum specifically developed for teaching mindfulness, meditation and stress-management to young adults. We are excited to teach these skills to our residents to help encourage their own skills of self-care and skills that they can teach their patients to promote wellness.
Other Advantages
Other Advantages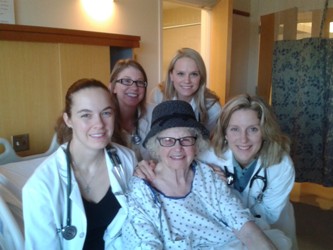 Collegial Atmosphere
We believe in collaborative learning and mutual support. Our overall success is dependent on our ability to work as a team.
Home Call
Our 2nd and 3rd year residents take home call for the Family Medicine service. They come into the hospital for admissions. If there are admissions after midnight, the resident is considered "post-call" and will be off the following afternoon to adhere to the ACGME call guidelines.
Teaching Opportunities
As 2nd and 3rd year residents, you can be scheduled with a medical student. Residents have the opportunity to teach medical students in the clinic and on their Family Medicine Inpatient rotation. Fairview has 3rd year students come for clerkship rotations, and 4th years rotate if they are interested in Family Medicine. We have students who come from CCF Lerner College, Case Western Reserve University, Ohio State University, University of Toledo, Ohio University and LECOM. Students from any LCME OR AOA accredited schools are welcome.