Overview
Overview
Patients with rheumatology conditions such as rheumatoid arthritis, systemic lupus erythematosus (SLE), psoriatic arthritis (PsA), systemic sclerosis, connective tissue disorders, and even those with unidentified autoimmune and inflammatory conditions have higher rates of cardiovascular disease.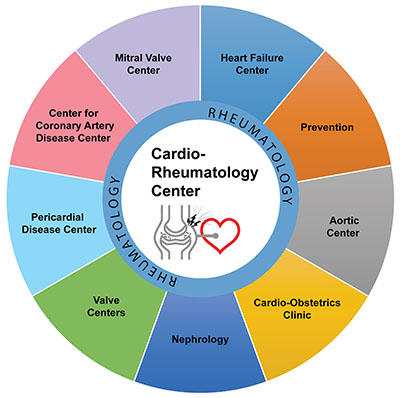 Patients with these conditions have a higher rate of or advanced
Coronary artery disease
Heart valve disease
Pulmonary hypertension
Pericardial disease
Heart failure
Aorta disease
The Cleveland Clinic Cardio-Rheumatology Program is a multidisciplinary patient centered approach for the management of complex cardiovascular disease in patients with rheumatology disorders.
Cardiologists and rheumatologists work together to create an individualized plan of care to address the patient's cardiovascular and rheumatology condition for the best possible outcome for the patient.
The Cardio Rheumatology team also participates in research to advance the diagnosis and treatment of cardio rheumatology conditions
What We Treat
What We Treat

The Cardio Rheumatology team brings together clinicians that specialize in rheumatology and cardiovascular disease. The team includes physicians, advanced practice providers and nurses from Cardiovascular Medicine, Rheumatology, and Cardiothoracic Surgery with expertise in diagnostic testing, medical management and surgical procedures for patients with:
Aortic valve disease
Aorta disease or aortopathy
Coronary artery disease
Heart failure and myocardial disease
Pericardial disorders
Mitral valve disease
Arteritis

If you are over 18 and have a rheumatology condition (such as arthritis, lupus, systemic sclerosis or psoriatic arthritis) and has been diagnosed with heart or vascular disease, our specialists will work with you to create a plan to improve your health and lower your risk for future advanced disease.
Our Team
Our Team
Heba Wassif, MD, MPH - Center Director
Cardiovascular Medicine and Imaging
This group of physicians will evaluate you and begin to develop your plan of care.
Thoracic and Cardiovascular Surgery
Rheumatologic and Immunologic Disease
Cleveland Clinic's team of rheumatologists provides patients with expert diagnosis and treatment of autoinflammatory and autoimmune conditions.
Patients who are seen in the Cardio Rheumatoloy Center have access to experts from our multidisciplinary centers and clinics:
Make an Appointment
Make an Appointment
By Phone
To make an appointment, please call toll-free 800.659.7822 Cardiology Appointments or Request an Appointment online.
Directions
When you make your appointment, ask the administrative assistant for the name of your physician and desk number.
Online
Use our secure online form to submit an appointment request 24/7. We will receive it and follow-up with you as soon as possible.
Physician Referrals
Mon. - Fri., 8 a.m. - 5 p.m. (ET):
call toll-free 800.659.7822
At all other times call Patient Access Services locally 216.444.8302 or toll-free 800.553.5056.
More info on referrals, transfers and critical care transport
Before your appointment:
If your appointment is scheduled more than a week away, you will need to send in your records, including medical history, test results and films (such as echocardiogram, ultrasound, chest X-ray, MRI or CT scan). All records should be sent to the doctor you will see in the Cardio Rheumtology Clinic. Send all information in the same package (clearly marked with your name and address) via Airborne Express, Federal Express, or certified U.S. mail (make sure you have a tracking number).
Ask your appointment team member the physician name and Desk number.
The address is:
Physician Name
Cleveland Clinic Heart, Vascular and Thoracic Institute
9500 Euclid Avenue – Desk ____
Cleveland, OH 44195
Learn about other options to send in records and images
If your appointment is scheduled within a week, please bring your records to your appointment.
What to expect during your appointment:
You will meet with a nurse who will collect your information, and begin the documentation process.
Depending on the specific type of cardio-rheumatology disease, you may be sent for blood tests and an electrocardiogram (EKG). You will meet with your center cardiologist who will review your records, take your medical history, perform a physical exam, and advise on additional testing or consultations with other specialists within the Center as needed. If you need to meet with one of the multidisciplinary specialists, they will be consulted within one to two days. The Cardio Rheumatology cardiologist will provide you with a plan of care.
How long will you need to stay at Cleveland Clinic?
You should plan on spending 1 to 2 days in the Cleveland area. Your stay may be longer if a treatment is scheduled at the time of your visit.
Follow-up
Follow up is usually at 6 months to one year – or as needed. There is an opportunity for virtual visit or telephone follow up as well.
Travel to the Cleveland Clinic
To help make your visit to Cleveland Clinic as easy as possible, please visit:
Information on travel to the Miller Family Heart and Vascular Institute.
More Information
More Information
If you need more information, click here to contact us, chat online with a nurse or call the Miller Family Heart and Vascular Institute Resource & Information Nurse at 216.445.9288 or toll-free at 866.289.6911. We would be happy to help you.