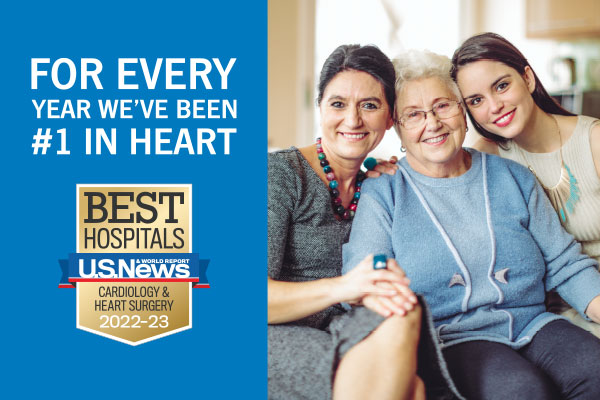 Cleveland Clinic's Sydell and Arnold Miller Family Heart & Vascular Institute is one of the largest cardiovascular and thoracic specialty groups in the world, providing patients with expert medical management and a full range of therapies. Our areas of expertise combine research, education and clinical practice to provide innovative and scientifically based treatments for cardiac, vascular, esophageal, and thoracic disease. The commitment of our physicians and scientists to the prevention and cure of cardiovascular disease has led to innovative care, better outcomes and improved quality of life for patients. U.S. News & World Report has ranked Cleveland Clinic as the No.1 heart program in America every year since 1995.
In the most recent 2017-18 America's Best Hospital's Survey, the Cleveland Clinic Heart & Vascular Institute received the highest scores available for Survival, Advanced Technologies and Patient Services. Two out of every three specialists who responded to the survey ranked Cleveland Clinic among the best for treating difficult conditions.
American Heart Association's Get With the Guidelines - Heart Failure GOLD Plus Award
Every year since 2011, Cleveland Clinic has received the American Heart Association's Get With The Guidelines Heart Failure GOLD Plus Certification for improving the quality of care for patients hospitalized with heart failure decompensation.
Gold Plus distinction recognizes hospitals for their success in using Get With The Guidelines treatment interventions. This quality improvement program provides tools that follow proven, evidence-based guidelines and procedures in caring for patients with heart failure to prevent future hospitalizations.
Cleveland Clinic also received the Get With the Guidelines Stroke GOLD Plus Award.
Beacon Award of Excellence - Heart Failure Intensive Care Unit
The Cleveland Clinic's Kaufman Center for Heart Failure Intensive Care Unit (ICU), recently received The American Association of Critical Care Nurses (AACN) Beacon Award of Excellence for continuing improvements in providing the highest quality of care for patients. With more than 6,000 ICUs in the U.S., Cleveland Clinic's Kaufman Center for Heart Failure ICU joins a distinguished group of just over 300 ICUs to receive the Beacon Award since the award's inception in 2003. The award recognizes individual critical care units that show the highest level of standards in patient safety and quality in acute and critical care.
Cleveland Clinic Gets Stellar Rating
As a participant in the Society of Thoracic Surgeons (STS) public reporting initiative, Cleveland Clinic is proud to be one of only 11 hospitals to achieve a three-star (highest) rating in all three categories of adult cardiac surgery in which the STS rates hospitals (for the reporting period through June 2016). Cleveland Clinic likewise received three stars in all subcategories of each of the three broad categories including, coronary artery bypass grafting (CABG), aortic valve replacement (AVR) and AVR + CABG. Cleveland Clinic also scored a 3-star STS rating in lobectomy for lung cancer.