Recent News
Recent News
2017 News
December
---
November
---
October
---
September
---
August
---
July
---
June
---
May
---
April
---
March
---
February
---
January
Reviewed: 11/17
News Archives
News Archives
2016
WebMD – Actress Carrie Fisher recently passed away after suffering a heart attack. Dr. Leslie Cho comments, 12/27/16
Surprising Study Result: Arthritis Drug Does Not Affect the Heart
Celebrex arthritis drug safety study surprises heart experts
Raising 'good' cholesterol doesn't protect against heart disease after all, study finds, 10/31/16
LivaNova PLC Stockert 3T heater-cooler devices as of 10/14/16
Cleveland Clinic will continue to monitor updates from the CDC and FDA detailing the concerns on the Stockert 3T heater-cooler devices manufactured by LivaNova PLC.
Old heart device wires tied to complications, death risk
12 Foods That Can Make Heartburn Worse
Survival while on heart transplantation waiting list varies by sex, UNOS status
Why Heart Health Advice Is All Over the Map
Remote monitoring of heart devices saves money, but not lives
Here's Why More People Are Surviving Heart Attacks, According to 10-Year Study
Michael Lincoff, MD: Lipid Levels & Cardiovascular Outcomes With CETP Inhibition
CardioBrief: New Heart Failure Drug Struggles to Find Its Footing
Extract, Don't Aban-don ICD Leads, for Better Infection Care
Giant Heart: Unusual Condition Means Heart is 80% of Man's Chest
Remote heart monitoring can help detect emergencies
Cleveland Clinic tops in U.S. News heart rankings for 22 years, jumps to #2 hospital spot overall
Regional coordination cuts time to heart attack treatment
Study: Marriage may improve heart attack survival odds
New-Onset HF: Only a 'Troubling' Few Get Timely CAD Testing
Oklahoma State player Tyrek Coger died of enlarged heart
Fish Oil Is Hugely Popular—But Should You Take It?
BOLD MRI Detects Blocked Arteries, No Stress Needed
Should you take a daily aspirin?
VIDEO: More research needed to determine optimal strategies for reducing HF readmissions
'He's a miracle': Heart transplant recipient prepares to compete
Radiation-associated CAD confers increased mortality risk after PCI
Video-assisted thoracoscopic surgery for NSCLC reduces pain, improves quality of life
Abnormal Longitudinal Strain May Predict LV Dysfunction
Ohio man racing in Sweden marathon to honor surgeon who helped save his life
Elevated troponin following non-cardiac surgery may provide clinical predictor for mortality
FDA nudges companies to reduce sodium in processed food by a third
Institution Spotlight: Bioresorbable vascular scaffolds at forefront of investigation at Cleveland Clinic
Why Stress Tests Could Be More Stressful Than They're Worth
Silent heart attacks strike more men but kill more women
Perspective by Dr. Cantillon on AFACT trial & VANISH trial
Smartphone-based ECG monitor effective for diagnosing palpitations
Why so few patients get the new cholesterol busters
What's the Optimal Waist Size to Maintain Good Heath?
Here's What You Need To Know About Whole Milk And Your Health
New cholesterol methods needed in wake of failed drugs, heart researchers say
Statin intolerance is real, researchers find. Another (more costly) drug may get around the problem
Increasing endovascular treatment for CLI linked with lower mortality
Exciting News on TAVR; Tempered by Unanswered Questions
The Truth About Weight Loss
Younger, Fatter, Sicker: New Heart Attack Data from Cleveland
Gut bacteria hold clues to heart health
Younger Heart Attacks
Artificial Heart may eliminate need for heart transplants
Gut microbes affect platelet function, risk for MI,stroke
At-Risk Limbs More Likely to See Catheter Than Scalpel
Out-of-hospital pediatric cardiac arrest survival remains poor, similar to adults
High 'good' cholesterol is bad for some
Maria Sharapova Admits Taking Meldonium, Drug Newly Banned by Tennis
A little cha-cha may help your heart
Energy drinks raise more health concerns
Young women less likely to return to work after heart attacks
Dr. Leslie Cho on Women's Heart Health
Testosterone gel is no fountain of youth, study finds
Exercising for Your Heart – in the New Year and Beyond
Katie May: Can Falling the Wrong Way Cause a Stroke?
How Much Exercise Does Your Heart Need? Most of Us Aren't Getting Enough
EchocardiographyStill Underused, But Less So
Survey: Many people not reducing their risk for heart disease
New Heart-Health Threat: Compounds in Red Meat, Egg Yolks and More
Heart Attack Causes and Symptoms are Different in Women
Dr. Marc – February Medical Minute
New therapies change landscape of care for patients with HF
Robotic surgical mitral valve repair associated with high survival, few complications
Shorter time from diagnosis to ablation improves persistent AF outcomes
6 Things Doctors Tell Their Friends About Heart Health
Do You Have Muscle Pain While Taking a Statin Drug?
Coffee and Your Heart: Stimulant or Stressor?
New therapies change landscape of care for patients with HF
Robotic surgical mitral valve repair associated with high survival, few complications
Heart Failure: a Growing Problem Worldwide
New Dietary Guidelines Urge Americans to Eat Less Sugar
Health Essentials
Health Essentials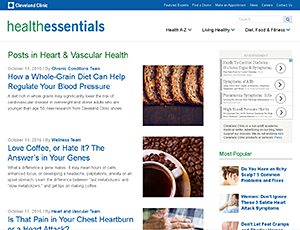 To provide patients and physicians with the latest information about cardiovascular health, please visit the Cleveland Clinic's Heart and Vascular Institute Health Essentials blog, offering free and timely content related to heart, vascular and thoracic topics. The regularly updated blog will explore current topics related to research, Cleveland Clinic physician perspectives on breaking news stories and offer an outlet for Cleveland Clinic heart patients to share their story with readers.
"There's a strong demand for information about the heart and heart health from authoritative sources," says Maan Fares, MD, the medical director for the heart blog. "The Health Essentials blog is the source of breaking news from Cleveland Clinic's cardiovascular program. It provides commentary from our experts on current issues. And it features stories that will enrich and enlarge readers' knowledge and appreciation of the heart in all its complexity. We want readers to check in on the Health Essentials every day."
Newsletter