Recent News
Recent News
2018 News
April 2018
---
March 2018
---
February 2018
Years of Football Could Harm the Heart. US News. Dr. Dermot Phelan comments on the research. 02/28/18.
Football May Cause Harmful Changes To Your Heart. Medical Daily. Dr. Dermot Phelan comments on the research. 02/28/18.
How the Cleveland Clinic streamlined operations in the cath lab. Cardiovascular Business. Dr. Steven Nissen comments. 02/13/18.
Cleveland Clinic ranked among 'World's Most Ethical Companies' by the Ethisphere Institute. Akron Beacon Journal. 02/13/18
Israel develops pocket-size device to test for heart attacks. cnn.com. Dr. Steven Nissen comments. 02/12/18.
Boy who was born with a hole in his heart celebrates his first birthday after risky surgery at just four months old. DailyMail.com, WKOW-TV (Madison, WI), WCVB-TV (Boston, MA) and 3 other affiliates. Drs. Hani Najm and Elizabeth Saarel, Cleveland Clinic Children's, comment. 02/12/18.
Dr. Marc gives us a tour of the 'Mega Heart'!. Fox 8 Cleveland. Dr. Marc Gillinov 02/08/18.
Jeff Green finally learns how long his heart was stopped for life-saving surgery at Cleveland Clinic. Cleveland19.com. Dr. Lars Svensson discusses the basketball player's surgery. 02/07/18.
This Is Us' 'Widow Maker' Had Hearts Pounding. WebMD. Dr. Amar Krishnaswamy explains the cause of widow maker heart attacks. 02/06/18.
Is It Normal to Be Out of Breath When Walking Up the Stairs?. Self.com. Dr. Emily Pennington weighs in. 02/06/18.
Heart Attack Vs Cardiac Arrest: The Difference Between The Two And How To Respond During A Heart Emergency. Ideastream. Dr. Steven Nissen explains the difference between a heart attack and cardiac arrest. 02/06/18.
Is Coconut Oil Good for the Heart? EverydayHealth.com. Kate Patton, RD, comments. 02/05/18.
Fox 8 LIVE at Cleveland Clinic. Fox 8 Cleveland. Mike Crawford, Cardiac Rehabilitation 02/02/18.
Do you know how to save a life? Wayne gets a 'hands-on' CPR lesson. Fox 8 Cleveland. Dr. Marc Gillinov 02/02/18.
Your Healthiest You 40, 50, 60, And 70+. Prevention Magazine. Dr. Christine Jellis comments 02/01/18.
News Archives
News Archives
2017
December
---
November
---
October
---
September
---
August
---
July
---
June
---
May
---
April
---
March
---
February
---
January
Health Essentials
Health Essentials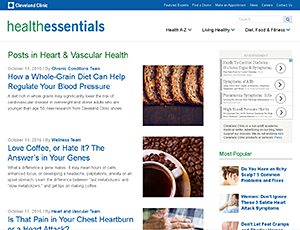 To provide patients and physicians with the latest information about cardiovascular health, please visit the Cleveland Clinic's Heart and Vascular Institute Health Essentials blog, offering free and timely content related to heart, vascular and thoracic topics. The regularly updated blog will explore current topics related to research, Cleveland Clinic physician perspectives on breaking news stories and offer an outlet for Cleveland Clinic heart patients to share their story with readers.
"There's a strong demand for information about the heart and heart health from authoritative sources," says Maan Fares, MD, the medical director for the heart blog. "The Health Essentials blog is the source of breaking news from Cleveland Clinic's cardiovascular program. It provides commentary from our experts on current issues. And it features stories that will enrich and enlarge readers' knowledge and appreciation of the heart in all its complexity. We want readers to check in on the Health Essentials every day."
Newsletter