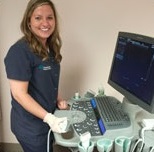 What interested you in becoming a Technologist?
I wanted to do something in the medical field but I did not want to be a nurse. I started searching around for medical professions other than nursing and came up with Diagnostic Medical Sonography. I have always had an interest in human anatomy and physiology and felt ultrasound best fit that interest because you learn everything about the body from head to toe.
What physical and/or soft skills do you need to have to succeed?
Ultrasound requires a lot of upper body strength not only for scanning but also for doing portable ultrasounds and assisting patients in certain positions. Also, you have to be a sympathetic person who understands the needs of patients in this critical time of their lives. Everything little that you do for the patient's comfort can make a huge difference in their stay or visit here.
What advice would you give to interested high school students?
The program is VERY challenging, very time consuming, and requires constant effort. High school students should know that this field is not "just taking pictures" and is far from "just taking pictures of babies." The job can be emotionally tolling, and you are around a broad spectrum of illnesses that people outside of the medical field never see. However, the job is very rewarding and I couldn't imagine doing anything else.
What interested you in working at Cleveland Clinic?
Cleveland Clinic is one of the best hospitals in the world. Working for Cleveland Clinic means constant challenges and a large variety/quantity of exams that allows you to work with patients of all ages.
What excites you about working as a Technologist?
What I find most exciting about being a Technologist is the constant challenges I face every day while scanning. Every patient is different with different needs and different anatomy. You truly do learn something different everyday.
What has been your most gratifying experience as a Technologist?
My most gratifying moments of being a Technologist are watching the patients grow stronger and healthier after seeing them at their worst and knowing that you played a part in that.
What career options do you have as a Technologist?
If you have a passion for teaching, you could continue on from an associate's degree and get your bachelor's degree. Also, with enough experience you could go into management for the ultrasound department.
Learn More