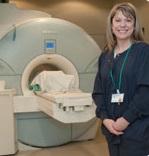 What about the field of MRI Technology interested you?
After graduating from X-ray school I was interested in ultrasound. My classmate looked into MRI and got a job with a mobile MRI company. There weren't many MRI programs back at that time so the thought of on-the-job training for a subspecialty sounded great. I ended up getting hired also and ended up loving MRI and staying with it now for 20 years.
What physical and/or soft skills do you need to have to succeed?
In hospital settings you may need to help move some patients from their beds to the scanner table. Patience and caring are very important. Patients can be claustrophobic so having compassion is helpful. You will spend most of your day on the scanner positioning and adjusting parameters for the scans. Loving people and working on computers is a must.
What advice would you give to interested high school students?
If you have the opportunity to take anatomy and physiology take advantage of it. With MRI you are looking at cross-sectional anatomy which is quite different than diagnostic x-ray. You should plan on going to an MRI program when you finish your diagnostic training. There you will learn physics and principles of magnetism. You also will be required to do your clinical training which enables you to sign off on exams needed to sit for your MRI registry.
What interested you in working at Cleveland Clinic?
The mobile company I worked for did a lot of partnerships with Cleveland Clinic. I was able to meet many great people through that. At first I wanted to just settle down after traveling so much. I ended up finding that I learned more at Cleveland Clinic in my first year than I did in my previous 8 years in MRI. The education you gain by working at Cleveland Clinic is priceless. I never regret coming to work at Cleveland Clinic.
What excites you about working as an MRI Technologist?
Technology changes daily in our department. I've witnessed many dramatic changes in my 20 years that have helped people live better lives. MRI has many individual specialty areas you can focus on. We are always learning new things.
What has been your most gratifying experience as an MRI Technologist?
Having patients tell you "Thanks" for being here for them. I enjoy helping patients through their anxiety with their testing. I try to provide everything for them that I would provide if they were my mother. I feel good when someone says, "I couldn't have got through that without you."
What career options do you have as an MRI Technologist?
MRI has many individual specialty areas you can focus on - Cardiac, Breast, Functional MRI, Pediatrics and Intra Operative MRI are just a few of these areas. If you are not interested in a more dedicated area, Musculoskeletal, Neurology and Abdominal Imaging are certainly as interesting and fulfilling to perform.
Learn More