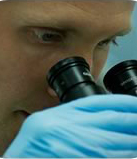 An all-around kind of career
Should you find a job in a larger hospital like Cleveland Clinic, you're likely to become specialized in one specific area of lab testing such as body fluids or biopsies (samples of body tissue). In a smaller facility you might be the "do-everything" kind of person…not only working in the lab but working directly with patients. In my position at Cleveland Clinic, between 10-12 people make up a team and are available to ask questions. We also work directly with staff physicians who rely on us for solid proof of medical disorders.
The missing link
When doctors have questions about lab results, they turn to the clinical pathologist on our team for answers or an explanation. Medical technologists help explain the results of tests that have been run, so we need be sure we are on the up-and-up when it comes to new ways of testing or looking at results.
In this kind of field, it seems like you learn something new every day. Here at the Clinic, we perform specialized tests that no one else in Northeast Ohio does. It's pretty exciting.
Are you up for the challenge?
It's a lot of hard work to get into a career in the medical technology field, but if you're willing to make a go of it, you will only advance further in life.

The perks of the position:
It's a great entry-point to finding out what medicine is all about
Various scheduling options available
Long-term job security