Cleveland Clinic & Lakewood Family Health Center
Cleveland Clinic & Lakewood Family Health Center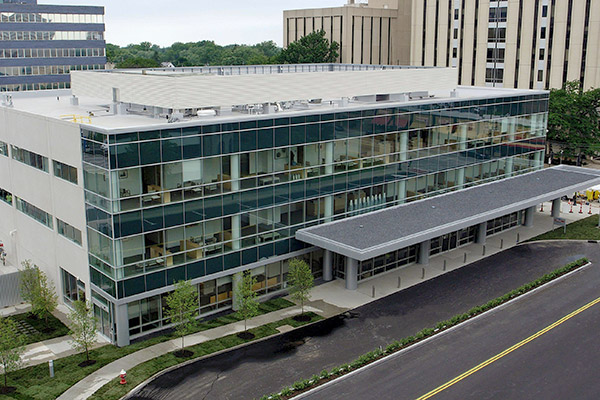 In 2018, the Family Medicine Residency Program relocated to the Lakewood Family Health Center in Lakewood, Ohio. This is the new home for the outpatient based clinic with state of the art exam rooms and equipment.
The Center for Family Medicine occupies the whole 2nd floor of the building. There are subspecialty physicians on the 3rd floor, with an ER on the first floor. Residents continue to rotate on inpatient rotations at Fairview Hospital.
Fairview Hospital
The history of Fairview Hospital's Family Medicine Residency Program began in 1976, in partnership with Cleveland Clinic since 2001. Our mission remains the same - to prepare future family physicians for lives of service to their patients, profession and communities.
Founded in 1892, Fairview Hospital is a faith-based community hospital with 517 licensed beds. Fairview is a fully accredited hospital by the Joint Commission, with a certified Level II Trauma Center. Cleveland Clinic Cancer Center at Fairview Hospital, located directly across the street from our main building, is accredited as a Comprehensive Cancer Center by the Commission on Cancer, with an accredited Breast Health Center.
Fairview Hospital's strong clinical Centers of Excellence include:
Fairview Hospital is the flagship of Cleveland Clinic health system on the West Side of Cleveland and is rated by U.S. News and World Report as the #4 hospital in the state of Ohio..
Cleveland Clinic
Founded in 1921 by four Cleveland physicians who believed in integrating surgical care with research and education, Cleveland Clinic is one of the nation's largest medical centers and leading centers of graduate medical education. Each year, more than 950 physicians manage more than 1 million outpatient visits and 45,000 hospital admissions. Cleveland Clinic is ranked as one of the nation's top hospitals by U.S. News & World Report.
Researchers work directly with clinicians to develop and transfer the latest discoveries to the patient as quickly as possible. This commitment to research has made possible countless medical breakthroughs and innovations, earning the Clinic a worldwide reputation for excellence. Research is actively pursued by more than 500 full-time research scientists and assistants, fellows and students.
Transformative Care Curriculum
Transformative Care Curriculum
To meet the growing need for primary care physicians and to provide the best care for patients, the Ohio University Heritage College of Osteopathic Medicine and Cleveland Clinic are transforming medical education. Together, we are responding to rapid and dramatic changes in health care delivery with our own dramatic changes to the way physicians are trained. The Transformative Care Continuum is an accelerated demonstration project, from medical school through residency, with deep experiences with patients and health care delivery teams at its foundation. The first class begins August 2018, with a target completion of residency for the first students in 2024.
Students will be embedded into their Cleveland Clinic site within their first days of medical school, and they will progress at that same site through to graduation, residency and board certification. Cleveland Clinic anticipates hiring successful graduates to serve as physician leaders within its system.
School Based Clinic
School Based Clinic
The opening of the Medical Clinic is an extension of Cleveland Clinic Children's School-Based Health Care program which continues to meet the physical and mental healthcare needs of students and faculty in the communities it serves. Cleveland Clinic Children's established its School-Based Health Care program in 2014 to increase access to general pediatric care to kids and teens in underserved neighborhoods throughout Northeast Ohio. That same year the program's Mobile Unit - a full-service pediatric office on wheels that provides, comprehensive healthcare services to students - started providing care for Lakewood City Schools. This is the first in-school clinic for Cleveland Clinic.
The onsite clinical team includes a certified nurse practitioner, behavioral health specialist and pediatric psychiatrist. The Cleveland Clinic Family Medicine residents will rotate through the clinic one half day per month with the goal to expand in the future.