Overview
Overview
Thank you for your interest in Cleveland Clinic's Anesthesiology Residency Program at the Cleveland Clinic. Our four year integrated categorical residency includes a world class learner centered, interactive, level specific , curriculum (including a longitudinal perioperative ultrasound curriculum, level specific high fidelity simulation based education, a comprehensive OSCE curriculum, and periodic oral board practice examinations) that prepares our graduates for a life -long career as leaders in Anesthesiology and perioperative medicine. Our residents function as an integral part of our care team and actively participate in the care of patients with complex surgical pathology across all surgical subspecialties alongside renowned experienced anesthesiologist educators. We take pride in our outcomes focused, patient centered high impact research and in our innovative culture and welcome you to join our team.
A Message from our Chief Residents:
Welcome to Cleveland Clinic's Anesthesiology Program! With its rich history as a world-renowned medical center and a long list of medical innovations, Cleveland Clinic provides a unique training environment.
Training and Curriculum:
We provide a unique Clinical Base Year (PGY-1), which integrates 6 months of anesthesia training early in residency. We have level-specific lectures beginning as an intern which focus on key topics for the ABA Part 1A and 2 exams. In addition, we have mock oral boards, monthly journal clubs, simulation activities, practice OSCEs, and weekly grand rounds. With our large Outcomes Research Department, research is encouraged and supported among residents, although not required. However what is irreplaceable in our training is our clinical case exposure, with over 20 cardiac, thoracic, vascular ORs, and over 50 general and pediatric ORs. We provide anesthesia for some of the sickest patients from all over the world. Our residents gain exposure to a wide variety of surgical cases including solid organ transplants (including liver, kidney, small bowel, heart, and lung) as well as complex heart and vascular cases. This is an invaluable experience that can only be gained from a quaternary care center like the Cleveland Clinic.
Resident Life:
Within our program there is a genuine sense of community and support. There are several institute sponsored events throughout the year as well as staff who open their homes for gatherings. For those of you unfamiliar with Cleveland, the city offers a lot. Affordability is universal; the restaurant scene features Top Chef Winners, a variety of music and ethnic festivals, many professional sports teams, and countless breweries including the nationally known Great Lakes Brewery. For outdoor enthusiasts, Cleveland offers many hiking and biking trails within the Metro-Parks, a large fishing and hunting community, nearby camping, and lakefront beaches. In addition, Cleveland has an internationally recognized theater district, symphony orchestra, and art museum.
Whether your career goals include academic medicine, private practice, or fellowship training, our residency program is designed to provide you with a strong foundation to succeed and excel as an anesthesiologist.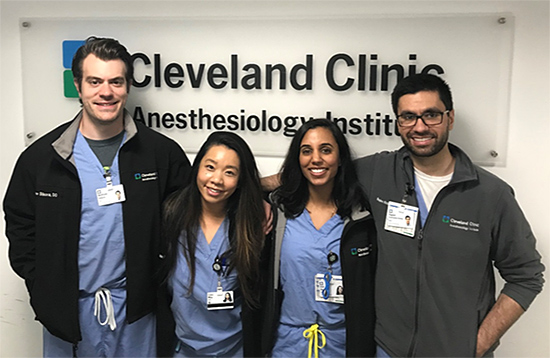 Contact our Chief Residents
Matthew Sikora, DO
Lana Moy, MD
Ami Shah, DO
Rajeev Krishnaney-Davison, MD
Application Process
Application Process
Anesthesiology Residency Application Process
The Anesthesiology Institute offers 22 categorical positions each year, comprised of a unique, integrated Clinical Base Year (CBY) followed by three years of Clinical Anesthesia (CA1-CA3). All positions are filled through the National Residency Matching Program (NRMP).
How to Apply
The Anesthesiology Institute participates in the Electronic Residency Application Service (ERAS) for all positions. Our application requirements are the same as the standard ERAS application:
Complete Application
CV
Personal Statement
Medical Student Performance Evaluation (Dean's Letter)
Transcript
USMLE Step I Transcript
Three Letters of Recommendation
USMLE Step 2 may be completed after the deadline; however, successful completion of both Step 2 CS and CK is required prior to matriculation.
Deadline
While there is no definite deadline, we strongly encourage that all applications be submitted on or soon after September 15th. Interview spots fill very quickly.
Interviews
Offers for interviews will be made via email starting late September. Interviews will be held on Mondays from October through January. Applicants are invited and highly encouraged to attend dinner the night before with our residents. Hotel accommodations will be provided.
For More Information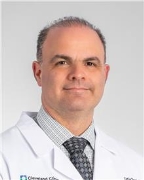 Carlos Trombetta, MD, MEd, CHSE
Residency Program Director Anesthesiology Institute
Staff Anesthesiologist
Shirley Dotson
Residency Program Coordinator
ANED@ccf.org
216.444.2356
Residency Office Phone: 216.445.2115
Benefits
Benefits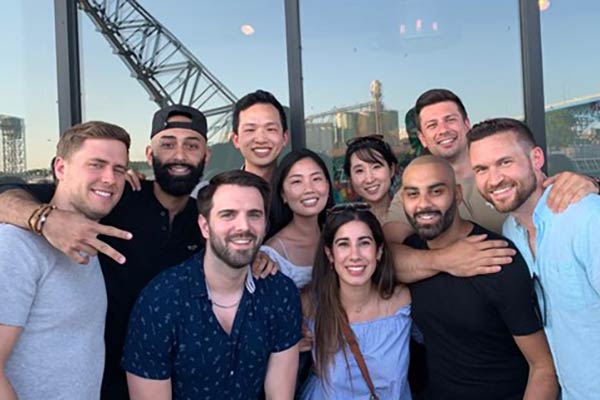 Residency Program Benefits
20 vacation days are provided each year.
Insurance
Cleveland Clinic offers a comprehensive health plan which covers residents and fellows as well as their immediate family members (spouse and eligible children) at 50 percent of the healthcare premium that all other Cleveland Clinic caregivers pay. Trainees are covered as of their actual start date so long as they complete online enrollment within 31 days of their start date.
Educational Allowance
A $1000 educational allowance is granted each year and may be used for books, moving expenses, tablets, laptops, USMLE, professional society memberships, board review, etc.
In addition, the Education Institute will fund up to $1,500 per year for meeting attendance provided an abstract or poster is presented.
Additional funding for travel and meeting attendance is available through the Anesthesiology Institute pending an approval process. Meeting attendance does not subtract from vacation days.
Salary
Please refer to the table below for new salary rates, effective April 1, 2019:
| Grad Level | New Annual Rate | New Per Pay Rate |
| --- | --- | --- |
| 1 | $57,493 | $2,396 |
| 2 | $59,429 | $2,476 |
| 3 | $61,350 | $2,556 |
| 4 | $63,750 | $2,656 |
| 5 | $65,874 | $2,745 |
| 6 | $68,465 | $2,853 |
| 7 | $70,732 | $2,947 |
| 8 | $72,111 | $3,005 |
| 9 | $73,496 | $3,062 |
Additional Benefits
Free access to Cleveland Clinic Fitness Facilities (state-of-the art cardio and weight machines, Olympic sized swimming pool, basketball courts, fitness classes)
Mini-iPads provided to all starting anesthesia residents with access to "Access Anesthesiology" plus a multitude of other electronic resources provided through the Cleveland Clinic Alumni Library
On call meal allowance
Yearly on-site board review course
Nicely equipped resident lounge
In-house moonlighting opportunities (for those who qualify and meet requirements)
Access to TrueLearn
Access to Anesthesia Toolbox
Access to Board Vitals
Rotations & Research
Rotations & Research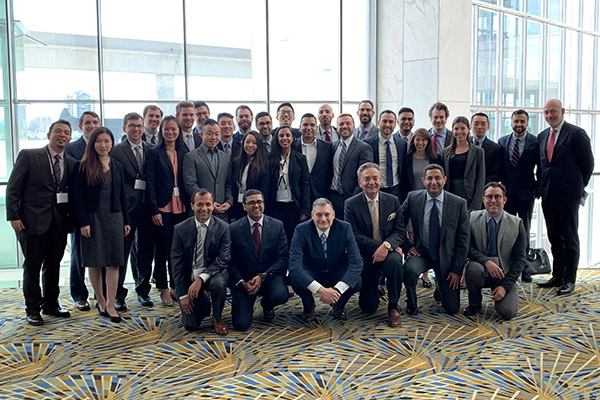 Rotations
Because of Cleveland Clinic's renowned reputation and role as an international quaternary referral center, patients with serious medical conditions come here for some of the most complex surgical procedures performed in the world. In this extraordinary clinical environment, our residents routinely manage some of the most challenging cases that anesthesiology has to offer, all while enjoying a broad experience in all aspects of perioperative medicine.
Clinical Base Year (PGY-1)
The Anesthesiology Institute is proud to sponsor a comprehensive and unique Clinical Base Year (CBY), specifically designed to prepare first year residents for advanced training in our anesthesiology residency. The CBY is comprised of 13 four-week modules of training:
Perioperative Medicine
Internal Medicine
Endocrinology
Infectious Disease
Kidney Disease
Cardiology
Acute Pain Management/Regional Anesthesia
Critical Care

Adult Surgical
Cardiovascular Surgical Critical Care

Emergency Medicine
Fundamentals of Quality and Patient Safety
The CBY includes four months of General Anesthesia including a gradual two month orientation process. During this period, the basics of anesthesia are taught in both classroom and OR settings. All scheduling, advising and evaluation for the internship is controlled by the Anesthesiology Institute. In addition to a broad clinical experience, this internship prepares the first year resident for a smooth entry into the CA-1 year of the anesthesiology residency. Regular participation in anesthesiology conferences and activities makes the CBY resident a full participant in the Institute.
CA-1 Year
In the CA-1 year, residents build on the concepts and skills introduced in the CBY and continue to administer anesthesia using a wide variety of techniques for:
General
Orthopaedic
Urological
Gynecological
Obstetric anesthesia
Ambulatory
Ophthalmologic surgery
Additional time is spent in the surgical intensive care unit, pre-anesthesia clinic, the postoperative anesthesia care unit, and the Acute Pain Service.
CA-2 Year
After intense exposure to the fundamentals of Anesthesiology during the CBY and CA-1 years, the CA-2 year introduces residents to the more complex anesthesia sub-specialties, including:
Neuroanesthesia
Trauma
Cardiac and thoracic anesthesia
Pediatric anesthesia
Major vascular anesthesia
Liver transplantation
Non-operating room anesthesia (NORA)
Anesthesia for life threatening pathology
Residents will also gain additional experience in the management of the difficult airway during a special module dedicated to ENT anesthesia, in addition to further exposure to obstetric anesthesia and regional anesthesia to provide a longitudinal learning experience and to solidify their knowledge in these sub-specialties.
The CA-2 resident will enjoy increased responsibility in both our 30-bed Surgical ICU and 76-bed Cardiovascular ICU, both of which are managed by the Anesthesiology Institute. The complexity and acuity of patients encountered here-where technologies such as intra-aortic balloon pump, RVAD, LVAD, ECMO, and total artificial heart are commonplace-is second to none. CA-2 residents also rotate at Akron Children's Hospital for Pediatric Anesthesiology.
CA-3 Year
The CA-3 year provides the senior resident with a wealth of opportunities to fine tune their clinical and leadership skills, while providing anesthesia and intensive care with significant autonomy to some of our sickest patients. Additional subspecialty exposure is gained in:
Ambulatory and Regional Anesthesia
Obstetric Anesthesia
Pediatric Anesthesia
Neuroanesthesia
Anesthesia for Vascular Surgery
Adult and Congenital Cardiothoracic Anesthesia
Surgical Critical Care
CA-3 residents also take elective time for advanced clinical research (up to six months), or scholarly purposes. The CA-3 resident directs the overnight and weekend call teams and also learns how to efficiently utilize OR resources and anesthesia personnel by working at the anesthesia control desk numerous times throughout the year.
We also offer elective rotations at our regional facilities, including Beachwood ASC, Euclid, Fairview and Lutheran Hospitals.
Approximate Annual Surgical Volume
60,448 total surgical procedures
17,936 ambulatory surgical cases
10,651 pediatric procedures
8,216 cardiac procedures
713 pediatric cardiac procedures
1,192 thoracotomies
141 critical care beds (SICU and CVICU)
9,574 acute pain patients
2,317 new chronic pain patients
8,979 chronic pain procedures
53 heart transplants
133 lung transplants
174 kidney transplants
190 liver transplants
8,488 deliveries
6,588 major orthopaedic procedures
766 major spine cases
4,518 neurosurgical procedures
2,346 vascular procedures
Anesthesiology Resident Research Opportunities
Cleveland Clinic's Center for Anesthesiology Education and the Anesthesiology Institute are committed to the continual growth of the knowledge base of anesthesia. To support this endeavor, we actively encourage our residents to take part in quality clinical research as a part of their four years of training.
Spearheading our research program is the Department of Outcomes Research, the clinical research arm of the Anesthesiology Institute. Under the leadership of Dr. Daniel Sessler, this team of world-renowned researchers, clinicians and statisticians is working on clinical research to improve patient outcomes. The department also serves as the administrative center for the international Outcomes Research Consortium, a group of more than 100 clinical investigators, spread across four continents and arguably the world's largest clinical anesthesia research organization. Basic science research opportunities are also available through the scientists of Lerner Research Institute.
In addition, at the level of the Anesthesiology Institute, we have a resident research committee comprising of staff and two resident research coordinators. The role of the resident research coordinator is pivotal in connecting interested residents with appropriate research mentors. In addition, the research coordinators help coordinate the activities of Annual Anesthesiology Institute Research Day, which serves as a platform to present and recognize high quality research projects conducted by residents and fellows with the guidance of their staff mentors.
Getting Involved with Research as a Resident
The first step, before getting access to patient data is to complete what is known as CITI training. CITI or Collaborative Institutional Training Initiative is an online training module, providing research ethics education to all members of the research community. Residents can use the Institute's Intranet to access the CITI training site.
Every resident is given ample opportunity to get involved with clinical research at an early stage, starting in the clinical base year. The Department of Outcomes Research offers the "Fundamentals of Clinical Research" lecture series to all residents throughout their training. This is a certification course conducted every year which focuses on the basics of research methodology and statistical tests, with emphasis on conducting ethical and clinically relevant research. Interested residents can also approach either of the two research coordinators who can then put them in contact with research mentors with ongoing or future research projects. We also maintain a database that keeps track of all the major research projects throughout our Anesthesiology Institute. This allows us to identify research savvy residents and ensure that they have quality research projects to work on. In addition, residents can also avail up to six months of dedicated research time as an elective during CA-3 year in accordance with current ACGME guidelines.
Resident Research Coordinators
Afrin Sagir, MD
Jason Hale, MD
Meeting Attendance and Presentations
The Anesthesiology Institute encourages and supports residents to attend all major national and regional anesthesia meetings within the continental United States. Residents are adequately compensated monetarily and are allocated meeting days away from work in all such cases. As per institute policy, every resident is allowed to attend one national and one regional meeting along with the OSA (Ohio Society of Anesthesiologists) meeting every academic year. Specifically the institute supports the American Society of Anesthesiologists (ASA National Meeting) and the Midwest Anesthesia Residents Conference (MARC Regional Meeting) and encourages all the residents to actively participate and present posters as well as oral presentations.
In order to meet the academic milestones of the residency program for graduation, residents are required to either publish at least one peer reviewed article or submit and present at least one abstract to a regional or national meeting during their fourth year of training.
Staff Anesthesiologist-in-charge of Resident Research
Alparsalan Turan, MD
Ehab Farag, MD, FRCA
Related Resources
Didactic Education & Resources
Didactic Education & Resources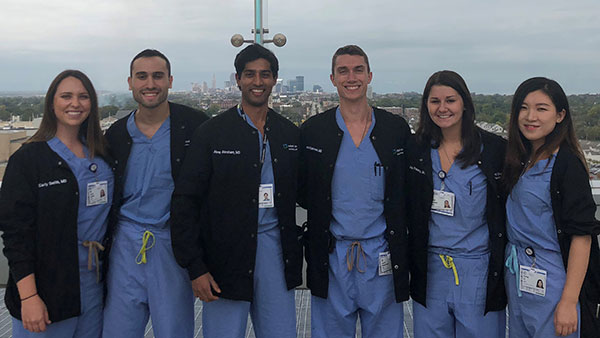 Didactic Education & Resources
The Anesthesiology Institute's didactic component of the residency is matched in intensity and scope to the clinical experience, with the goal of providing diverse opportunities each week for residents and faculty alike to interact and enhance learning. Conferences and lectures are designed to be challenging to residents but specific for level of training.
Didactics
Wednesday Anesthesia Conference (WAC) - our version of Grand Rounds – are weekly Institute-wide topic presentations given by faculty, residents, or renowned national and international leaders in the field as part of our Visiting Professor Lecture Series. M&Ms are held during WAC on a monthly basis.
Thursday Education Day CBY through CA-3 residents are relieved from OR duty to attend faculty lectures on topics ranging from basic pharmacology and physiology to complex subspecialty material.

Curriculum is geared towards ABA Keywords and preparation for both parts of the ABA Board Exam as well as the annual In-training Examination (ITE) and Anesthesia Knowledge Test (AKT).
We embrace a learner centered, interactive approach using problem based learning, simulation scenarios, interactive case discussions and faculty moderated resident led presentations.

Faculty-led chapter review sessions occur on a monthly basis.
Outcomes Research Weekly Lecture Series - an optional lecture series for interested residents and fellows, dedicated to basic and advanced clinical research training, with special emphasis on research design, statistics, ethics, manuscript writing, and presentation. Lectures given by Outcomes Research Faculty - some of the most highly regarded and published leaders in Anesthesia research.
Journal Clubs are held periodically throughout the year in conjunction with Visiting Professors.
Subspecialty rotation-based lectures, including a daily lecture series for residents on critical care, obstetric anesthesia, pediatric anesthesia, etc.
Mock Orals are provided twice a year by faculty members, several of whom are ABA Board Examiners.
OSCE ( Objective Structured Clinical Exams) are given twice a year to CA-2 and CA-3 residents to assist with Board preparation.
Cleveland Clinic Comprehensive Anesthesiology Review - a nationally recognized six-day review course is offered to CA-3 residents free-of-charge in preparation for their oral and written Boards.
Simulation
Anesthesiology residents have access to over 59,000 square feet of some of the most cutting edge simulation space in the world.
Multidisciplinary Simulation Center - focused on both individual and team-based learning, this center features a fully functional ICU and operating room, complete with the same equipment and capabilities found elsewhere in the hospital. The center is equipped with:
A wide variety of task and procedural-based simulators
Multiple infant, child and adult human patient simulators
State-of-the-art audiovisual recording and assessment system
Simulators of interest include:
IV access
Neuraxial anesthesia
Peripheral nerve blocks
Echocardiography
General anesthesia emergencies
Obstetric emergencies
Vascular surgery emergencies
Neurosurgical emergencies
ENT emergencies
Regional anesthesia complications
PACU/ICU emergencies
Crisis management
Team communication
The Debra Ann November Pediatric Airway and Pulmonary Mechanics Lab - a technologically advanced simulation lab dedicated to the complexities and unique challenges presented by the pediatric airway. Equipped with a high-fidelity bronchoscopy simulator, a GE Aisys anesthesia machine, ICU ventilators, and infant and child-sized mannequins, residents will gain both fundamental and advanced skills in pediatric airway management as well as a better understanding of pediatric anatomy and pulmonary physiology.
The Archie Brain Difficult Airway Simulation Center - features a simulated operating room complete with a functional anesthesia machine, operating room equipment, and a human patient simulator that can breathe and exhale carbon dioxide. This unique center allows residents to not only fine tune basic airway management skills, but also develop an effective and skillful approach to the difficult and failed airway. Residents will have access to a high-fidelity bronchoscopy simulator, a variety of supraglottic airways and airway management devices, and a proprietary one-lung ventilation simulator.