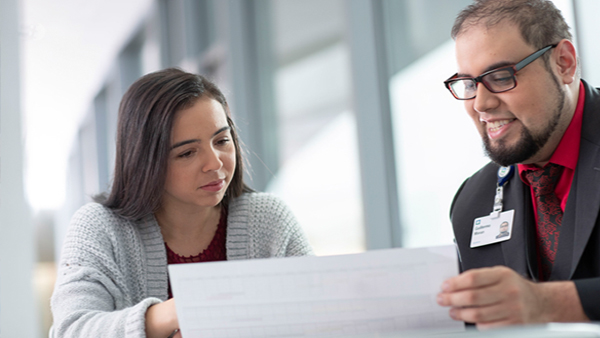 How Do I Get Started?
Our Global Patient Services department has a dedicated finance team that will assist you in understanding your financial responsibilities and paying your medical bills.
Here are the most common ways you can pay for healthcare services at Cleveland Clinic:
Health Insurance: If your insurance policy covers services at Cleveland Clinic you may want to use insurance to pay for your healthcare.
Self-pay: You will pay for your healthcare yourself using one of the acceptable forms of payment.
Embassy-sponsored: Your embassy will pay for your healthcare services.
We will discuss your payment preference with you when you call to schedule your appointment. Full payment is required before we can provide any medical services.
Acceptable forms of payment include:
Cash (U.S. dollars).
Traveler's checks.
Personal checks from a U.S. bank.
Wire transfer.
Money orders.
Visa, MasterCard, Discover Card, American Express.
Before you leave Cleveland Clinic, you will be scheduled for an exit interview with a financial counselor to review the charges from your completed appointments and discuss any additional pending charges.
What if I Have Health Insurance?
If you are using health insurance to pay for services at Cleveland Clinic, we will work with you and your insurance company to determine what services your insurance policy covers. Your insurance company has the final say about which services are covered and which are not.

Before you schedule your appointment, be sure to have your insurance company name, policy number and insurance card ready. We will ask for this information.
What if I Am Using Self Payment?
If you are a self-paying patient, we will give you an estimate of your medical care costs before you have your first appointment, or are admitted to Cleveland Clinic.
Estimates include all of the procedures and services you will receive.
Estimates do not include any incidental charges such as hotel, transportation and phone calls.
If you need additional treatment that is not included in the original estimate, you may need to arrange for additional payment before receiving those services.
You will be required to pay the full estimated amount before receiving any medical services.
Your final bill cannot be calculated until after your treatment at Cleveland Clinic. Your final bill may vary substantially from the estimate you received, based on any changes in your medical treatment.