If she could give you any piece of advice based on her recent health issue, Maria Dupree would say this: "Never ignore your symptoms. I didn't want to get tested. I didn't want to get screenings and I regret that. Get screened because it could save your life."
The 58-year-old wife and mother of two was diagnosed with proximal rectal cancer in December 2022 after a colonoscopy performed by Steven Kappler, MD, a gastroenterologist at Cleveland Clinic Martin Health.
"It was shocking," Maria says of her diagnosis. She had gone to see doctors a few months prior due to symptoms she was having that included cramping and rectal bleeding. Initial testing did not reveal the cause, and it was recommended she undergo a colonoscopy, which she set up a few months later.
"Never ignore your symptoms. I didn't want to get tested. I didn't want to get screenings and I regret that. Get screened because it could save your life."
It's not unusual for patients to delay booking a screening like that, Dr. Kappler says: "The biggest hurdle for patients is usually scheduling the colonoscopy."
Colonoscopies can be lifesavers, though, because they can reveal abnormalities long before symptoms appear. And, as Dr. Kappler states, often by the time symptoms emerge, colorectal cancer is in an advanced stage and a cure is less likely.
Patients receive colonoscopy results on the same day as the procedure. If something is found that could be cancerous, the patient is referred to a colorectal surgeon while awaiting "official" results from the pathology lab. When Maria woke up from her colonoscopy, Dr. Kappler told her what he had found.
Maria works as a Care Navigator for Cleveland Clinic Florida and says she chose Cleveland Clinic Florida for her care because she "wanted to be in the best hands I could." She was referred to colorectal surgeon Bradford Sklow, MD, and had an appointment with him a few days later.
"He was amazing," Maria says. "He explained everything to me and gave me the confidence I needed to hear that everything was going to be okay."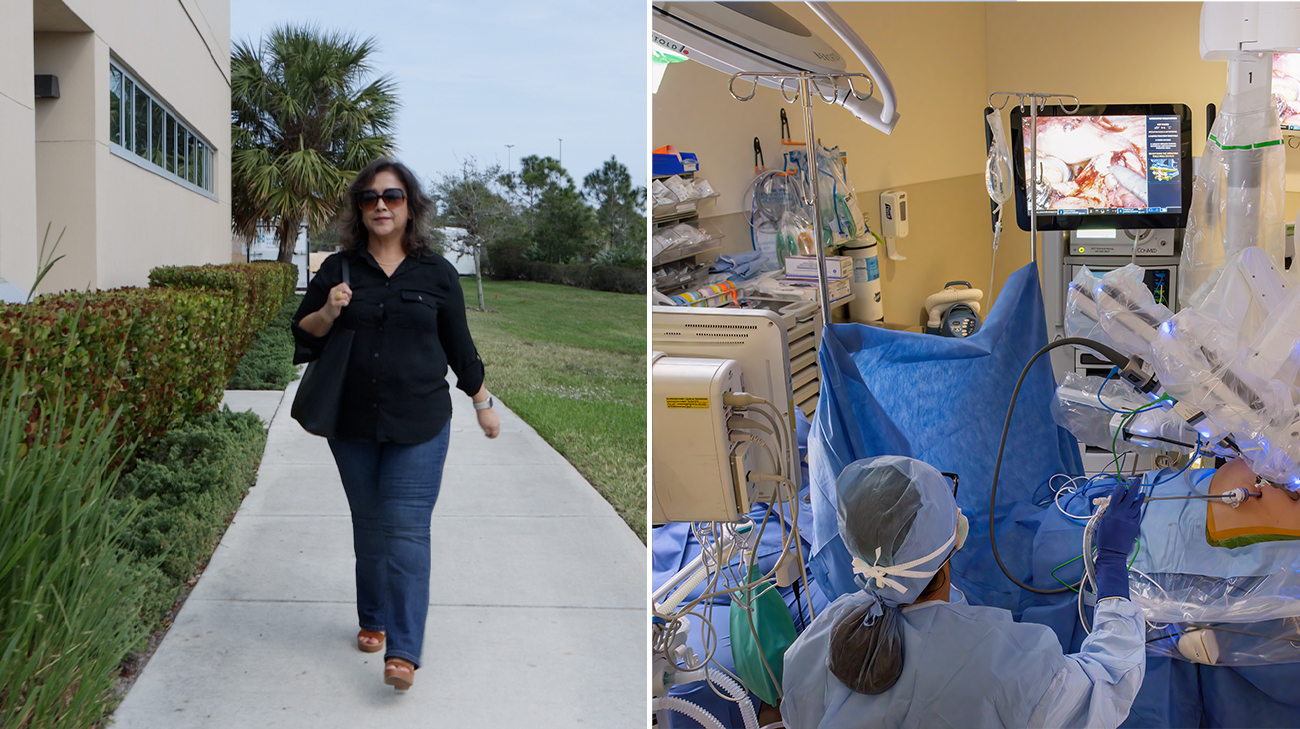 Maria after surgery and during surgery
On January 18, she became the first patient at Cleveland Clinic Tradition Hospital to undergo a robotic-assisted minimally invasive surgery. Dr. Sklow performed a robotic anterior resection of her recto sigmoid.
There are many advantages for the patient and the surgeon in using a robotic approach to surgery versus a traditional open procedure. These include less pain and a faster recovery for the patient, and an enhanced view and easier maneuverability of instruments for the surgeon.
"Having this robotic system at Tradition Hospital is a big benefit, especially for St. Lucie County patients, as now they don't have to travel farther away for this type of care," says Dr. Sklow.
Maria spent three days in the hospital after her surgery and went home without needing narcotic pain medicine. She has since undergone additional cancer treatment including chemotherapy.
Maria is thankful for the science that has helped her and others beat these types of "terrible diseases." She says though it is easy to feel sad, but it's important to her to stay positive, look for all the good and enjoy life.
"I look forward most to a healthy life and taking care of myself," she says. "We take so many things for granted, and going through this experience, it's made me more appreciative of life, of what I am, and what I can give to others."
Related Institutes: Digestive Disease & Surgery Institute , Cleveland Clinic Cancer Center
Patient Stories
Patient Stories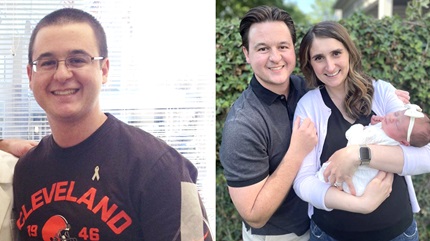 Nov 30, 2023
"At the time of my diagnosis, I was thinking, 'I'm 24. I'm a lifelong nonsmoker. I'm not supposed to get cancer.'"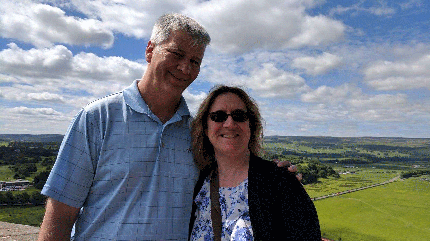 Nov 30, 2023
"I was under enormous stress and having difficulty sleeping, so I reached out to Dr. Saper to see if he had any suggestions as to how I could better cope."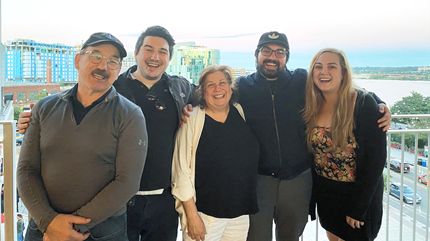 Nov 22, 2023
"I was truly blessed to be with the doctors and the entire cardiac surgery team. They saved my life."