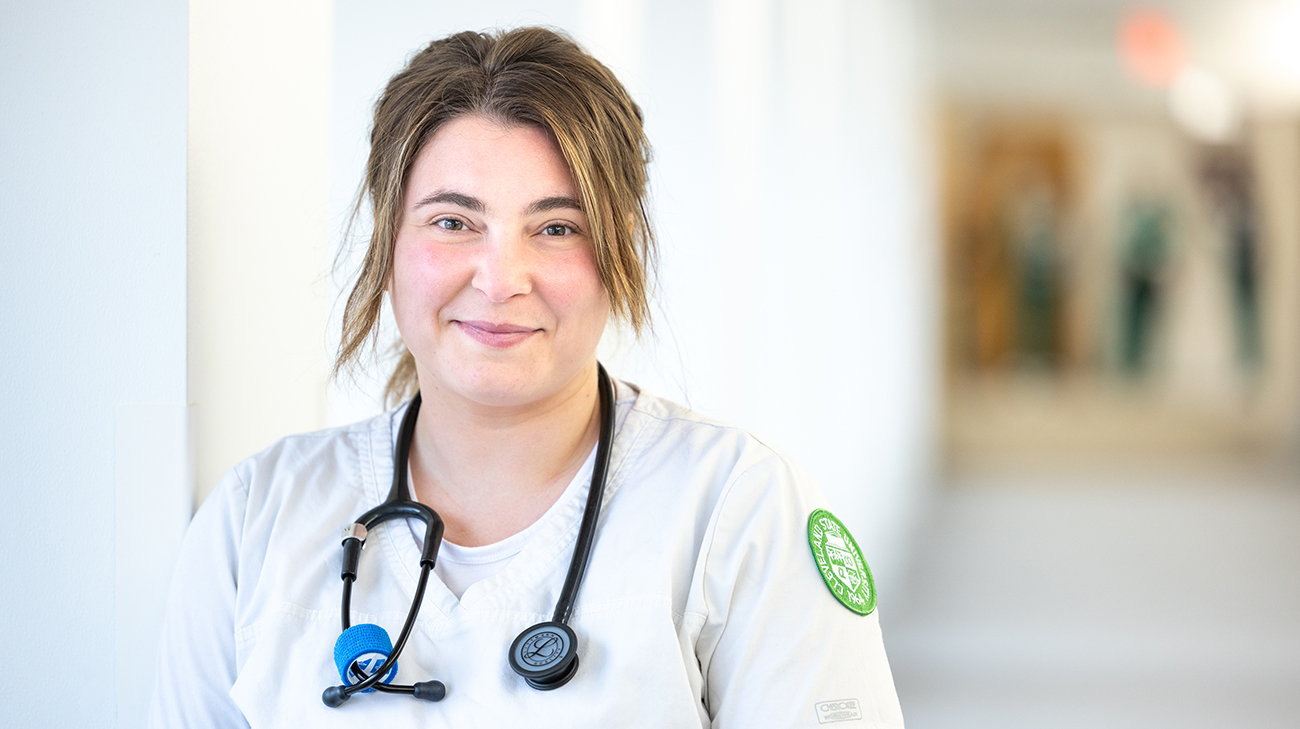 Ashley Gibson had always thought about going back to school and one day becoming a nurse. She found the inspiration to make that dream a reality after she was diagnosed with leukemia at 28 years old.
"After being diagnosed and going through treatment, I kept thinking I would love to provide care like this for somebody. I would love to support them and their family as they go through this extremely terrifying and difficult time," says Ashley.
Leading up to her diagnosis, she went to the doctor thinking she was anemic because she had been experiencing bruising, nose bleeds and fatigue. Testing revealed her blood counts were dangerously low, and through further investigation, she was diagnosed with acute promyelocytic leukemia (APL) in March 2019. Ashley then found out she would have to spend a month in the hospital for chemotherapy, monitoring and transfusion support. The unexpected news came soon after she married her husband, Rob, and moved into a new house.
"I was stunned. The news came out of left field. I had to tell my family and pack a bag. Nothing had settled in at that point," says Ashley.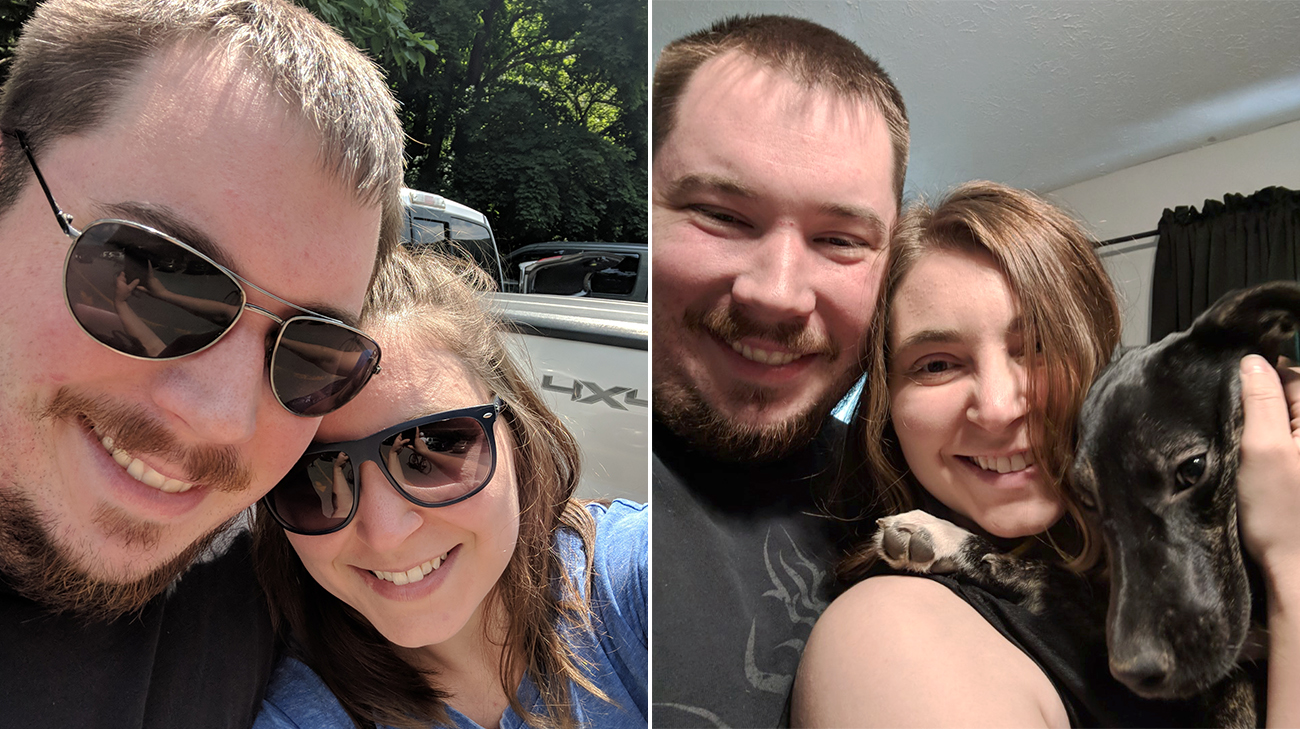 Ashley and her husband, Rob, met in college. He's been by her side throughout her entire health journey. (Courtesy: Ashley Gibson)
APL is a subtype of acute myeloid leukemia, where immature white blood cells called promyelocytes grow uncontrollably in the bone marrow. The cells have an abnormality that involves chromosomes 15 and 17. This can interfere with the production of normal white and red blood cells and platelets. Health risks of the disease include bleeding, blood clots and infection.
"APL is a pretty rare condition that can be diagnosed at any age. We have both younger as well as older patients diagnosed with APL. However, the median age of diagnosis is around 40 years old," explains Ashley's hematologist-oncologist Hetty Carraway, MD.
Dr. Carraway stresses APL is highly curable, and early diagnosis is critical to preventing serious complications. Ashley's treatment started promptly in the hospital, as an inpatient, where she had daily doses of chemotherapy and an oral agent called all-trans retinoic acid (ATRA), which causes the leukemia cells to differentiate, or mature, and undergo normal programmed cell death.
"During this time, Ashley also needed daily monitoring for infection risk as well as blood work to evaluate for any needed transfusion support, with both platelets and red blood cells, as well as other blood products in the upfront setting when risk of bleeding is high. We had a truly multidisciplinary team to care for Ashley," says Dr. Carraway.
Ashley remained positive throughout her stay as an inpatient in the hospital because of her strong support system, including the nursing team, advanced practice nurse practitioners, friends and family. She recalls having around a dozen visitors on her first night. Ashley's mom and husband even took turns sleeping at the hospital so she didn't have to be alone.
After being released and having ongoing follow-up care, Ashley continued chemotherapy for nearly one year at Cleveland Clinic Fairview Hospital's Moll Cancer Center. Being there so frequently, she bonded with the nurses who went above and beyond to take care of her – including Sue Singleton, her oncology nurse.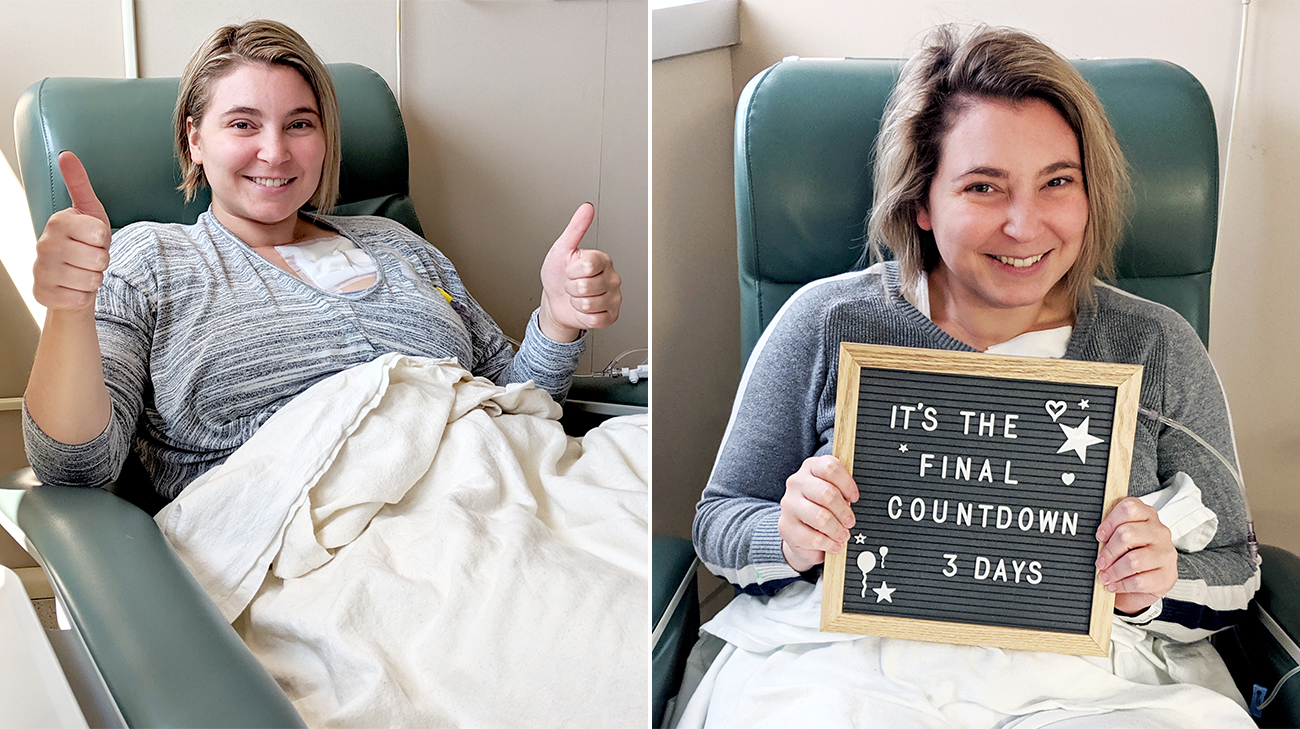 Ashley went to the Moll Cancer Center multiple times a week to receive chemotherapy, getting to know her care team there very well. (Courtesy: Ashley Gibson)
"Sue was the first nurse I had when I got to the Moll Cancer Center, and I would see her primarily every day. She was always so bright and uplifting – just fun to be around," says Ashley. "I like alliteration, so I would always think of different things to call her, like Sunshine Sue or Songbird Sue."
"We used to burst out in song, and then Ashley would call me Singing Sue or Sensational Sue. We hit it off right away," laughs Sue, who remembers Ashley always having a smile on her face.
On Ashley's final day at the center, Sue recalls them playing "The Final Countdown" as she walked out, tearing up.
"This experience could have been a lot worse, but it wasn't. I felt very confident in my care team, which helped set the tone for me as a patient to stay positive and not spiral after my diagnosis," says Ashley.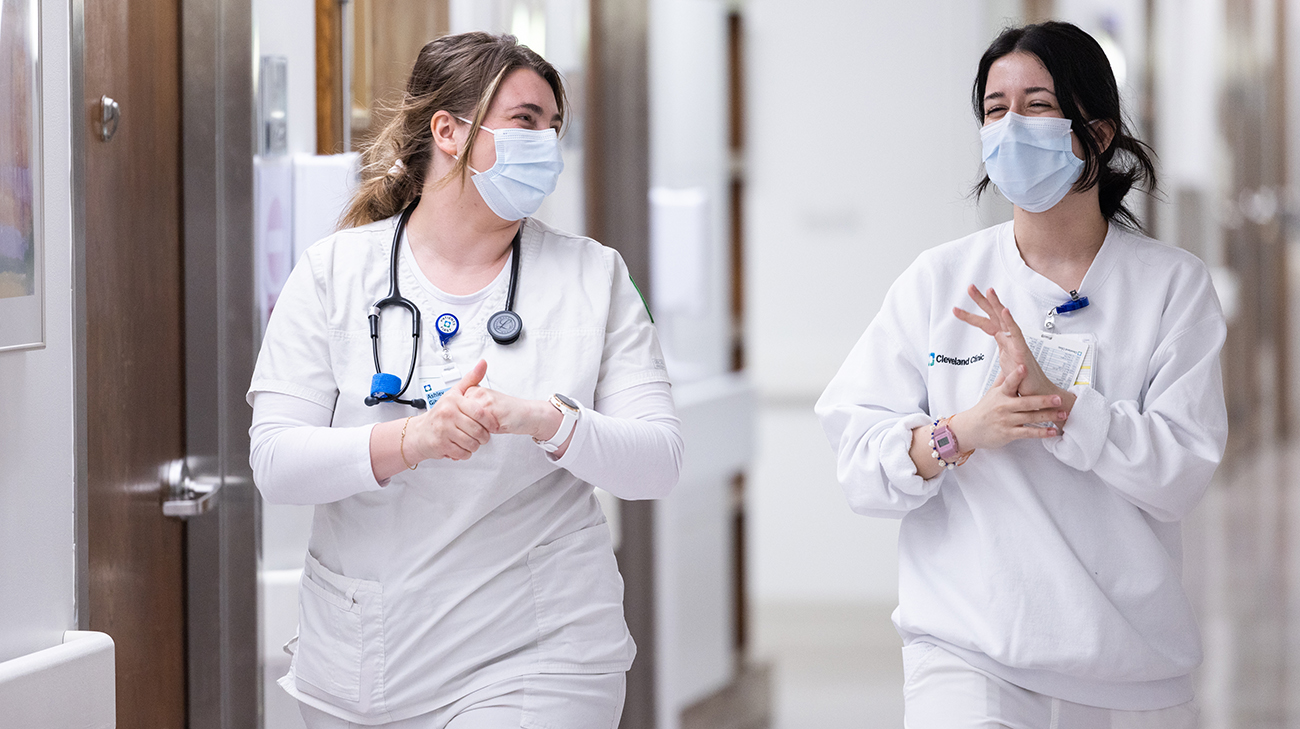 Ashley with nurse Jelena Basic during her clinical rotation at Cleveland Clinic. (Courtesy: Cleveland Clinic)
Inspired directly by the inpatient and outpatient nurses who cared for her, Ashley completed her prerequisites and enrolled in an accelerated nursing program following her chemotherapy treatment. With a background in theater, Ashley says she had a lot of science to catch up on, but her hard work eventually paid off. Starting July 2023, she will be a registered nurse in the medical intensive care unit at Fairview Hospital.
"When I found out the news, I was so proud of her. Having been through this experience and being on the other side as a patient will make Ashley an amazing nurse," says Sue.
Dr. Carraway says, "Ashley and I talked a lot about what she's been doing during our follow-up visits, and I couldn't be more proud of her for getting to this milestone. I am as inspired by her as she has been inspired by us."
Now in remission for four years, the 33 year old will follow up with Dr. Carraway annually. Ashley is eager to see where her nursing career takes her and hopes to use what she learned as a patient to help those she cares for.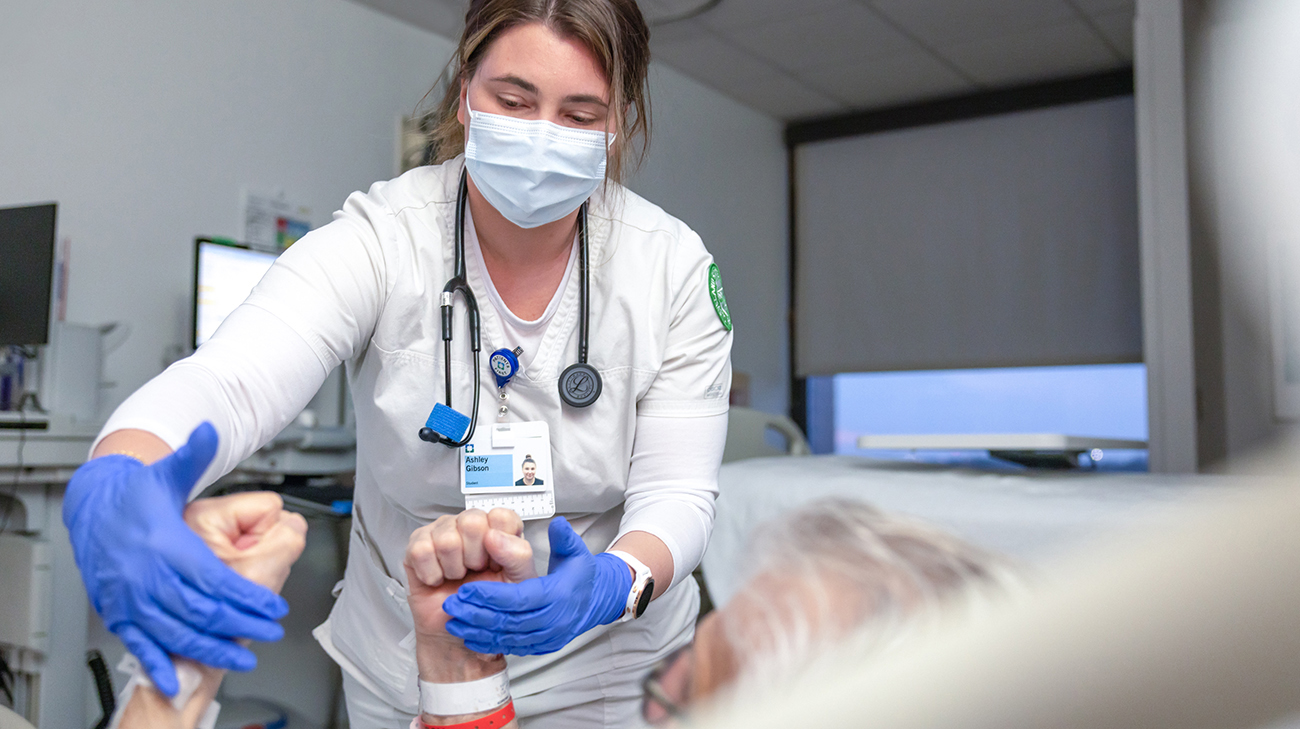 Ashley tending to a patient during her clinical rotation. She looks forward to continuing to care for patients as a registered nurse at Fairview Hospital starting in July 2023. (Courtesy: Cleveland Clinic)
"I take time with my patients to make sure they're heard, and they know I'm there to advocate and care for them. Having a good relationship with your care team makes such a difference in your healing process," says Ashley.
Related Institutes: Cleveland Clinic Cancer Center, Pathology & Laboratory Medicine Institute (R. Tomsich)
Patient Stories
Patient Stories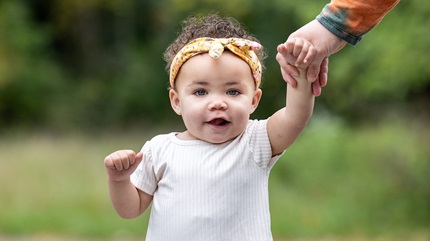 Sep 29, 2023
"Following her procedures, Adaya has defied the odds. She's hit all of her milestones so far. She's crawling and getting around wherever she wants to go."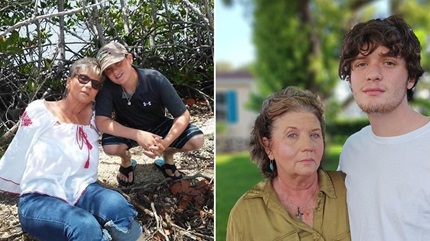 Sep 28, 2023
"It was worth every moment of it to know I was going to be there to see my son grow up."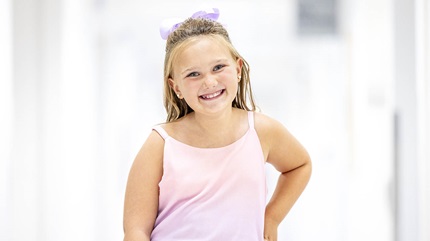 Sep 22, 2023
"This wraps up a chapter in her life we hope we never have to reopen. Audrey handled everything like a champ, and we are so grateful and proud."