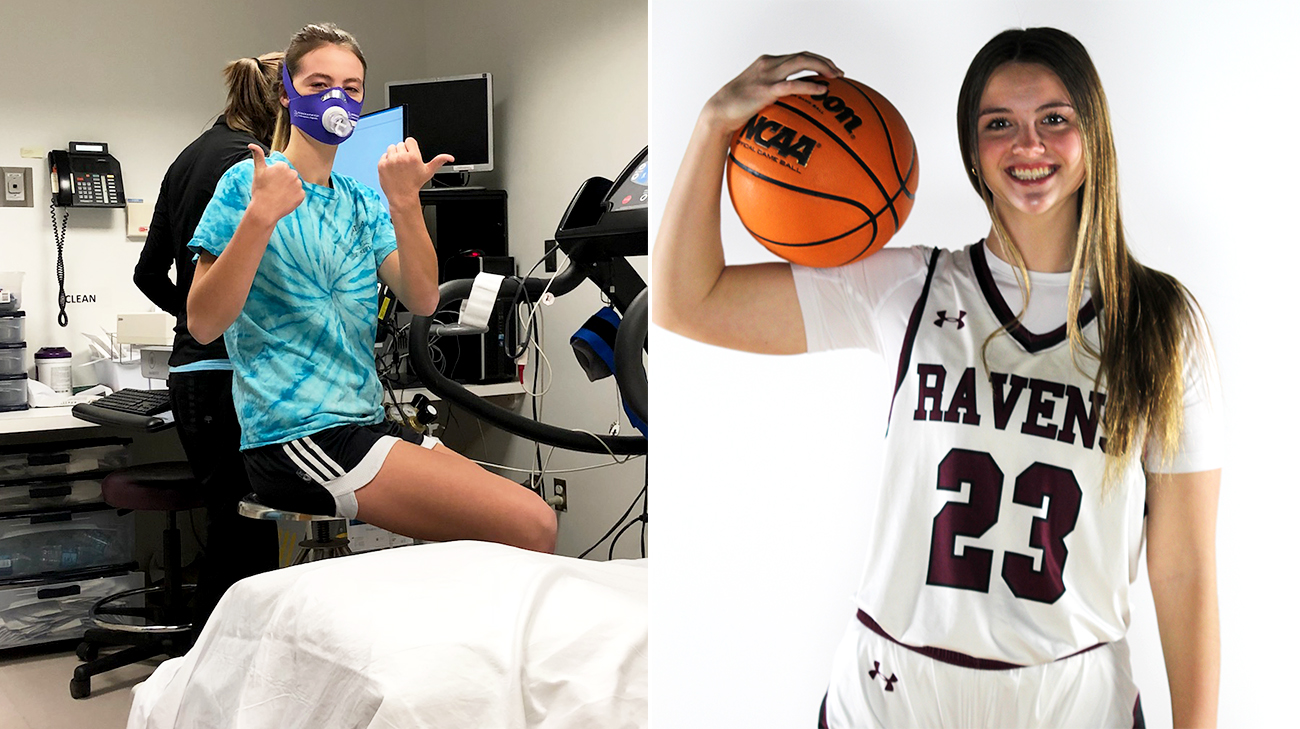 Abby Rice started playing basketball in elementary school and quickly became a standout player. The Silver Creek, New York, native made the varsity team in seventh grade and broke a record that year by making the most 3-point shots in a season. She went on to reach 1,000 career points during her freshman year and graduated high school as her county's career-leading scorer with more than 2,000 points. Looking back, the now 18 year old attributes her achievements to working hard and managing her rare heart condition so she can live a healthy and active life.
"I've never once hesitated. I wanted to play basketball and wasn't going to let long QT syndrome stop me from doing so as long as it was safe," says Abby.
Long QT syndrome is a disorder of the heart's electrical system. It can lead to an irregular heartbeat called torsade de pointes, which has the potential to cause fainting, seizures and sudden cardiac death. The condition can be acquired or congenital. In Abby's case, it was congenital.
"If a mother or father has congenital long QT syndrome, there's a 50% chance they'll pass it onto their child," explained Abby's current doctor Peter Aziz, MD, a pediatric electrophysiologist at Cleveland Clinic Children's.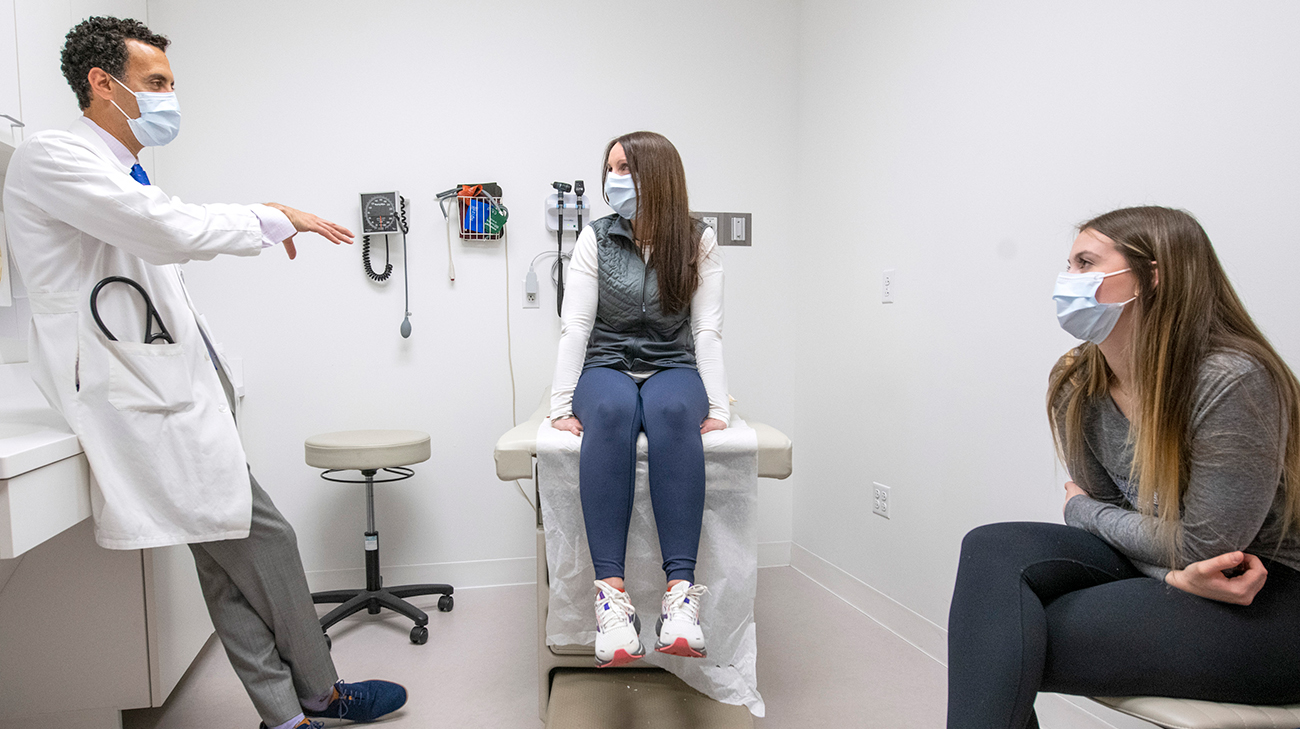 Abby and Tammy continue to see Dr. Aziz for follow-up appointments. (Courtesy: Cleveland Clinic)
After she was born, doctors promptly used an electrocardiogram or ECG to test Abby for long QT syndrome because her mom, Tammy, was diagnosed with it in college. Tammy found out after her brother passed away from the condition when he was 13 years old. At the time, no one knew long QT syndrome ran in the family. Historically, Abby has worn the number 23 in honor of her uncle.
Knowing Abby had the same condition, Tammy made it her mission to ensure it didn't prevent her daughter from doing the things she wanted to do. When their local doctor retired, Tammy traveled from New York to Ohio for both hers and Abby's care.
"When we met Dr. Aziz for the first time, we immediately loved him. He's such a great doctor. It just felt like we were in the right place," says Tammy.
At a young age, it was apparent Abby wanted to live an active lifestyle and play basketball. Her mom and dad coach the sport, and her sister plays as well. Abby didn't want to be sidelined because of her heart problem.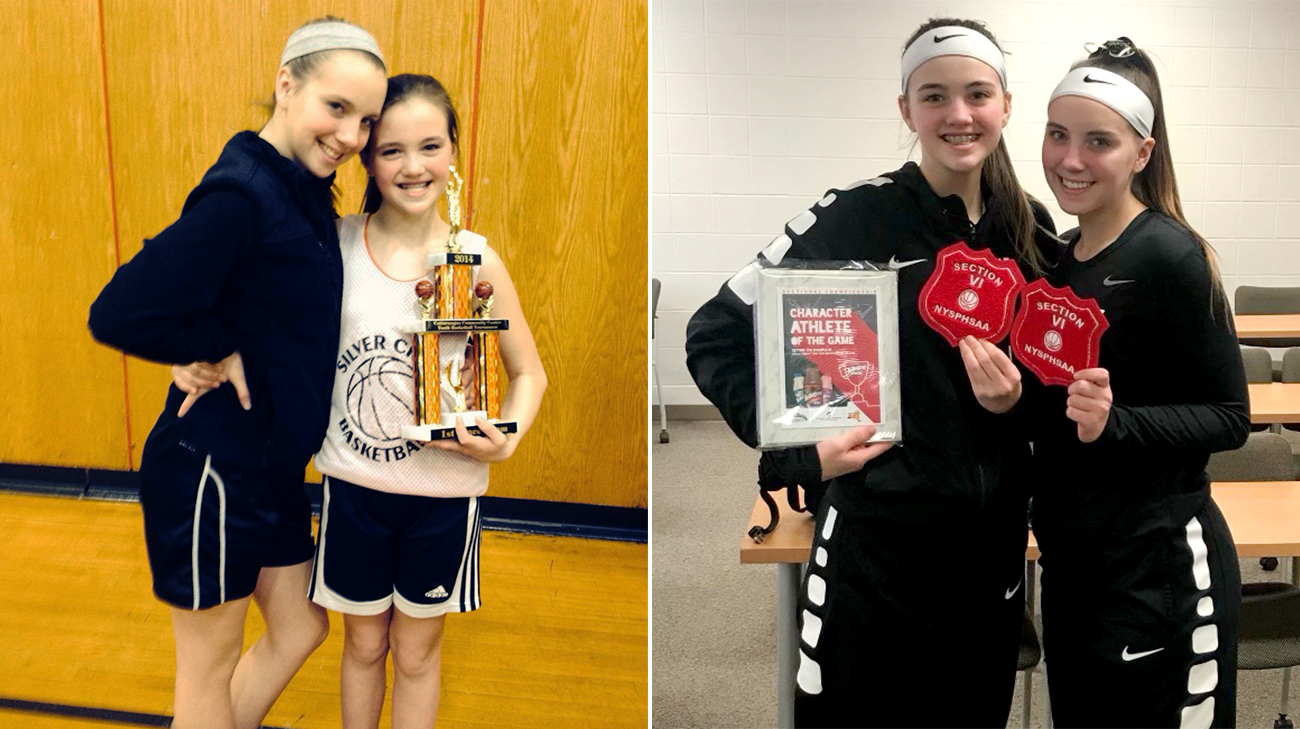 Abby and her sister, Emma, got a chance to play basketball together for a period of time at their alma mater. (Courtesy: Tammy Rice)
"Maybe 10 or 15 years ago, a patient like Abby would have been restricted from playing sports because exercise can be a trigger for life-threatening events related to long QT syndrome. But further research has shown us the risk is quite low with proper treatment," says Dr. Aziz. "Rather than saying you're disqualified, we can construct a program that allows an appropriately treated patient to participate in sports."
When it comes to Abby, she's taken safety measures since the third grade. She makes sure her coaches and teammates are aware of her diagnosis and there's a plan in place in case a cardiac incident occurs. She's also consistent in taking a beta-blocker medication to manage her heart disorder and doesn't go anywhere without her automated external defibrillator (AED). Abby says she feels like one of the most protected players on the court because she's aware of her condition and is able to manage it.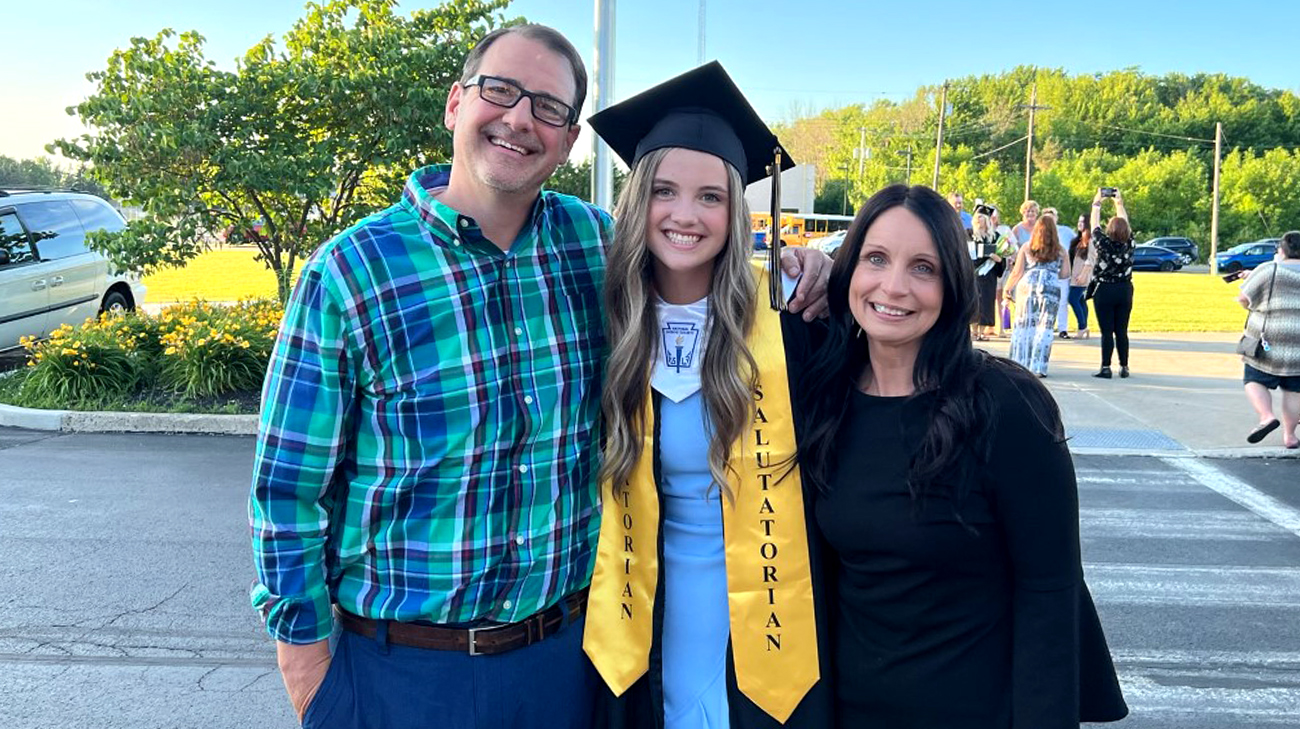 Abby was the salutatorian of her graduating class. She continues her academic success in college, already achieving a 4.0 grade point average in her first semester. (Courtesy: Tammy Rice)
Once Abby graduated high school, she received a Division II basketball scholarship to Franklin Pierce University. Inspired by her own health journey, she studies healthcare administration while continuing to play the sport she loves.
"Dr. Aziz always kept my interest of playing basketball and sports in mind while providing amazing care and creating a treatment plan so I could play as safely as possible. I didn't want to let long QT stop me because even with my condition, I was successful. It didn't hold me back from being like any other player," says Abby.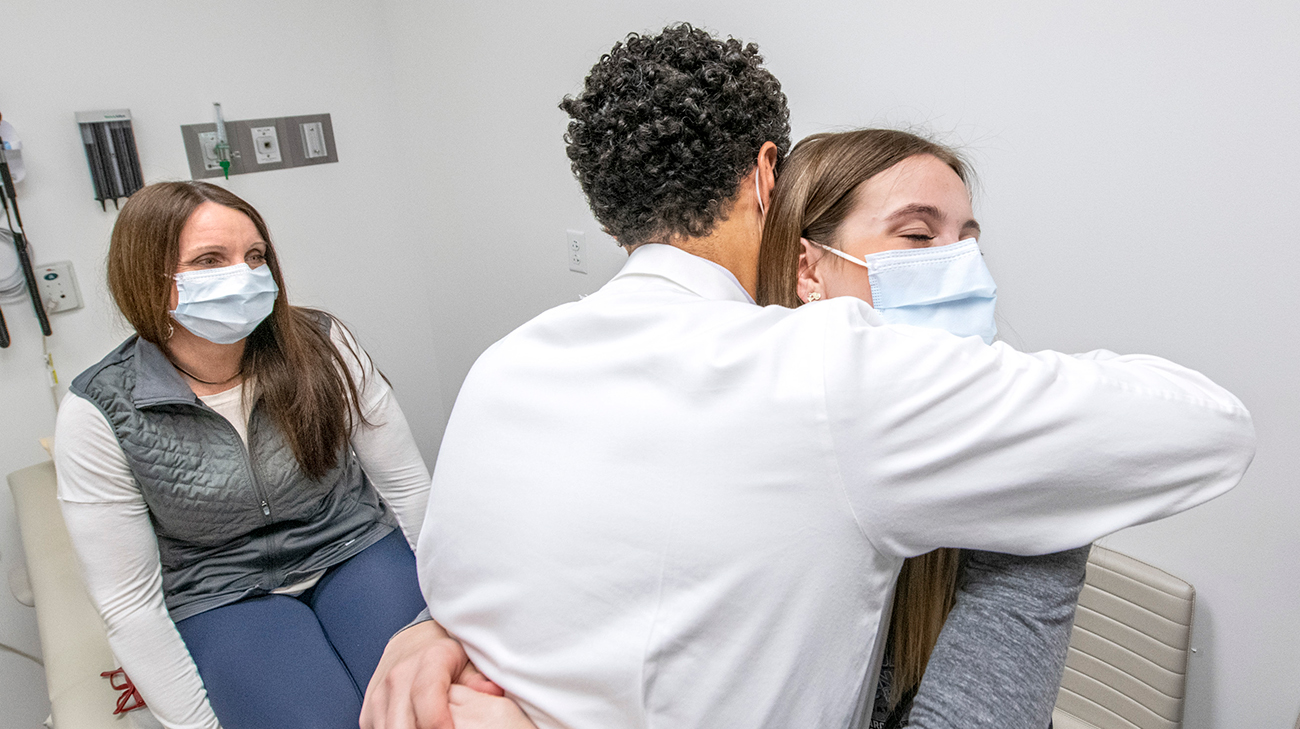 Dr. Aziz and Abby hug at a follow-up appointment. They continue to work together to ensure Abby can safely play basketball in college. (Courtesy: Cleveland Clinic)
Dr. Aziz adds, "I've been following Abby for years and have watched her grow up. Seeing what a successful athlete she's become, you can feel nothing but proud when you consider you're a small part in that."
Related Institutes: Heart, Vascular & Thoracic Institute (Miller Family), Cleveland Clinic Children's
Patient Stories
Patient Stories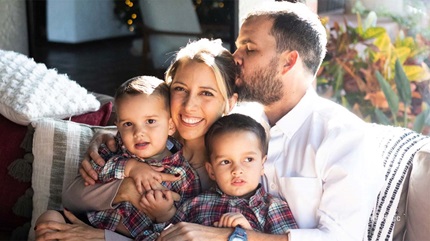 Mar 16, 2023
"Dr. Pieretti took the time to explain how the robotic surgery would work and how quick my recovery would be with this technology. That made me happy because I wanted to get back to my regular life fast."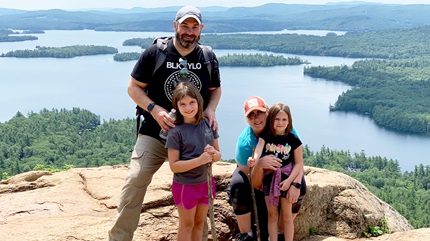 Mar 14, 2023
"If you notice any change with your body, get it checked out regardless of how insignificant you think it might be. If something hadn't made me go to a doctor, I might not be here today."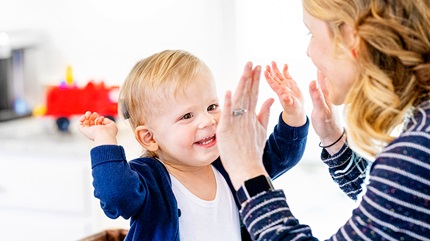 Mar 3, 2023
"From being born essentially deaf, to now singing lullabies. It blows my mind. Corbin is not just meeting developmental milestones, he's surpassing them."