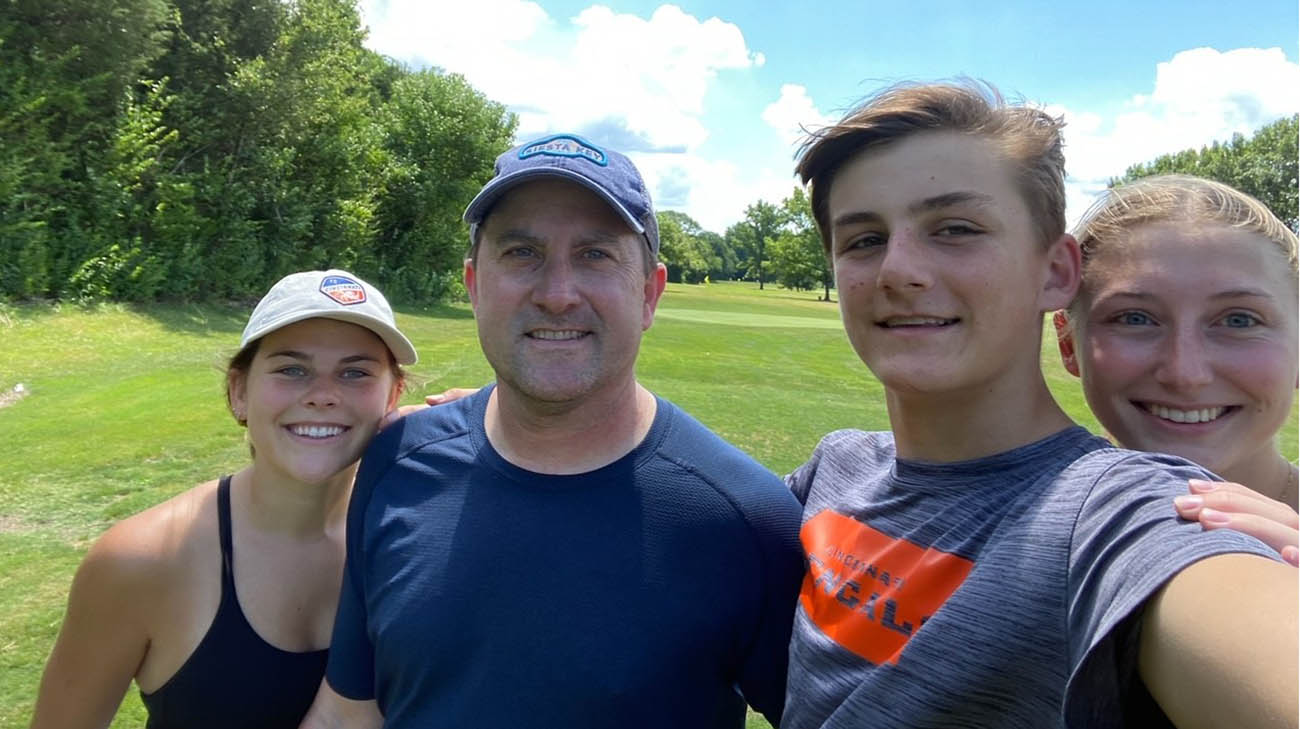 Steve Dragon had a slight cough that wouldn't go away. That was the first symptom that alerted him something was wrong back in 2017. However, the 47-year-old father of three wasn't too worried. He figured a cold may have developed into a mild case of bronchitis. An avid exerciser, whether running on a treadmill or lifting weights, Steve nevertheless went to see his family physician when the cough and a subsequent symptom, fatigue, persisted. It's a decision that likely saved his life.
"I wasn't too panicked," recalls Steve, who lives in Cincinnati, Ohio. "My attitude was, let's get it checked and figure out what's happening. But as things got worse I remember feeling confused and then shocked. I had a hard time believing what I was hearing."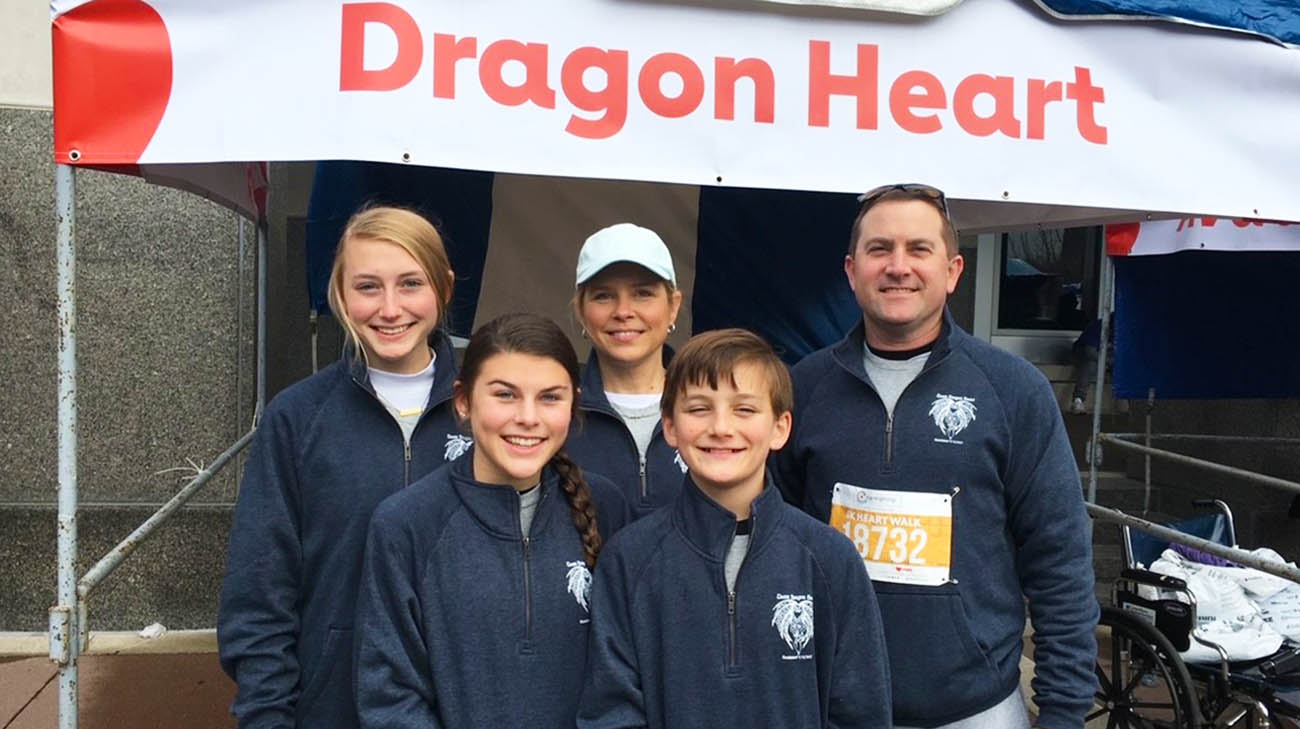 Steve, alongside his family, supporting a local heart walk. The five year anniversary of his heart transplant is in September 2022. (Courtesy: Steve Dragon)
When an echocardiogram and then a cardiac MRI revealed the presence of a blood clot or perhaps a tumor in his heart, a local cardiologist recommended he seek treatment at a hospital that can care for complex conditions because he and his colleagues had rarely encountered such a case.
Within a week, Steve was at Cleveland Clinic for a consultation with cardiologist Venugopal Menon, MD. One day later, following additional tests, Dr. Menon and other specialists, including pulmonologist Daniel Culver, DO, confirmed what they first suspected upon learning about Steve's case.
He had sarcoidosis, a potentially life-threatening inflammatory disease that can damage the structure of the affected organs and their ability to function. While the exact cause of sarcoidosis is not known, researchers suspect some sort of environmental factor – such as fungi or bacteria – triggers the onset of the disease.
Typically, the disorder takes root in the lungs. However, in instances like Steve's, it can cause irreparable damage to the heart. In some cases, the only long-term cure is a heart transplant.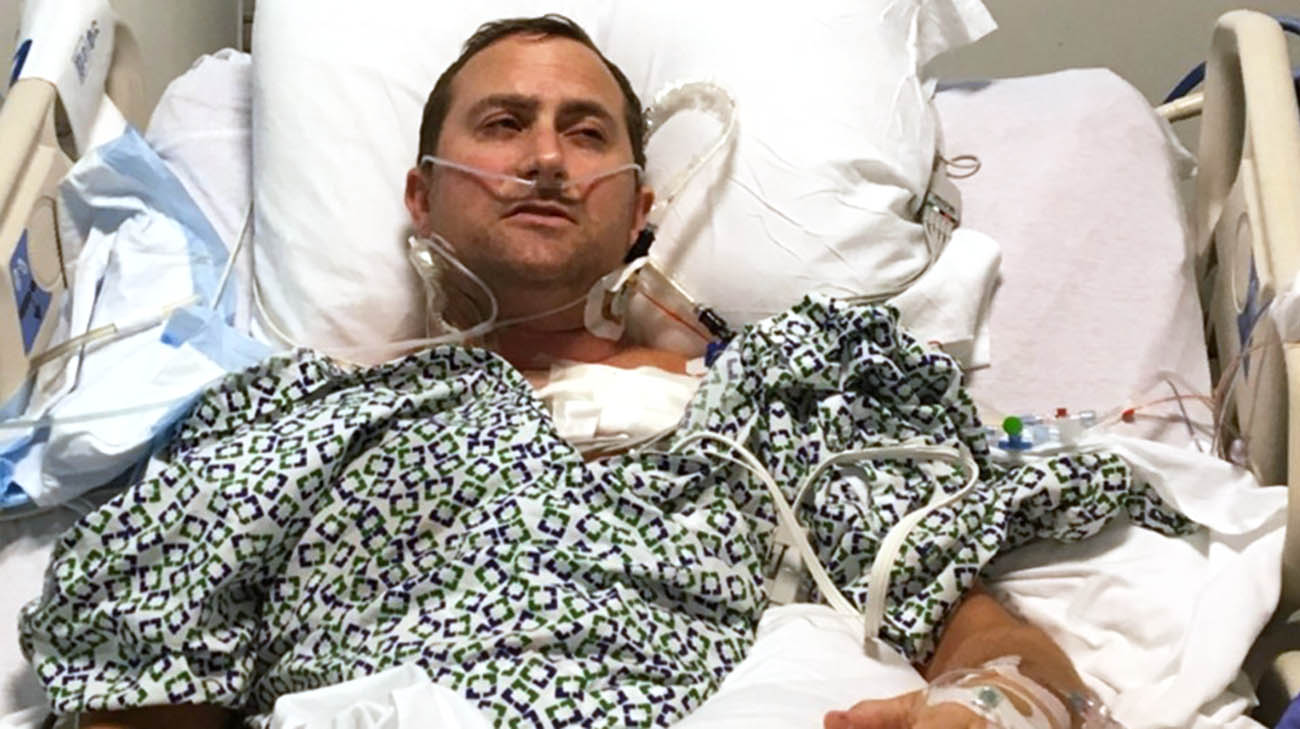 Steve's case of sarcoidosis caused irreparable damage to his heart. (Courtesy: Steve Dragon)
"Heart involvement is among the most serious forms of sarcoidosis," says Dr. Culver, Chair of the Department of Pulmonary Medicine, which currently affects about 200,000 Americans. "It can be quite difficult to diagnose as it is often multidisciplinary in nature, involving multiple organs and lymph glands."
To further assess the situation, the Cleveland Clinic team wanted to immediately conduct a heart biopsy, but Steve deferred the procedure for a week, choosing to return home for the first day of school for his children (who were then ages 16, 14 and 10). Fortunately, no crises arose during that time away.
Indeed, after undergoing the biopsy back at Cleveland Clinic and having his heart monitored in the hospital afterwards, doctors noticed Steve's heart began having arrhythmic episodes – another indicator his sarcoidosis was in an advanced state. Caregivers quickly moved him to the intensive care unit (ICU). They treated Steve with several forms of medication, had a pacemaker inserted into his chest and needed to put him on extracorporeal membrane oxygenation (ECMO), a type of artificial life support that can help a person with failing lungs and/or heart, due to progressive deterioration.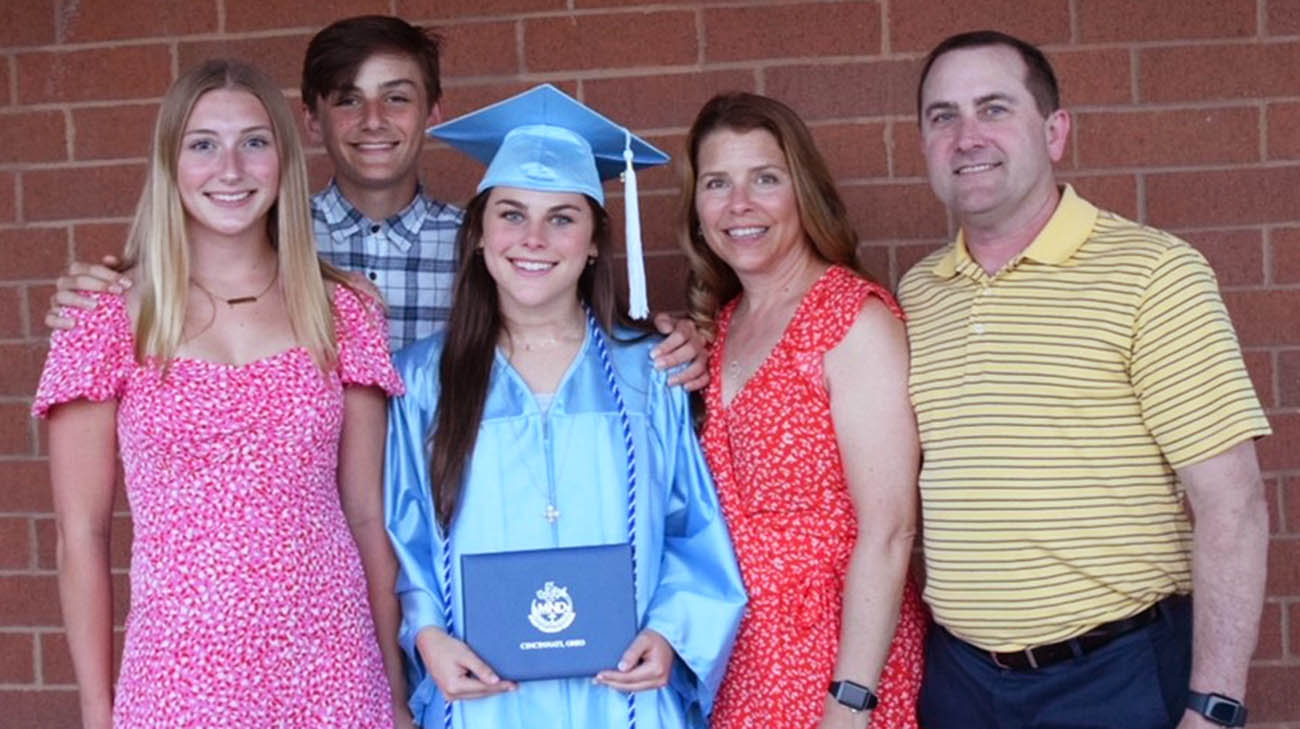 Steve has been able to enjoy celebrating his kids' milestones, including his daughter's graduation in May 2022. (Courtesy: Steve Dragon)
Steve's condition was serious and getting more critical by the moment. Within days, he was approved for a heart transplant and placed on the United Network for Organ Sharing waiting list, classified as an emergency recipient.
Amazingly, three days after being added to the list, a donor heart was found. However, the fall of 2017 was a particularly busy hurricane season. Storms impacted the delivery of the heart by about 24 hours.
"Hurricanes kept delaying the flight. I'd gotten this amazing good news and then panicked that storms would keep the heart from getting here, while it was still viable," Steve recalls. "Fortunately, the weather cleared up."
Steve's sarcoidosis cleared up, too, after surgeon Edward Soltesz, MD, led a team that performed a successful heart transplant. The procedure was completed without any major complications. Within a month or two Steve began to regain his strength. Five years after the operation, he remains in good health and completes twice weekly workouts with a personal trainer.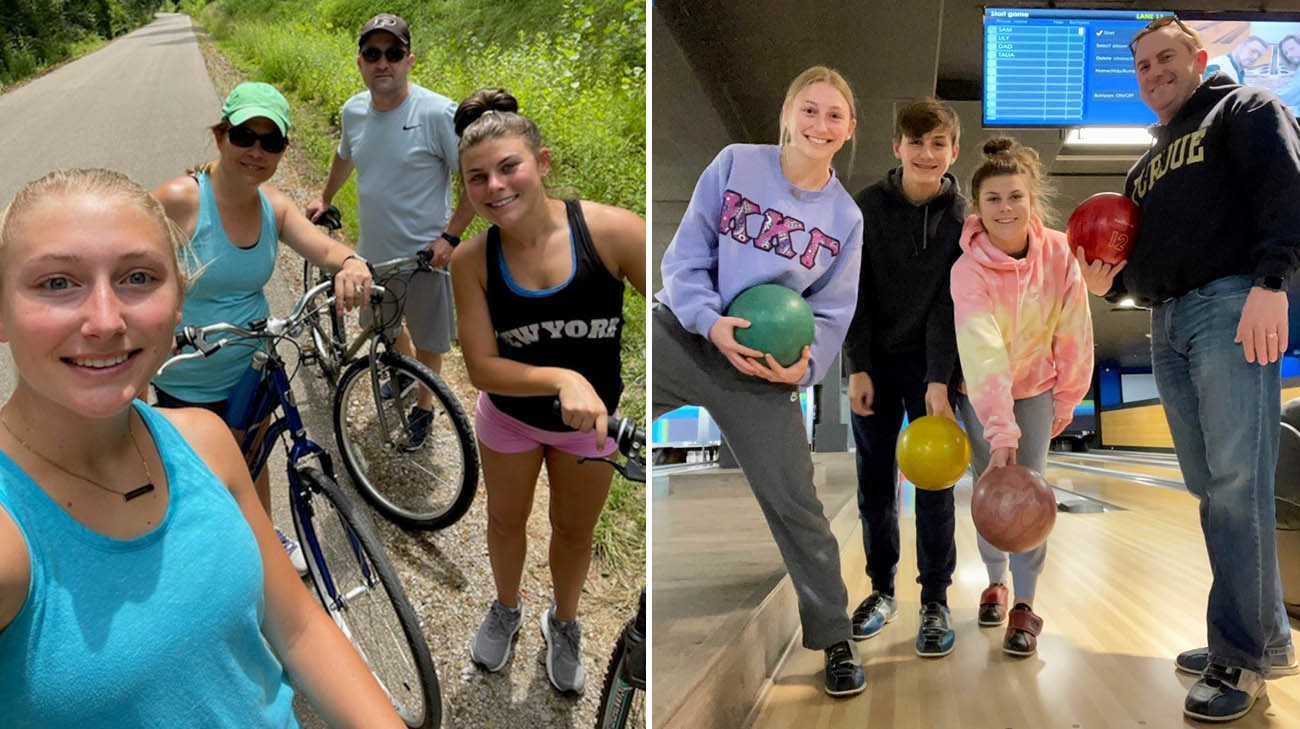 Since Steve's heart transplant he's been able to enjoy spending time with his family, including getting back to an active lifestyle. (Courtesy: Steve Dragon)
"My recovery was surprisingly quick," notes Steve. "By coming to Cleveland Clinic, I was very fortunate to be in the right place at the right time."
While Steve acted quickly in seeking treatment, Cleveland Clinic's annual MENtion It survey found some men say they delay going to the doctor, either for regular checkups or upon the onset of symptoms. The educational campaign encourages men to make their health a priority. Being proactive by getting regular screenings, vaccinations and exams can help prevent many health problems or catch them in curable stages.
According to cardiologist J. Emanuel Finet, MD, who examines Steve twice annually to monitor the condition of his "new" heart, many of the major health risks men face -- including heart disease -- can be prevented or treated with early diagnosis. That early intervention was a determining factor in Steve's positive outcome.
Related Institutes: Respiratory Institute, Heart, Vascular & Thoracic Institute (Miller Family)
Patient Stories
Patient Stories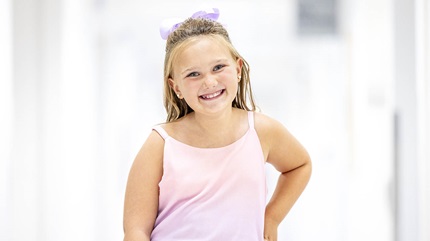 Sep 22, 2023
"This wraps up a chapter in her life we hope we never have to reopen. Audrey handled everything like a champ, and we are so grateful and proud."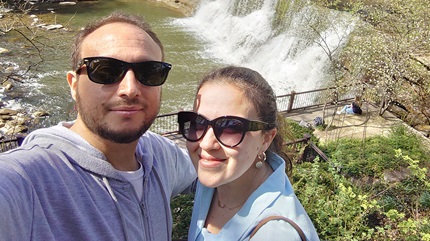 Sep 18, 2023
"Besides my first transplant, I've had other noninvasive surgical procedures, and I needed pain medication for all of them but not this time."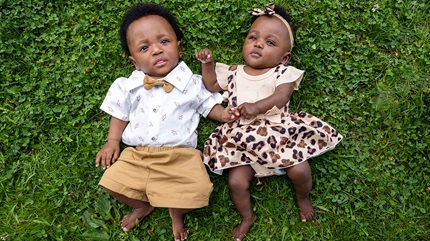 Sep 15, 2023
"Thinking about everything Kimyah and DJ have been through, it was hard to imagine us ever getting to this point. It was unclear if they would be able to do anything by themselves. Now, they're trying to do everything by themselves."