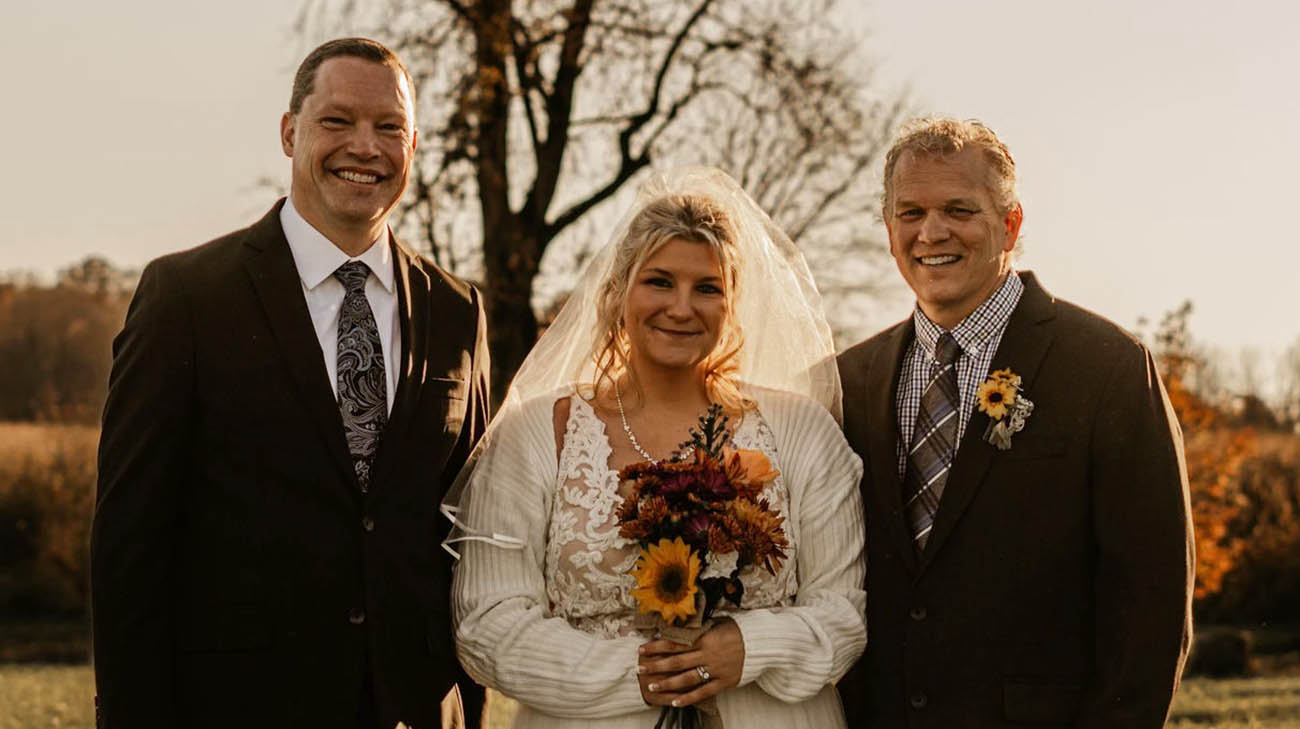 A hospital waiting room can be a lonely place. That's been especially true during the COVID-19 pandemic, when just one family member is typically permitted to wait while their loved one is receiving care.
Jennifer Manges certainly felt that way after her hour-long drive to Cleveland Clinic main campus, where her then fiancé, Erik, was being flown by Critical Care Transport in August 2021. It was a last-ditch effort to save him from the ravages of COVID-19 and pneumonia.
"The day had been quite draining," says Jennifer, who at the time had just recovered from a much milder case of COVID-19. "I'd been up since 2:30 in the morning, when I got the call from Cleveland Clinic Medina Hospital, where Erik was first treated, that I may have to say my goodbyes to Erik. And here I was now, at the main campus, that afternoon, not knowing what would happen next."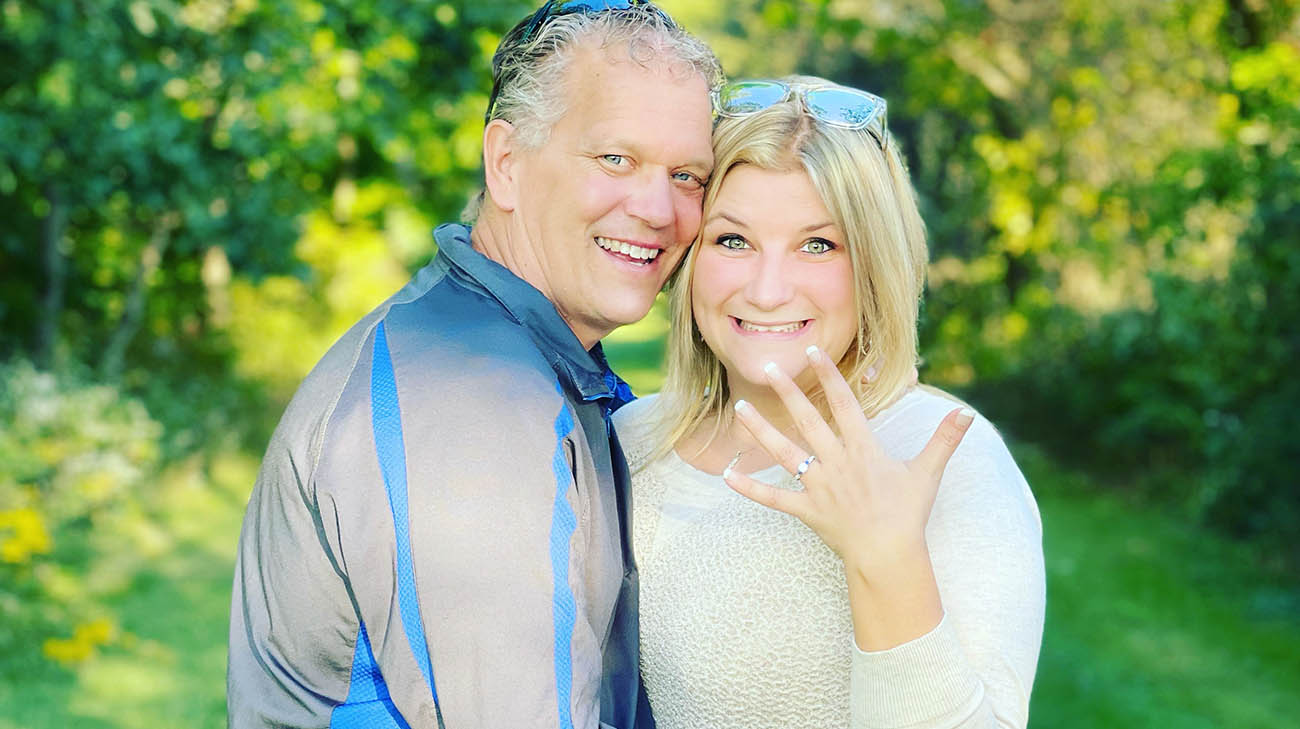 Jennifer and Erik had just booked an Alaskan cruise in preparation for their upcoming wedding celebration when they both contracted COVID-19. (Courtesy: Jennifer Manges)
"They were the longest, hardest hours of my life," says Jennifer. "I was scared and would have loved to have my mom or somebody there with me."
Then, her "guardian angel," as she describes him, walked into the family waiting room. And Jennifer was no longer alone. Brent Raitz, a board certified chaplain, who is part of Cleveland Clinic's Center for Spiritual Care, had been alerted about Erik's critical condition by a staff nurse and came by to offer Jennifer support.
One of six staff chaplains at main campus, Brent has responsibility for serving patients at Cleveland Clinic's Sydell and Arnold Miller Family Heart, Vascular & Thoracic Institute, and has counseled dozens of patients with COVID-19 and their family members since the pandemic began. A pastor for more than two decades, and a hospital chaplain for 11 years, Brent knows sometimes the best support is just being present.
"We just sat together and I let her cry on me. I wanted her to know I was here for her," says Brent. "As a chaplain, my goal is to journey with the person into that dark space -- whether it's social, mental, physical or spiritual – and help them endure and heal."
Jennifer and Erik's dark journey began several days earlier when the couple, who at that point had chosen not to get a COVID-19 vaccine, were planning a February 2022 wedding. They had just booked an Alaskan honeymoon cruise and began having COVID-19 symptoms after a trip to Michigan. At first, Jennifer's symptoms were worse than Erik's, but his situation quickly became critical when he contracted pneumonia, too.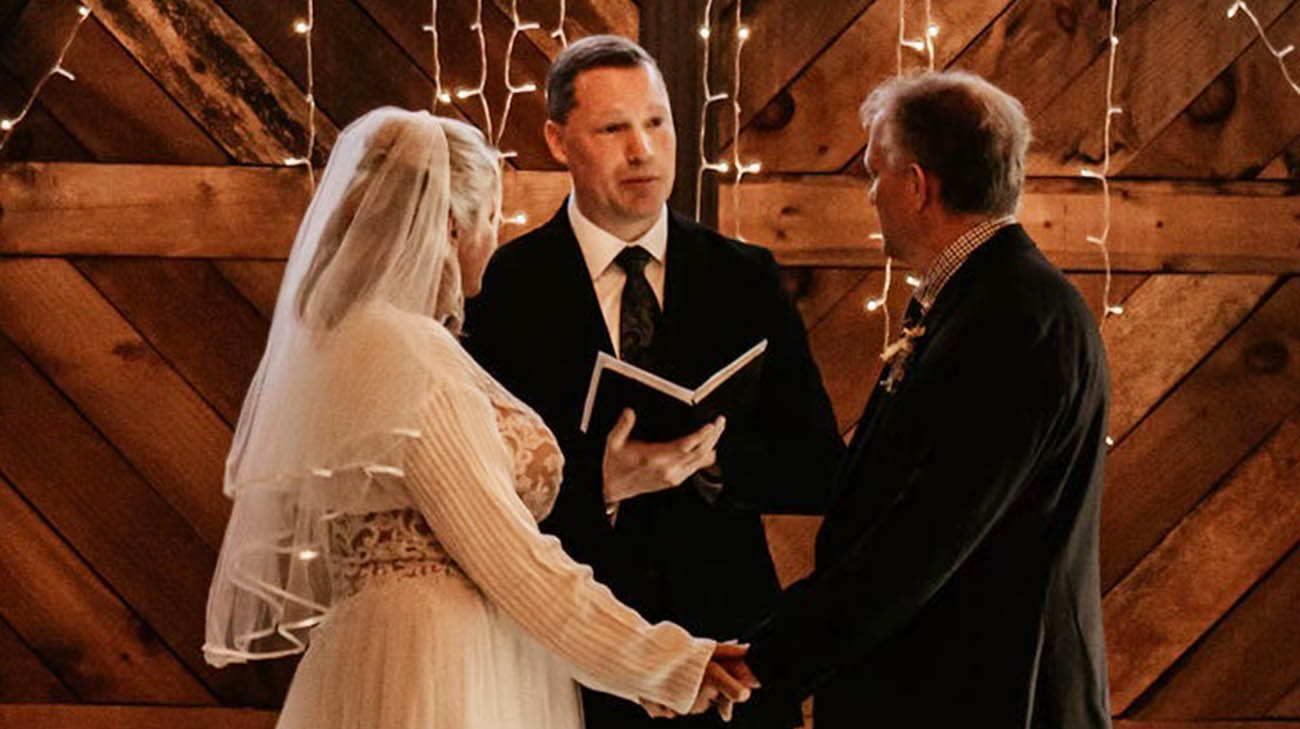 Cleveland Clinic chaplain Brent Raitz officiated Jennifer and Erik's wedding. (Courtesy: Jennifer Manges)
Recalls Jennifer, "To be honest, up until that point, we didn't personally know anybody that had gotten COVID. We had gone so long without getting it, I guess we thought we never would. A lot of people, unfortunately, still have that mentality."
After his third trip to Medina Hospital's emergency room, Erik was admitted. Almost immediately, his condition deteriorated. His breathing became labored, and he was placed on a ventilator. The medical staff also would put him in a prone position, where a patient lies on their abdomen in a monitored setting for long hours at a time --a proven effort to aid in lung function for patients with acute respiratory distress.
After a few days, there seemed little hope Erik would recover. That's when doctors suggested transporting him to Cleveland Clinic main campus, where he would have access to an extracorporeal membrane oxygenation (ECMO) machine. This form of artificial life support continuously pumps blood out of the patient, cleans it of carbon dioxide, adds in oxygen and then returns it to the body.
Jennifer quickly agreed. That's when she jumped into her car and drove to Cleveland while Erik – in a comatose state – was flown by helicopter there. And that's where, in her time of great distress, Brent came into her life.
Brent has seen countless patients with COVID-19 treated with ECMO and not all of them survive.
"In the past 18 months, I've often worked with end-of-life situations," states Brent, who regularly joins his fellow chaplains to discuss their own emotions during these trying situations. "Sometimes, it seems like it's all I do, unfortunately."
Given Erik had just a 5% chance of survival, Jennifer, with Brent by her side, tried to stay positive as they prayed, cried, talked and simply sat together in the waiting room. Brent was beside her when she was briefly allowed to see Erik, on that first arduous day on ECMO.
"The first day, Brent asked a couple of questions but didn't push me to talk. He just sat there with me, and said he would stay right here. And to call anytime I needed him."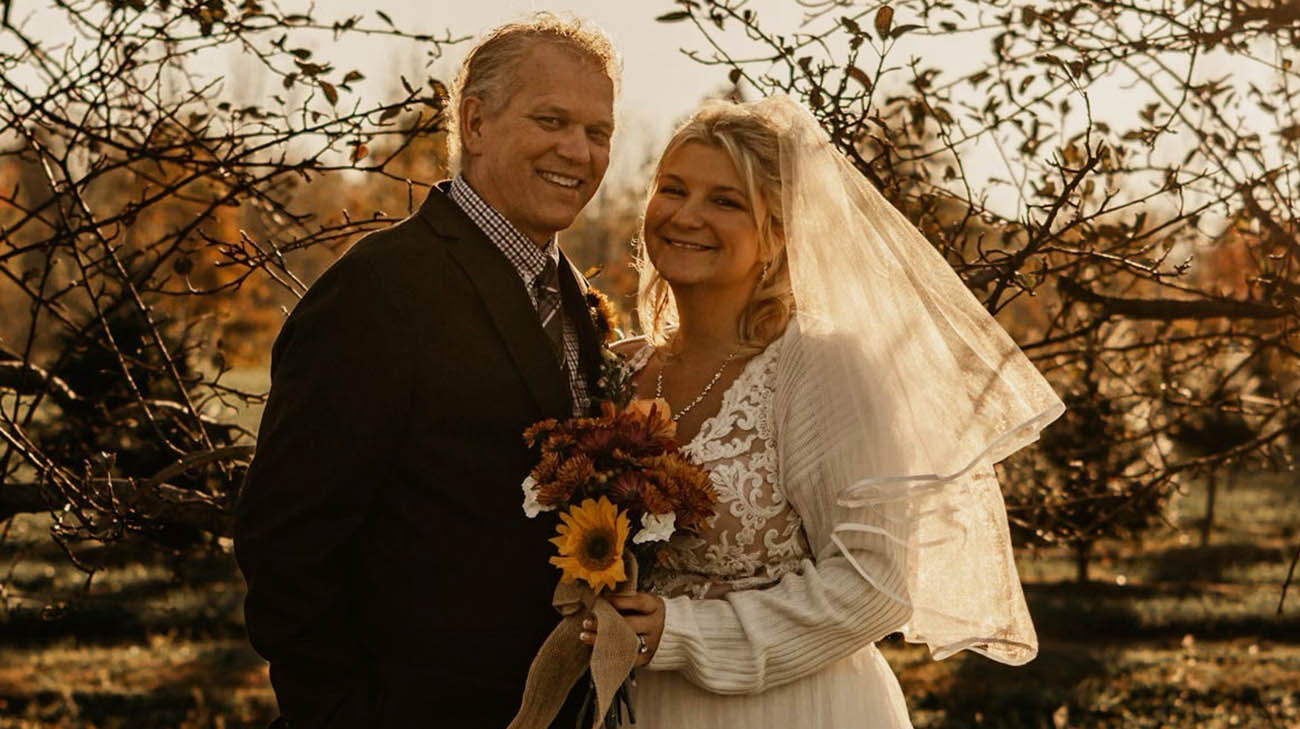 Jennifer and Erik got married on November 6, 2021. (Courtesy: Jennifer Manges)
Over the next two weeks, including the four days Erik was on ECMO, Brent came by to check on him and Jennifer at least a dozen times, she says. He would also call her to offer words of encouragement. Despite a few other medical issues, including some concerns with his heart, Erik responded to treatment, regained consciousness and began to grow stronger.
Miraculously, Erik was ready to be discharged to the Cleveland Clinic's Edwin Shaw Rehabilitation Hospital, where he would relearn how to walk, speak and eat. Just an hour before he was scheduled to leave Cleveland Clinic for rehab, he met Brent for the first time (Erik had been unconscious the other times Brent visited).
As they were talking, Erik had a sudden thought. He and Jennifer had just decided to move up their wedding date to November 6, and his job was to find an officiant. "The thought came to my mind and I asked him, 'Do you marry people?' And he said, 'Yeah, I do.' So I said, 'How about November 6? Are you interested in officiating our wedding?'"
Without hesitation, Brent agreed. "I was honored. I've seen so many terrible outcomes from COVID, especially people in Erik's age group who are not vaccinated. So, to be able to see one of them make it, after all the hard work the unsung heroes here do for them, and to marry them – it was just a wonderful experience."
On November 6, 2021, in Lodi, Ohio, in front of about 80 friends and family members, Brent married Jennifer and Erik. They feel they've established some semblance of normalcy in their lives again. Erik says he has about 80% of his strength back. He and Jennifer are still planning to take that Alaskan cruise at some point.
When the topic arises, they have become advocates for COVID-19 vaccination, too. "After the wedding, Erik and I were talking and I asked what he's learned from this experience," recalls Brent. "He just strongly said, 'Get the vaccine.'"
Related Institutes: Respiratory Institute, Heart, Vascular & Thoracic Institute (Miller Family)
Patient Stories
Patient Stories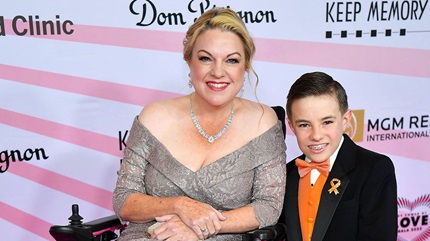 Mar 31, 2023
"I have never felt more embraced, more cared for, more important. And having a 14 year old ask a medical question isn't weird to them."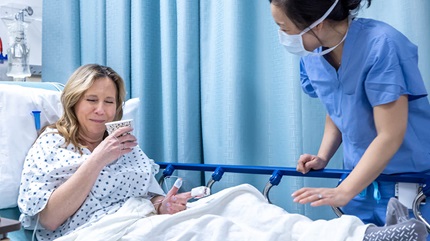 Mar 31, 2023
"I'm just so happy to have my life back."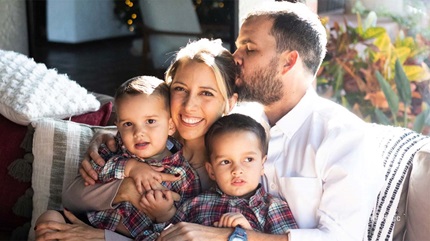 Mar 16, 2023
"Dr. Pieretti took the time to explain how the robotic surgery would work and how quick my recovery would be with this technology. That made me happy because I wanted to get back to my regular life fast."