Kathy Miska is fighting the devastating impact of multiple sclerosis (MS) on her ability to walk. A robotic device that attaches to her body during physical therapy (PT) – called an exoskeleton – is helping her to do just that.
Diagnosed more than 20 years ago with MS, the autoimmune disease that can negatively impact the central nervous system, Kathy has seen her symptoms worsen over time, especially in recent years.
Kathy is one of 21 patients with MS at Cleveland Clinic's Mellen Center for Multiple Sclerosis to participate in a research study assessing the effectiveness of the EksoGT exoskeleton in MS rehabilitation.
"My walking speed has increased, my endurance has improved, my gait is more normal and I get intermittent periods of my leg getting signals from my brain," says Kathy.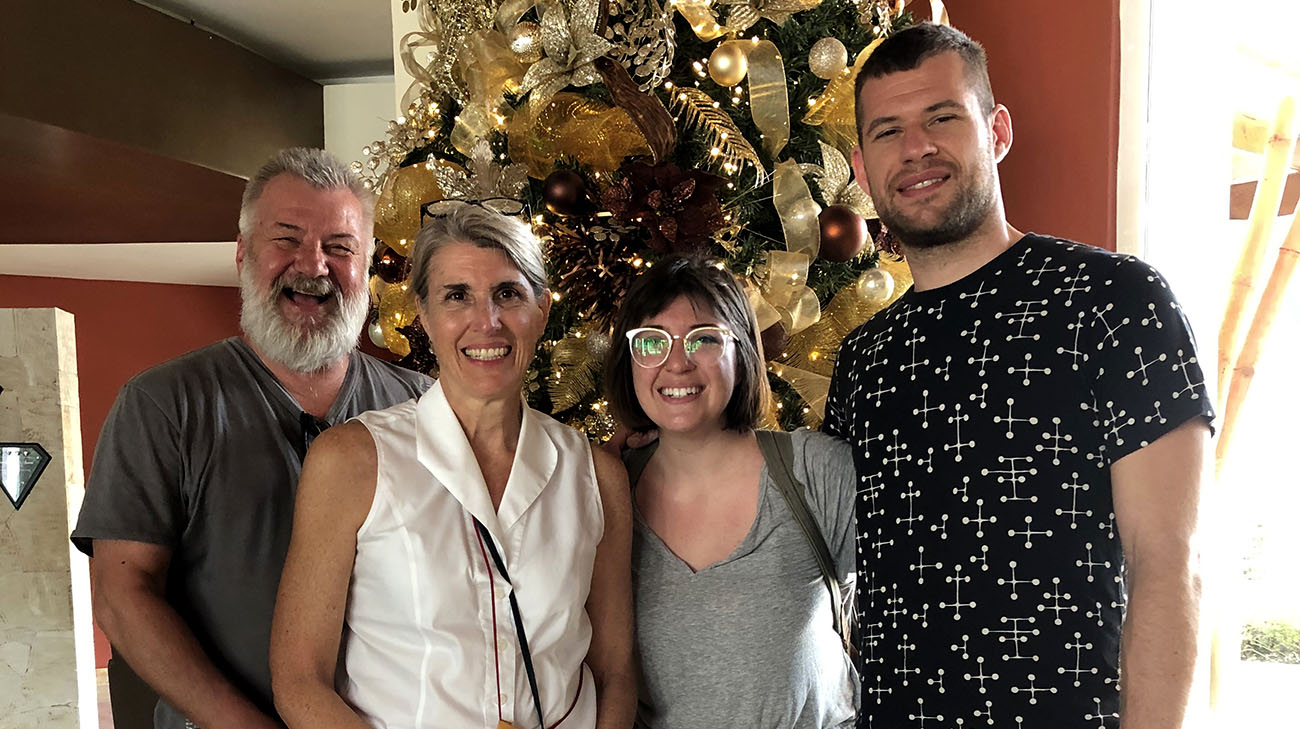 Kathy with her family. She was diagnosed with MS 20 years ago, and has seen her symptoms worsen over time. (Courtesy: Kathy Miska)
The device has Food and Drug Administration (FDA) approval for use in rehabilitation programs for patients with spinal cord injury and stroke. The FDA additionally approved it in June 2022 for use in patients with MS. Cleveland Clinic's clinical trial was one of the first pilot studies to determine its potential efficacy for this population of patients. It was funded by a generous donor and a Cleveland Clinic Caregiver Catalyst Grant.
Study results confirmed the safety and feasibility of using a robotic exoskeleton in patients with a wide range of disability from MS and showed evidence of training progression from first to last session (as reflected in the time spent and number of steps walking with the device). Some patients showed improvement on tests of walking and mobility without the device after the end of training.
"The idea is to use the exoskeleton as part of PT to hopefully achieve better results, particularly when the patients can't do much walking by themselves and can't (fully) exercise their legs," says Francois Bethoux, MD, Chair of Cleveland Clinic's Department of Physical Medicine and Rehabilitation and principal investigator of the study. "Just like with muscles, with the nervous system you 'use it or lose it.' The goal is the patient will find it easier to walk even when they're not using the device."
Here's how the exoskeleton works: A trained physical therapist straps the bulky yet adjustable device onto the patient's body. An adjustable metal brace supports the legs, feet and torso. Guided by the physical therapist, the exoskeleton is programmed to manipulate the patient's legs and waist as they stand up, walk on a level surface and sit down. Battery-powered motors drive the knee and hip joints, with the patient gaining support for balance and body positioning through use of a cane, walker or crutches.
"I feel like I have really made progress," says Kathy, who recently completed the study's 24, hour-long training sessions spread over an eight-week period. "My posture looks better and my walking has improved. Hopefully, this will get me stronger. It's encouraging."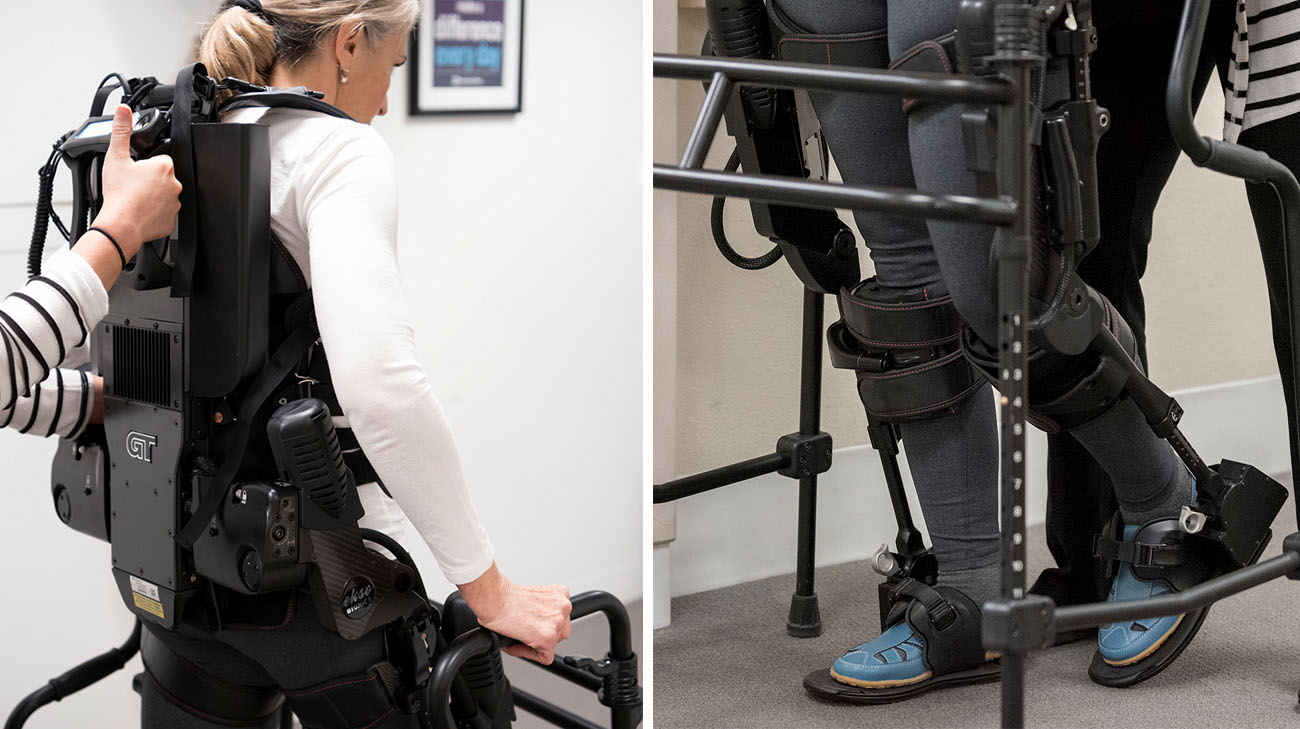 Guided by a physical therapist, the exoskeleton manipulates the patient's legs and waist. (Courtesy: Cleveland Clinic)
One of Kathy's physical therapists, Matthew Sutliff, can attest to her improvement.
"It seems to be really making a difference in Kathy's gait training," he explains. "She has a lot of weakness in her right leg, but her left leg is a bit stronger. So we programmed the device to give her a fair amount of support for her right leg to teach the proper step pattern. As we continued, we slowly reduced assistance for the right leg, requiring her muscles to perform more of the work."
As Matthew adds, the exoskeleton is not intended to do the work for the patient, but to stimulate "nerve memory" so the muscles will ultimately take over. "The brain is constantly adapting to what we do. By continually repeating something in a certain format, the hope is to "rewire neural pathways in the brain" to walk better, more naturally and safely."
"Many people living with MS have difficulty walking, and there are few rehabilitation options when walking is severely limited. The FDA approval is an exciting next step for MS patients to help them walk better and stimulate brain plasticity," says Dr. Bethoux. "We are constantly striving to improve and innovate in ways to better treat our patients through rehabilitation, and this is one way we can continue to advance care."
Related Institutes: Neurological Institute, Lerner Research Institute
Patient Stories
Patient Stories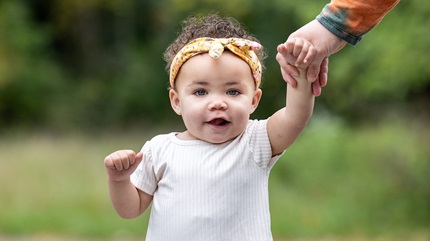 Sep 29, 2023
"Following her procedures, Adaya has defied the odds. She's hit all of her milestones so far. She's crawling and getting around wherever she wants to go."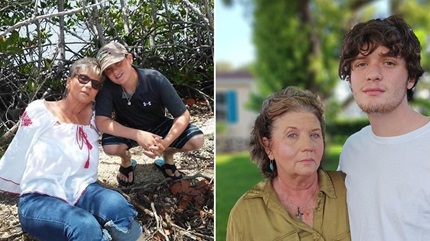 Sep 28, 2023
"It was worth every moment of it to know I was going to be there to see my son grow up."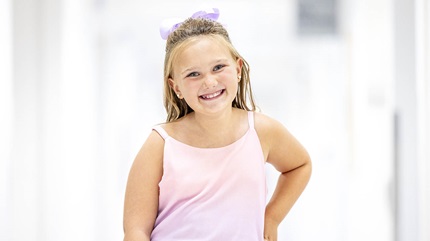 Sep 22, 2023
"This wraps up a chapter in her life we hope we never have to reopen. Audrey handled everything like a champ, and we are so grateful and proud."