Every time Lindsay Vos got a throbbing headache, or felt weakness on the left side of her body, she wondered how much longer she would survive. Since 2011, during her senior year at the University of Toledo, the former basketball star turned recreation therapist had struggled to deal with the effects of an arteriovenous malformation (AVM) in her brain.
The congenital disorder is a complex, tangled web of arteries and veins that can impede proper blood flow. If it ruptures and hemorrhages, the result can be life-threatening.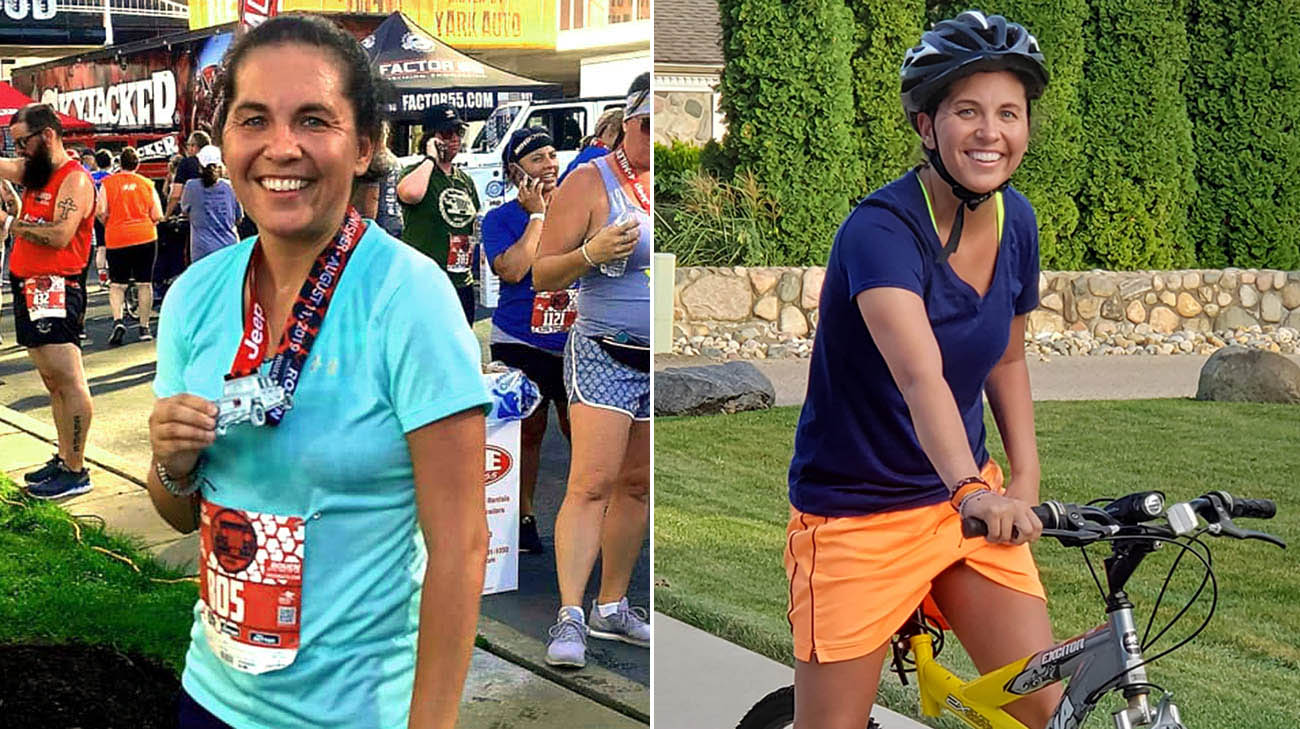 Lindsay hasn't let her condition stop her from playing sports and staying active. (Courtesy: Lindsay Vos)
"I had to live with the fact that the AVM could explode at any time," explains Lindsay, now 31, whose disorder is a form of another serious and genetic-based condition called hereditary hemorrhagic telangiectasia (HHT), which affects how some blood vessels are formed.
"I'm very active, and often go on runs or bike rides by myself. I didn't let it stop me, but in the back of my mind I knew I could be found dead one day, or get to the hospital too late."
That's no longer a worry for Lindsay, whose father James – unbeknownst to both of them, at the time of her diagnosis – also suffered from HHT. He was diagnosed after suffering grand mal seizures in 2014. As a result of his battle with stage 4 kidney cancer, in addition to, complications from HHT, he died of pneumonia one year later.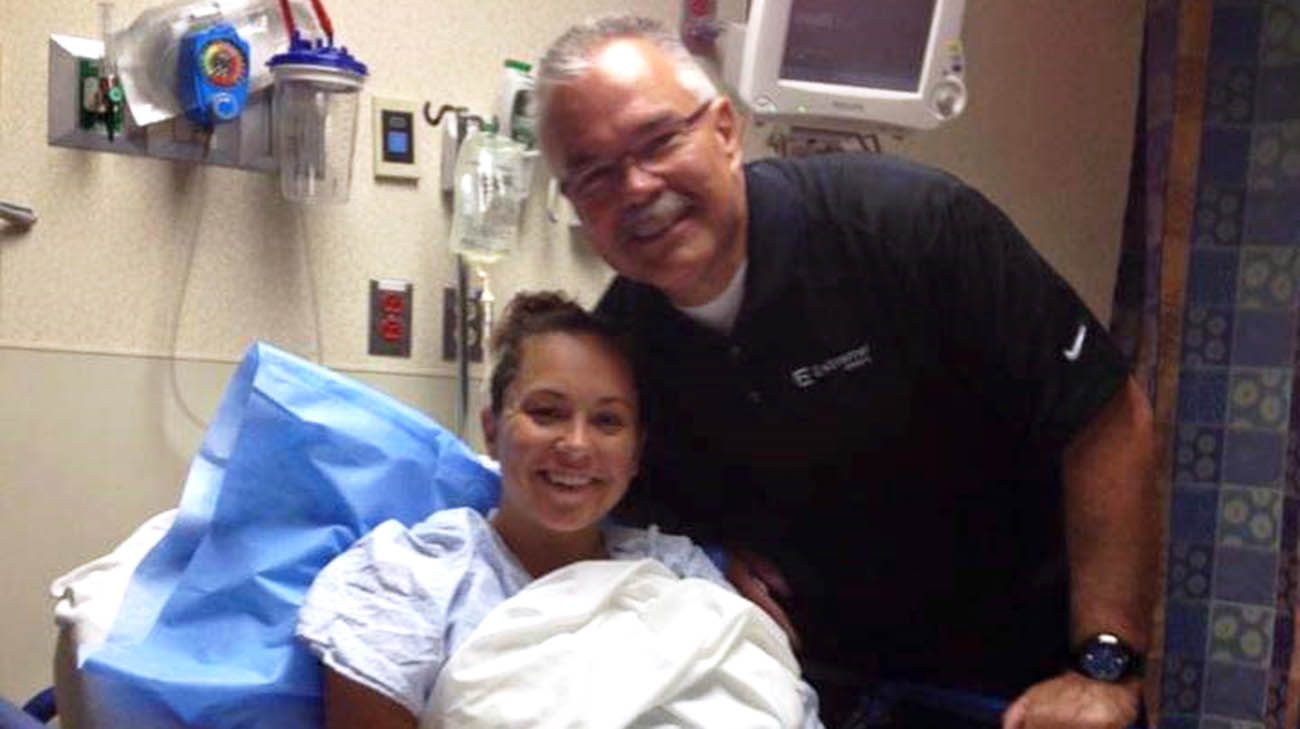 Lindsay, with her father, James, before undergoing treatment, at a hospital in Michigan. (Courtesy: Lindsay Vos)
"In one of the last text messages I got from him before he passed, my dad said, 'I hope everything goes well for you in Cleveland," recalls Lindsay, who had undergone embolization procedures and other forms of treatment, for several years, at a hospital in her home state of Michigan. However, the doctors couldn't remove the AVM. "Dad had hoped to go there for treatment, too, but was too sick to travel."
In early 2016, Lindsay made her first visit to the Cerebrovascular Center at Cleveland Clinic's Neurological Institute, one of the few medical facilities in the U.S. that offers a comprehensive HHT program, as well as expertise in treating an AVM, stroke, brain aneurysm and other brain blood vessel conditions.
According to neurosurgeon Mark Bain, MD, the large size of Lindsay's AVM, and its location in an area of her brain that controls motor functions, made her condition high-risk. "She previously had some embolization and radiation therapy to get rid of the AVM but it didn't work," he says. "By the time I was dealing with it, she was at a point where she just wanted it out of her head. We knew it wouldn't be easy."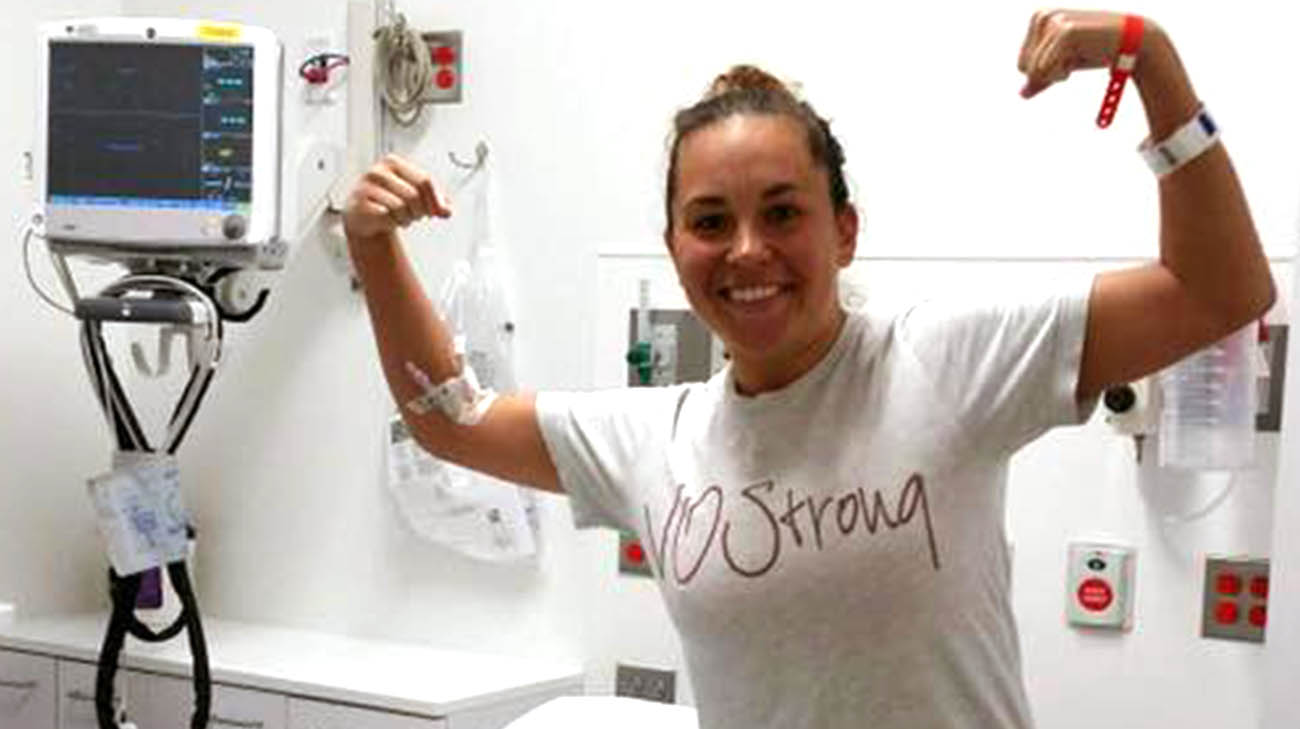 Lindsay has always tried to maintain a positive attitude throughout her medical journey --encouraging others to be "VOStrong." (Courtesy: Lindsay Vos)
To prepare Lindsay for brain surgery, Dr. Bain attempted another embolization procedure, in which a catheter is fed into the blood vessels of the brain and embolic agents are injected to block off the blood vessels. The procedure worked well, except for one large blood vessel that could not be reached.
"We tried for hours to get that artery with a catheter but we just couldn't do it," Dr. Bain explains. "Its presence would make her brain surgery much riskier and I told her that. But Lindsay was all in. She said 'I believe in you.'"
Despite the surgical risk, Lindsay was committed to getting the AVM removed. "I knew the risks of surgery. But there was risk (of death or paralysis) if the AVM wasn't removed, too. The best doctors were treating me, so I had to try."
The surgery, in January 2017, lasted 14 hours. To access the AVM, Dr. Bain removed a small piece of Lindsay's skull and used microsurgical techniques to intricately untangle and cauterize the bundle of blood vessels and arteries. With almost all of the AVM removed, the one artery that had proved problematic during the previous embolization became his nemesis again.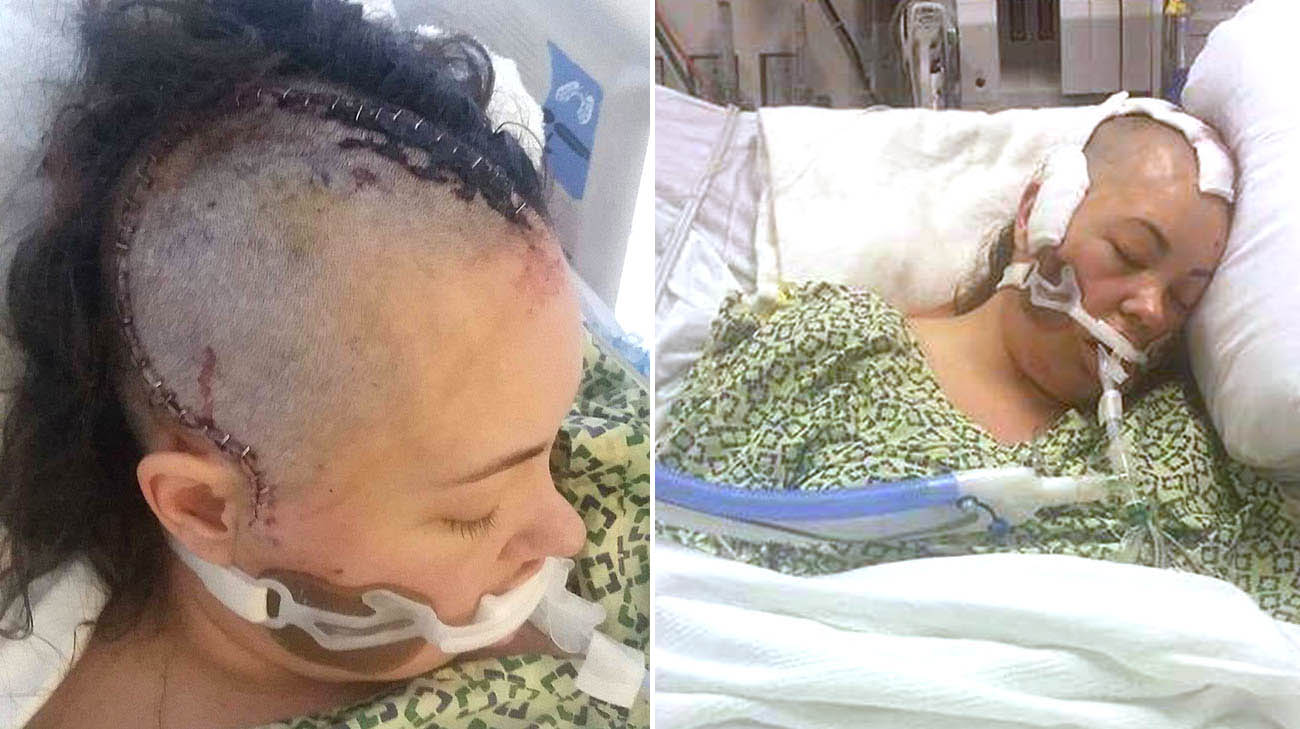 Lindsay, after undergoing surgery at Cleveland Clinic, to remove the AVM. (Courtesy: Lindsay Vos)
"When we got to that artery, the AVM ruptured and started bleeding like crazy," he recalls. "Lindsay lost a fair amount of blood, but we finally got it stopped. And I was finally able to cauterize that artery."
The surgical team placed Lindsay in a medically-induced coma, for six days. When she awoke, she was unable to move the left side of her body. "My first thought was, 'I'm going to be the best wheelchair basketball player I can be,'" notes Lindsay. "I couldn't walk and could barely sit up straight at first. But luckily, I had the most amazing physical therapist."
Lindsay remained at Cleveland Clinic for two months, undergoing intensive physical and occupational therapy – and amazed the staff by her persistence and the progress she made. Today, Lindsay is fully recovered, with the exception of her left arm and hand, which has somewhat limited range of motion. She's still able to go kayaking, and has resumed running and other physical endeavors.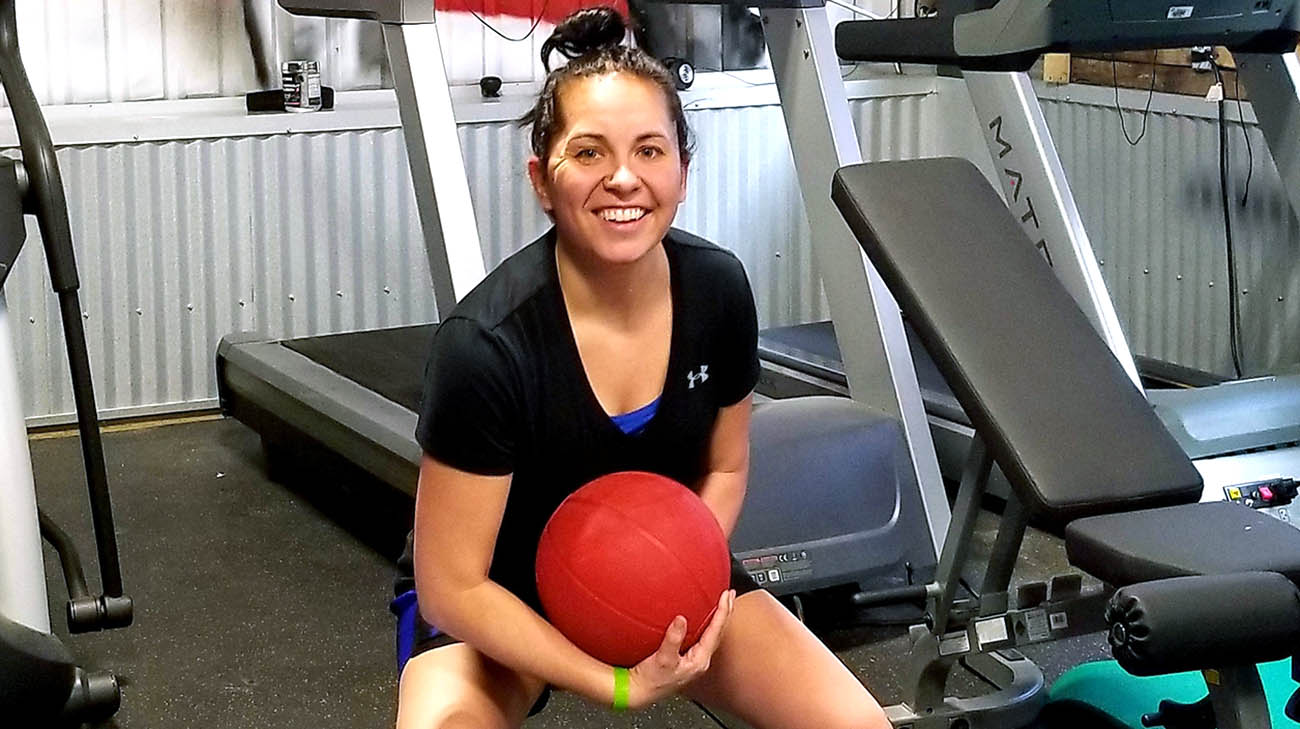 Lindsay continues working hard at physical therapy to improve and develop her strength. (Courtesy: Lindsay Vos)
Also, she hasn't had a headache since the surgery.
"Her attitude was amazing," says Dr. Bain. "She just wouldn't give up."
Lindsay says her years of training as an athlete positively impacted her recovery. So, too, did her father's battle with HHT. "I saw my dad fight every single day for 11 months. So, who am I to complain about my own struggles? My arm is the least of my worries. I have my life back."
Related Institutes: Neurological Institute
Patient Stories
Patient Stories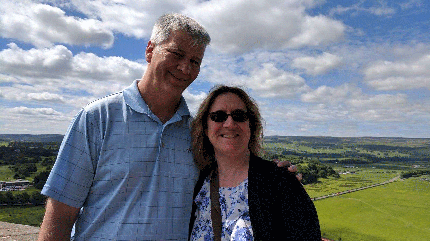 Nov 30, 2023
"I was under enormous stress and having difficulty sleeping, so I reached out to Dr. Saper to see if he had any suggestions as to how I could better cope."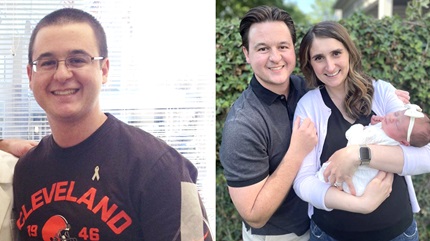 Nov 30, 2023
"At the time of my diagnosis, I was thinking, 'I'm 24. I'm a lifelong nonsmoker. I'm not supposed to get cancer.'"