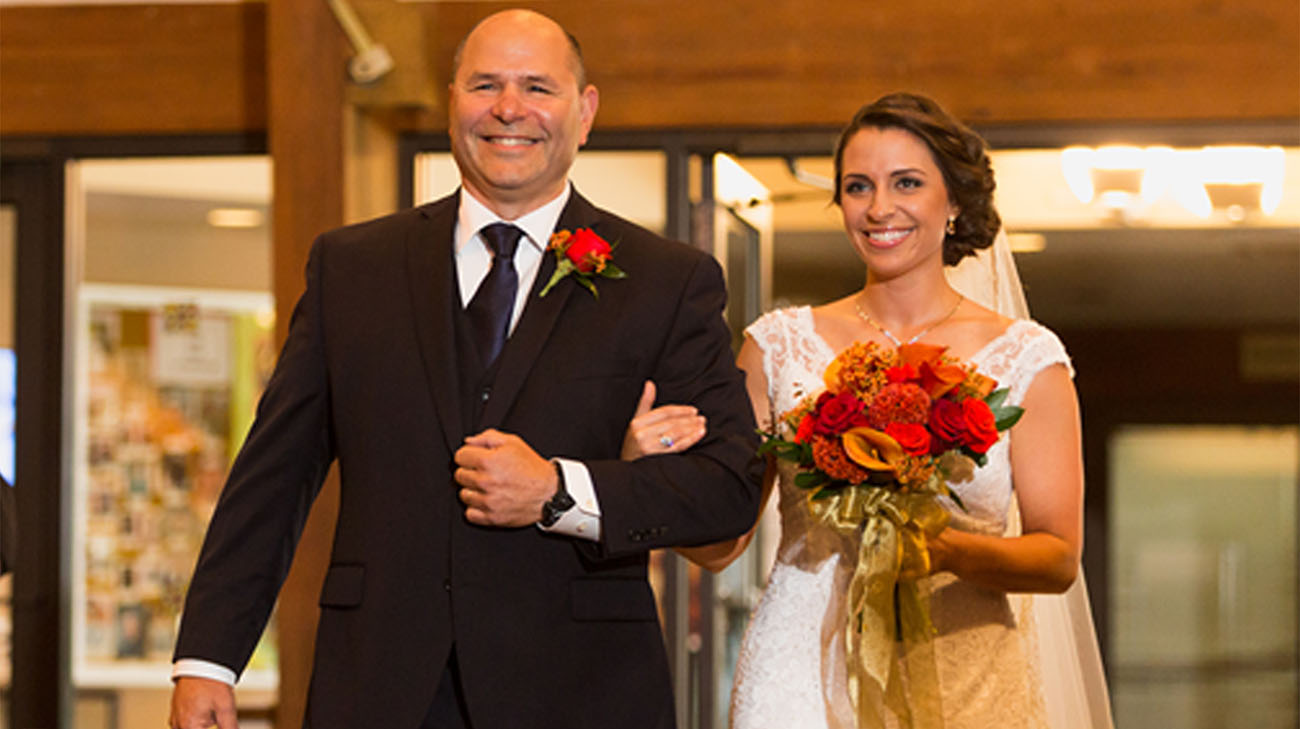 Jim Mariano couldn't have picked a better place to have a heart attack. Cresting the top of a hill, on Day 2 of a 250-mile charity bicycle ride, the veteran Shaker Heights police lieutenant suddenly lost consciousness and fell to the ground, sliding underneath a guardrail.
"A few seconds later, we would have been headed down the other side of the hill and I'm sure I would have had even more complications when I crashed," says Jim, age 57, of the May 2016 incident in rural Pennsylvania.
But there's an even more important reason why the timing was perfect: The avid runner and cyclist was surrounded by individuals well-versed in cardiopulmonary resuscitation (CPR), the emergency lifesaving procedure performed when a person's breathing or heartbeat has stopped.
Within seconds, his friend and riding companion, Mike Cardell, pulled Jim from beneath the guardrail and called for the rescue squad that accompanies the riders. Another rider, Sue Jordon, who works as a physician assistant in a cardiac care unit, immediately began CPR.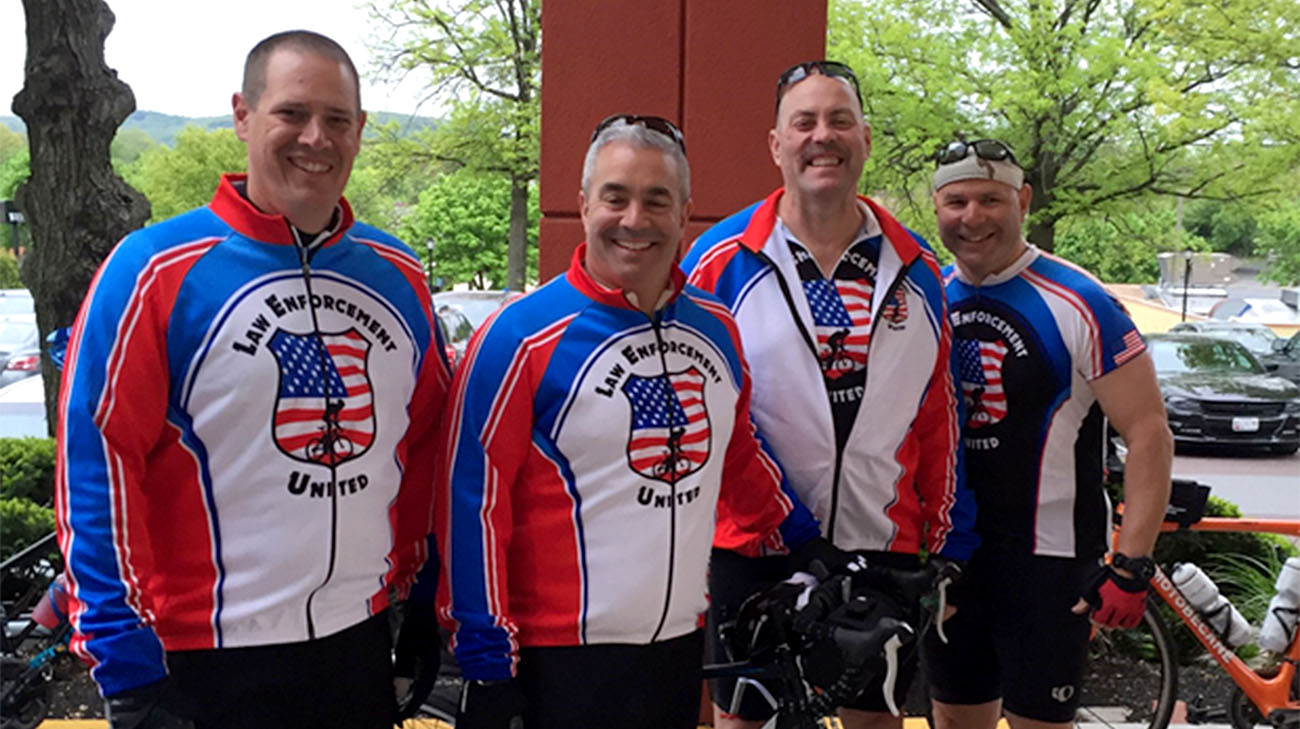 Jim (far right) with his fellow riders. (Courtesy: Jim Mariano)
Minutes later, the EMRs that Cardell had called arrived and took over from Jordon – one using a portable, automated external defibrillator (AED) to shock his heart back to life.
"Had this happened someplace else, I would have been dead right there," notes Jim.
Adds Dermot Phelan, MD, PhD, who has served as Jim's cardiologist since he was airlifted to Cleveland Clinic a few days after his heart attack, "Jim was lucky there were people close by who were able to resuscitate him. Without them, he would not have survived."
In the United States, very few individuals who suffer a heart attack outside of a hospital setting survive the incident. According to the American Heart Association, more than 350,000 out-of-hospital cardiac arrests occur annually, and only about 10 percent survive.
However, if CPR is performed in the first few minutes of cardiac arrest, the chances of survival are about three times as high. According to a new Cleveland Clinic survey, a little over half (54%) of Americans think they know how to perform CPR. However, only 15% know that no breaths and just chest compressions are the right approach.
That's why Dr. Phelan — a staff cardiologist and Director of the Sports Cardiology Center within the Sydell and Arnold Miller Family Heart, Vascular & Thoracic Institute at Cleveland Clinic – is a strong advocate for all individuals learning how to perform "bystander" CPR.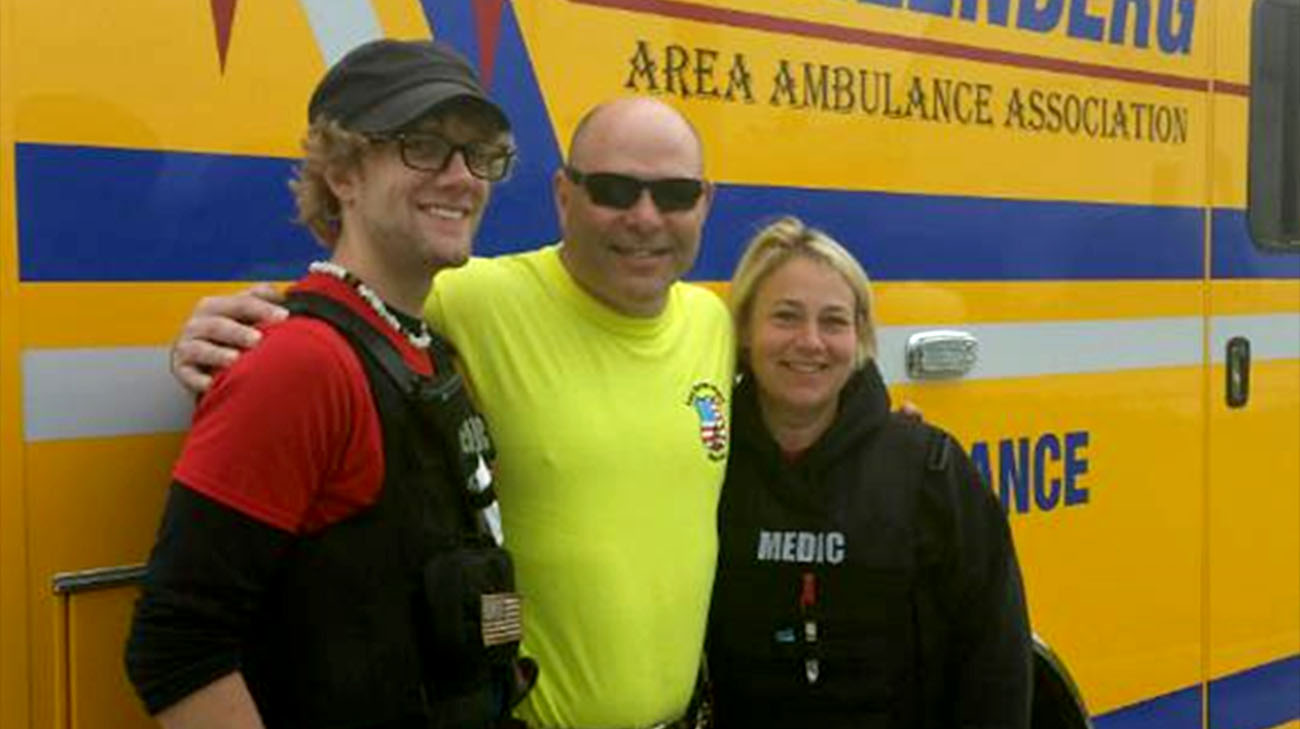 Jim with the paramedics who saved his life, Jake Matacki and Kelly Hackman. (Courtesy: Jim Mariano)
"It should absolutely be known by anyone," affirms Dr. Phelan, who has applauded the institution of CPR training as a graduation requirement in many high schools. "Cardiac arrest is a very common event and CPR is often the only means to save a life in that situation."
Jim was unconscious upon arrival by ambulance at a York, Pennsylvania hospital. He was placed into therapeutic hypothermia, a medical treatment that lowered his body temperature to decrease the chances of neurological damage from the brief time his body was without oxygen.
Upon his arrival, at Cleveland Clinic a few days later, tests revealed that Jim had high levels of lipoprotein(a) in his blood, a genetic condition that caused a tightening of his arteries. Subsequent triple bypass surgery, performed by cardiac surgeon Michael Zhen-Yu Tong, MD, helped alleviate the condition – although Jim has heeded Dr. Phelan's advice and is no longer running or cycling long distances.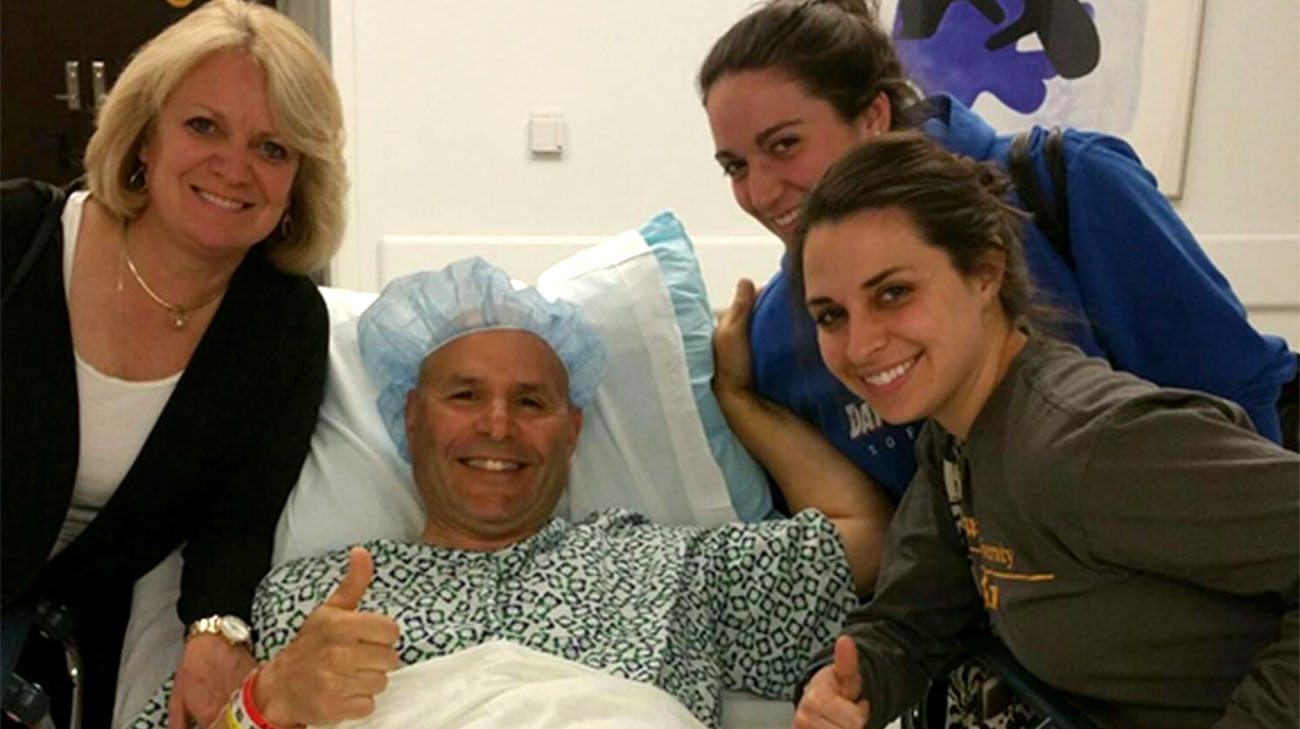 Jim, with his wife and two daughters, after surgery at Cleveland Clinic. (Courtesy: Jim Mariano)
However, life quickly returned to normal. Jim completed cardiac rehabilitation, resumed his law enforcement career, and will retire from the police force in February following 30 years of service during which he performed CPR on several occasions.
A year after the incident, he returned to Pennsylvania and served as part of the support team for the 2017 Law Enforcement United bicycle ride, which raises funds for the families of law enforcement personnel who die in the line of duty. There, Jim spoke to the ride participants about his experience and presented awards to each of the individuals involved in saving his life.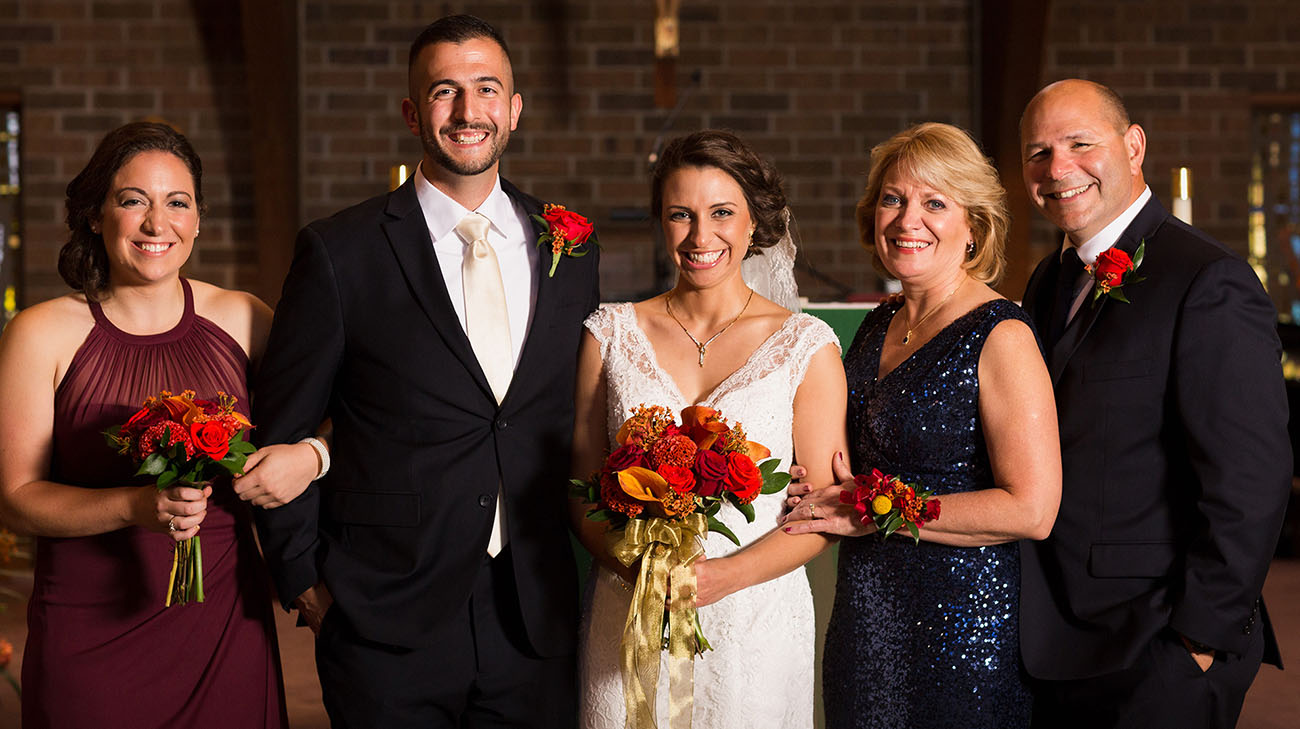 Jim with his family at daughter Patti's wedding. (Courtesy: Amber Rowe, Making the Moment)
Had those volunteers not known CPR, and acted so decisively, Jim surely would have missed one of the highlights of his life – eldest daughter Patti's wedding in October 2017.
"I'm so appreciative of what they did for me," he says. "A lot of things had to come together that day to keep me alive."
Related Institutes: Heart, Vascular & Thoracic Institute (Miller Family)
Patient Stories
Patient Stories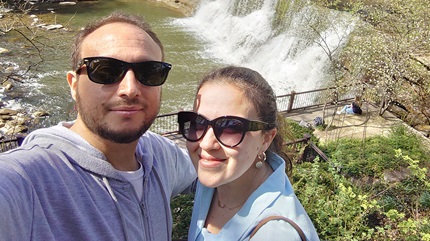 Sep 18, 2023
"Besides my first transplant, I've had other noninvasive surgical procedures, and I needed pain medication for all of them but not this time."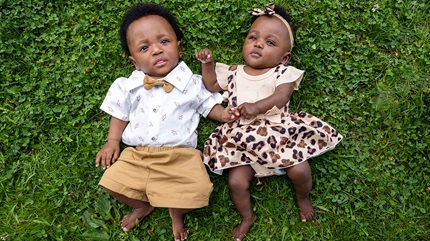 Sep 15, 2023
"Thinking about everything Kimyah and DJ have been through, it was hard to imagine us ever getting to this point. It was unclear if they would be able to do anything by themselves. Now, they're trying to do everything by themselves."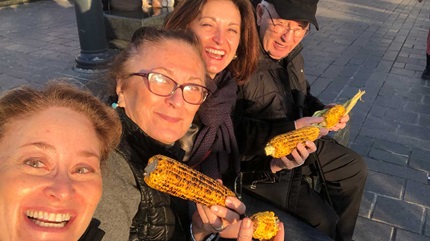 Sep 15, 2023
"My advice to others would be not to ignore changes in your body. Don't rationalize, like I did. Pay attention and ask your doctor to help you check them out."