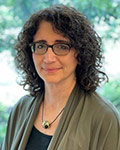 Erica Druin is chief executive officer of Cleveland Clinic Rehabilitation Hospital, Avon. In this role, Ms. Druin oversees daily hospital operations and closely collaborates with medical and administrative staff to develop and deploy clinical programs focused on quality, safety and outcomes with a commitment to delivering a world-class care experience to patients and their families.
A trained physical therapist, Ms. Druin has more than 30 years of experience in health care and rehabilitation. She joined Select Medical in 2013 and has held roles of increasing responsibility, most recently serving as chief operating officer at Cleveland Clinic Rehabilitation Hospital, Beachwood.
Before heading to Beachwood in 2018, Ms. Druin was the director of rehabilitation services at OhioHealth Rehabilitation Hospital. Prior to that, she served as program outcomes quality manager at Adventist Rehabilitation Hospital of Maryland. Early in her career, she held a variety of physical therapy posts at Kessler Institute for Rehabilitation and was a faculty member of the physical therapy departments at several universities.
Ms. Druin received her bachelor's degree in biology from Carnegie Mellon University and master's degrees in physical therapy and health administration from Hahnemann University and Ohio University, respectively.