Robotically Assisted Removal of Cardiac Tumors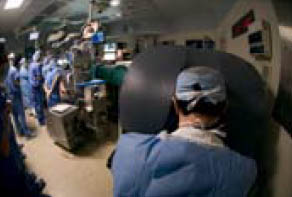 Robotically assisted removal of intracardiac tumors is a type of minimally invasive heart surgery performed with an endoscopic, closed chest approach.
New approaches to minimally invasive heart surgery
What is an intracardiac tumor?
An intracardiac tumor can be any tumor of the heart, either malignant or benign. The most common tumor of the heart is a benign atrial myxoma, which most frequently occurs in the left atrium. It causes symptoms when its growth produces a tumor so large it obstructs blood flow through the heart chambers. This type of tumor increases the risk of stroke. Heart surgery is required to remove the cardiac tumor. Removal of these tumors is almost always curative and greatly reduces the risk of stroke.
Robotically-assisted cardiac tumor surgery: smaller incision
During the robotically-assisted tumor removal procedure, the surgeon's hands control the movement and placement of the endoscopic instruments through small incisions in the left atrium, and the instruments are used to remove the tumor.
If you would like to find out whether you are a candidate for robot assisted cardiac tumor surgery or learn more about minimally invasive heart surgery, contact us or call the Miller Family Heart & Vascular Institute Resource & Information Nurse at 216.445.9288 or toll-free at 866.289.6911. We would be happy to help you.
Robotically assisted heart surgeries
For more information: