What is a da Vinci surgery? What is the da Vinci Surgical System?
A da Vinci surgery is when your surgery is performed using the da Vinci Surgical System, a machine that uses four thin robotic arms. The robotic instruments have a wider range of motion than the human hand. Surgeons can use the surgical system for a variety of procedures.
The machine is made up of three different parts:
The console/control center. Your surgeon operates while seated at a console unit, using hand and foot controls and with a magnified, 3D, high-definition view.
The patient cart. The cart holds surgical instruments and the camera.
The vision cart. This cart has a video screen so that the healthcare providers in the room can see what's happening during the surgery.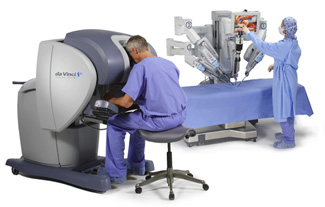 What's the difference between a da Vinci surgery and an open surgery?
Use of the system makes your surgery "minimally invasive" (smaller incisions). The procedure uses small cuts (less than or equal to 1 centimeter long), tiny surgical instruments, fewer stitches and a laparoscope (a telescope) which is a thin tube with a light and a camera lens. This is different than traditional surgeries that use larger, more invasive cuts through skin, tissues and muscles.
What procedures can be performed with a da Vinci surgery?
The da Vinci Surgical System is designed to do several types of surgeries. However, not every type is available in every country, or at every hospital. Talk to your healthcare providers about whether or not your surgeon will use this machine. Possible surgeries include:
Cardiac (heart) surgeries:
Colorectal surgeries:
Crohn's disease.
Colorectal cancer.
Ulcerative colitis.
Abscesses, blockages and ruptures of the large intestine.
Rectal prolapse.
General surgeries (abdomen and digestive tract):
Liver conditions.
Stomach conditions.
Pancreas conditions.
Conditions of the intestines.
Gallbladder conditions.
Gynecology surgeries:
Pelvic pain.
Abnormal bleeding.
Pelvic organ prolapse.
Incontinence procedures.
Incompetent Cervix.
Cancers.
Head and neck surgeries.
Thoracic (chest) surgeries.
Urology surgeries:
Enlarged prostate.
Cancers.
Benign tumors.
How common are da Vinci surgeries?
Worldwide, there have been over seven million surgeries performed using the da Vinci system.
Are da Vinci surgeries available everywhere?
No. The da Vinci surgical system is available only in certain countries. Ask your healthcare provider if the surgeons they work with use one.