About Robotic-Assisted Surgery
About Robotic-Assisted Surgery
What is da Vinci Surgery?
The da Vinci Surgical System allows surgeons to perform minimally invasive surgery with the help of robotic arms. The machine consists of four, thin robotic arms inserted into strategically placed incisions just one to two centimeters long. The surgeon operates while seated at a console unit, using hand and foot controls, and with a 3D, high-definition view of the surgical field. It can simulate an open surgical environment without the physical trauma of large incisions.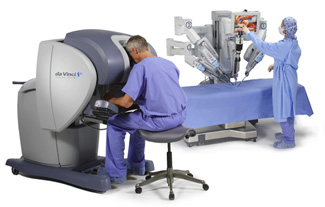 What are the benefits of da Vinci Surgery?
The da Vinci System enables surgeons to perform even the most complex and delicate procedures through very small, precise incisions.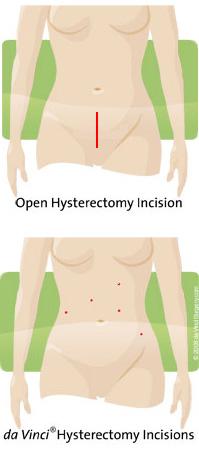 Benefits for patients may include:
Less pain
Less blood loss
Less scarring
Shorter recovery time
Quicker return to normal daily activities
Often offers better clinical outcomes
At Cleveland Clinic, operative times for robotic-assisted procedures have been comparable to laparotomy, with less blood loss, fewer complications and shorter hospital stays.
According to Dr. Tommaso Falcone , a leader in performing minimally invasive gynecological procedures, "Advancements in robot-assisted surgery allow us to bring new treatment options to a larger group of patients. For example, women who were previously not candidates for laparoscopic myomectomy to remove uterine fibroids now have an option that can preserve their uterus and potentially their fertility. This is a huge step forward for women's health."
What procedures can be performed with da Vinci surgery?
The following procedures are available using robot-assisted laparoscopy:
Tubal surgery
Fibroid surgery
Cancer surgery
Hysterectomy
Prolapse and incontinence surgery
Who performs da Vinci surgery?
Robotic-certified members of Cleveland Clinic's Obstetrics & Gynecology staff include:
Gynecology
Ashraf El-Dabh, MD
Julian Peskin, MD
M. Jean Uy-Kroh, MD
David Vexler, MD
Gynecologic Oncology
Robert DeBernardo, MD
Jason Knight, MD
Chad Michener, MD
Peter Rose, MD
Infertility and Gynecology
Urogynecology & Pelvic Floor Dysfunction