Acute Sinusitis
Sinusitis is an inflammation, or swelling, of the tissue lining the sinuses. This article describes those at risk, signs and symptoms, diagnosis and treatments. The symptoms of sinusitis are similar to those of colds and nasal allergies, which makes the diagnosis difficult.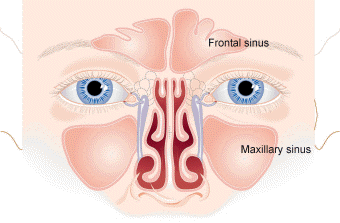 What is acute sinusitis?
Acute sinusitis is a short-term inflammation of the sinuses, most often including a sinus infection. (Sinusitis is also known as rhinosinusitis because the swelling almost always includes nasal tissue as well as sinus tissue.) The sinuses are four paired cavities (spaces) in the head. They are connected by narrow channels. The sinuses make thin mucus that drains out of the channels of the nose, cleaning the nose. Typically filled with air, the sinuses can become blocked by fluid and swell from irritation. When this happens, they can become infected.
How long does acute sinusitis last?
Acute sinusitis lasts less than a month. Your symptoms may go away by themselves within about 10 days, but it may take up to three or four weeks.
What are risk factors for acute sinusitis?
Some people are more likely than others to get acute sinusitis. These include:
People who have allergies.
People who have structural problems with their noses (like a deviated septum) or polyps, which are growths that can hang inside noses or sinus cavities.
People who spend a great deal of time in places where infections happen, like preschools or day cares.
What causes acute sinusitis?
Acute sinusitis is often caused by a common cold or allergies. It can also be caused by a bacterial infection or fungus that causes the sinuses to swell and become blocked.
What are the symptoms of acute sinusitis?
The main symptoms include:
Facial pain/pressure/tenderness.
Stuffy nose.
Thick yellow or green nasal discharge.
Loss of smell and taste.
Congestion/cough.
You may also experience: