Acute Sinusitis
Sinusitis is an inflammation, or swelling, of the tissue lining the sinuses. This article describes those at risk, signs and symptoms, diagnosis and treatments. The symptoms of sinusitis are similar to those of colds and nasal allergies, which makes the diagnosis difficult.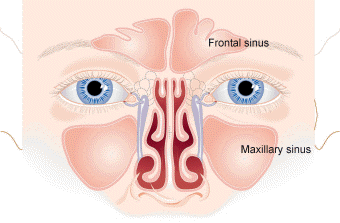 What is acute sinusitis?
Acute sinusitis is a short-term sinus infection. The sinuses are four paired cavities (spaces) in the head. They are connected by narrow channels. The sinuses make thin mucus that drains out of the channels of the nose, cleaning the nose. Typically filled with air, the sinuses can become blocked by fluid. When this happens, they can become infected.
What causes acute sinusitis?
Acute sinusitis is often caused by a common cold or allergies. It can also be caused by a bacterial infection or fungus that causes the sinuses to swell and become blocked.
What are the symptoms of acute sinusitis?
The main symptoms include:
Facial pain/pressure/tenderness
Stuffy nose
Thick yellow or green nasal discharge
Loss of smell and taste
Congestion/cough
You may also experience:
Fever
Ear pain
Headache
Tiredness
Toothache