What is pulmonary vein ablation?
Pulmonary vein ablation (also called pulmonary vein antrum isolation or PVAI), is a treatment for atrial fibrillation. Atrial fibrillation is an abnormal heart rhythm that originates in the top chambers of the heart (atria).
Electrical system of the heart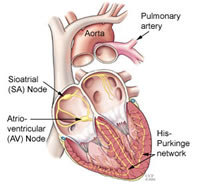 The atria and ventricles work together, alternately contracting and relaxing to pump blood through the heart. The electrical system of the heart is the power source that makes this possible.
Normally, the electrical impulse begins at the sinoatrial (SA) node, located in the right atrium. The electrical activity spreads through the walls of the atria, causing them to contract.
Next, the electrical impulse travels through the AV node, located between the atria and ventricles. The AV node acts like a gate that slows the electrical signal before it enters the ventricles. This delay gives the atria time to contract before the ventricles do. From the AV node, the electrical impulse travels through the His-Purkinje network, a pathway of specialized electricity- conducting fibers. Then the impulse travels into the muscular walls of the ventricles, causing them to contract. This sequence occurs with every heartbeat (usually 60-100 times per minute).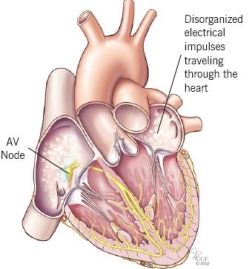 Atrial Fibrillation
With atrial fibrillation, the SA node does not direct the heart's electrical rhythm. Instead, many different impulses rapidly fire at once, causing a very fast, chaotic rhythm in the atria. Because the electrical impulses are so fast and chaotic, the atria cannot contract and/or squeeze blood effectively into the ventricle.
Treatment for atrial fibrillation
The goals of treatment for atrial fibrillation include regaining a normal heart rhythm (sinus rhythm), controlling the heart rate, reducing symptoms, and reducing the risk of blood clots and stroke. Many options are available to treat atrial fibrillation, including lifestyle changes, medications, catheter-based procedures and surgery.
The type of treatment that is recommended for you depends on the severity of your symptoms, prior treatments, and other medical conditions that may affect the risk of treatment. Initially, medications are used to treat atrial fibrillation. The medications may include:
Rate control medications (to slow the heart rate)
Rhythm control medications (antiarrhythmic drugs)
Coumadin (warfarin – an anticoagulant or blood thinner) to reduce the risk of blood clots and stroke