Children's Eye Exams
The importance of children's eye exams is explained and the routine exam is described. Children are referred to the ophthalmologist if they have a visual acuity of less than 20/40 or if there are two or more lines of difference in acuity between both eyes.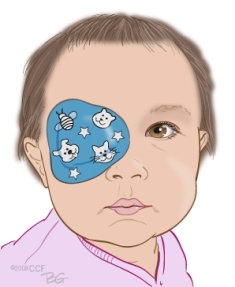 When should children get their first eye examination?
A routine eye examination is a normal part of the physical given to infants and children by their neonatologist or pediatrician. Your baby will be examined at birth for any congenital problems. Though these problems are rare, diagnosis is crucial for your baby's proper sight and eye development. At each well child exam, the pediatrician will check for problems. If you or the child's doctor have any concerns, the child should be referred for evaluation. All children should be screened for amblyopia prior to their fifth birthday. Amblyopia is a condition in which one eye sees poorly and is often successfully treated using glasses, patching, drops, or surgery depending on the cause of the problem.
How should I prepare my child for an eye exam?
Make time to sit down and explain what will happen during the eye exam. Make sure your child knows that he will be asked to look at and identify objects for the practitioner. These could be random pictures, letters, or spots of light on the wall. Explain also that the doctor may put drops in his eyes that will help to see inside of his eyes better, but it will not hurt.
What tests will be done on my child?
At the age of six months, the optometrist will check for nearsightedness, farsightedness, astigmatism, eye movement ability, proper eye alignment reaction to changes in light and darkness (red papillary light reflex), and any general eye health problems. An irregular light reflex may be a sign of abnormalities within the structure of the eye. These could include cataracts (clouding of the lens), how well the eye focuses light, or possibly tumors. At any time, if problems are found during the examination, the child will usually be referred to a pediatric ophthalmologist, who specializes in diagnosing and treating eye conditions in children. Early diagnosis of childhood eye disease is crucial to effective treatment.
For children between the ages of 3 and 5 years, the eye doctor will conduct a physical examination of the eyes. The doctor will also conduct vision screenings using eye chart tests, pictures, letters, or the "tumbling E game" to test the child's visual acuity, or ability to see form and detail of objects. The "tumbling E game," also called the "Random E's Visual Acuity Test," is useful in determining visual acuity for children who cannot yet read. The child is asked to identify the direction that the letter "E" opens to by holding out 4 fingers to mimic the letter "E." Correcting poor visual acuity is very important in a child's sight development.
Helping your child adjust to wearing glasses
A successful visit to the eye doctor is only half the battle of improving your child's sight. Convincing your child to wear his or her prescription glasses is also important. Here are some suggestions for helping your child with this adjustment.
Your child's frames should fit properly, without pinching the ears or nose, or weighing down the face. Check points of contact periodically to make sure that there is no skin irritation.
Make sure your child is wearing the correct prescription, especially if wearing glasses is uncomfortable. An optician or eye doctor will be able to determine the optical accuracy of the prescription.
Start your child wearing glasses for short periods of time and gradually increase the time.
Make the glasses part of the child's daily routine —putting them on in the morning when dressing and taking them off at night before going to bed.
Be sure to use positive reinforcement when the child does wear the glasses.
Signs of poor vision: When does a child need further evaluation?
How will you know that your child needs a more detailed examination or specialized ophthalmologic care? Pediatricians, family doctors, school nurses, and vision-screening personnel have used a variety of criteria for determining which children require more comprehensive eye evaluations by an ophthalmologist. The American Academy of Pediatrics Section on Ophthalmology, in cooperation with the American Association for Pediatric Ophthalmology and Strabismus and the American Academy of Ophthalmology, have developed guidelines for use by all pediatric vision screening professionals:
Children are referred to the ophthalmologist if they have a visual acuity of less than 20/40 or if there are two or more lines of difference in acuity between both eyes. Children 6 years of age and older are referred if vision is 20/30 or less or if there is a two-line difference between the eyes.
Children with a family history of significant childhood eye problems should be examined early in life for the presence of similar problems. Your pediatrician will complete a vision screening evaluation, but a detailed examination is best performed by the pediatric ophthalmologist.