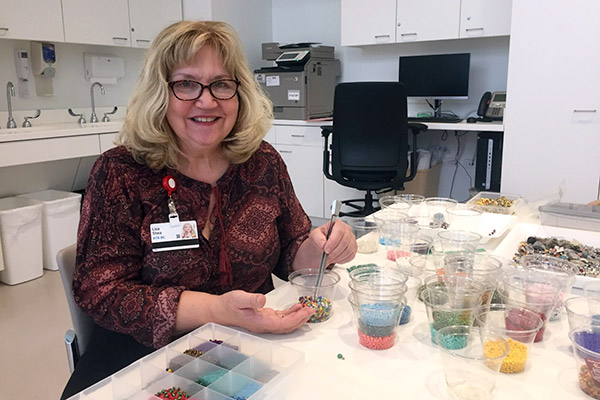 Board-certified art therapist Lisa Shea, ATR- BC, helps Cleveland Clinic patients with terminal cancer create original works of art that will serve as mementos for loved ones.
Examples include fingerprint necklaces, recorded audiobooks and 3D plaster castings of a patient's hand holding the hand of a loved one.
Now, thanks to funding from the inaugural round of the Cleveland Clinic Catalyst Award Grant Program, Ms. Shea is helping even more patients create these legacy projects.
Ms. Shea, who works at the Cleveland Clinic Cancer Center, was one of 29 Cleveland Clinic caregivers who received funding for projects guaranteed to make a difference within one year.
She says she originally got the idea for the legacy projects when a patient she had grown close to expressed a deep-seated concern.
"He had children of varying ages, and was worried his youngest son wouldn't remember him," Ms. Shea says. Their conversation turned into a series of legacy projects that brought the whole family together.
Art therapy "is not just about the product. It's about the process," she says. "I view the art as a vehicle for connection."