How it Works
How it Works
The combined power of Cleveland Clinic Annual Fund gifts provides grants to Cleveland Clinic caregivers– doctors, nurses, social workers, researchers, and everyone in between, at all locations – who are leading innovative projects that serve our patients and local communities.
Your gift might provide a visionary researcher the seed money for a small-scale study that leads to future breakthroughs.
Maybe your gift will help a team of pediatricians launch a pilot program that brings free health screenings to public schools.
Or perhaps your gift will support the ongoing work of Cleveland Clinic's art and music therapists, who make long hospital stays more enjoyable, therapeutic and inspiring for patients of all ages. Their work would not be possible without the generosity of donors like you.
How Your Gift Makes an Impact
Cleveland Clinic is at the forefront of healthcare, whether it's through groundbreaking medical discoveries, superior patient services or innovative population health programs.
Your donation will help us reach new heights.
And here's our promise to you: 100% of your gift to the Cleveland Clinic Annual Fund will make an impact within one year. 100% will support projects that expand patient services, lay the groundwork for medical breakthroughs, or implement community health and wellness programs.
And 100% of the benefits will last for years to come.
That's the power of every gift.
Grant Recipients
Grant Recipients
In August 2018, over 265 Cleveland Clinic caregivers applied to the inaugural round of the Cleveland Clinic Annual Fund grant program. A Caregiver Review Board led by Chief of Staff Herbert Wiedemann, MD, evaluated each application and selected 29 projects as grant award winners.
ACTiVHOS™ Youth Wellness Program
This program encourages youth to be physically active and adopt healthy behaviors by integrating fun, educational dialogues and fitness activities with incentive-based awards and prizes. The program is fully bilingual (Spanish) and was IRB-approved to evaluate outcomes.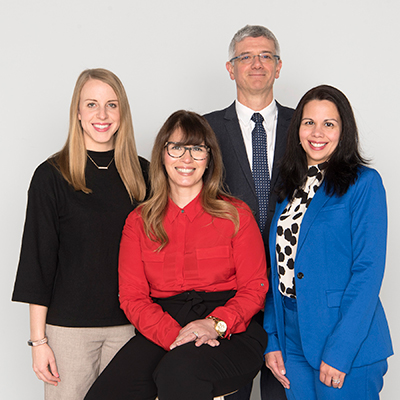 Pictured Left to Right: Jennifer Hyland, RD, Diana Gueits, MBA, Bartolome Burguera, MD, PhD, Michelle Del Toro, MPH, MALS
Michelle Del Toro, MPH, MALS
Augmented Reality to Assess Resectablity Of Ovarian Cancer
This project will advance the use of augmented reality (AR) in the operating theater. Wearing AR goggles, a surgeon can walk around the patient to visualize anatomy from any perspective and digitally subtract or enhance organs at will.
Robert DeBernardo, MD
Bereavement Comfort Kits
The Child Life team will create comfort kits with developmentally appropriate journals and resources on children's grief, as well as expressive art items that provide opportunities to create keepsakes.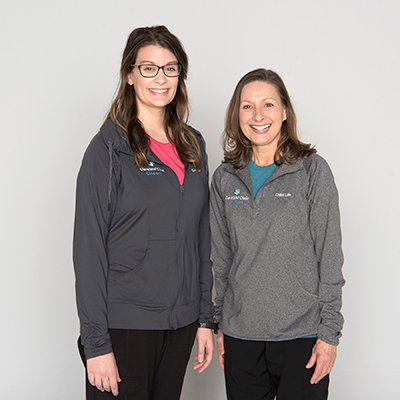 Tina Ulanowski, M Ed, CCLS and Michelina Bacisin, BA, CCLS
Cancer Survivor's Support Group
The group provides support and empowerment for cancer survivors. Through conversations, art therapy sessions, special outings and guest speaker lectures, this tight-knit group builds strength together.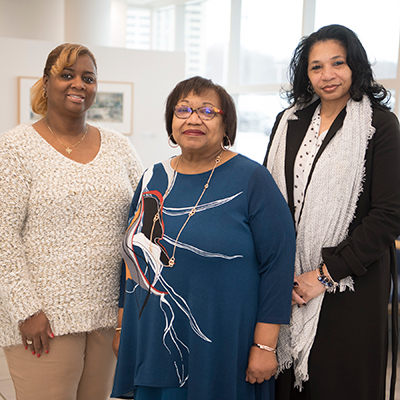 Pictured Left to Right: Dionne James, MSN, RN, CNOR, Gayle B. Ivory, LSW, Tisa Thompson, Patient Liaison
Gayle Ivory, Regional Operations
Care Accelerator for Advanced Kidney Disease in Disadvantaged Populations
This project will use computational tools to identify individuals with unrecognized advanced kidney disease. It will also establish a care plan that: 1) improves transitions from advanced kidney disease to the initiation of hemodialysis; 2) reduces barriers, and 3) promotes kidney transplantation.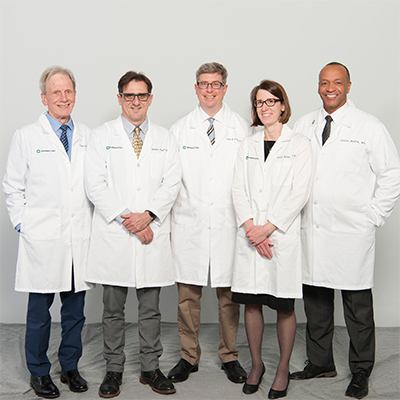 Pictured Left to Right: John Sedor, MD, Emilio Poggio, MD, John O'Toole, MD, Anne Huml, MD, Charles Modlin, MD (Not Pictured: Hernan Rincon-Choles, MD and Jesse Schold, PhD)
John O'Toole, MD
Caring for Caregivers
To give parents a respite from caring for children with complex medical needs, this team will host a series of six free evening events that include an activity and meal just for parents, as well as childcare (and children-friendly activities).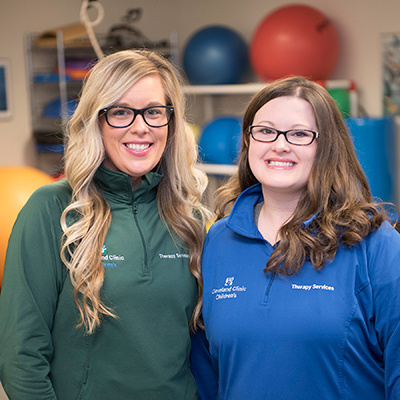 Pictured Left to Right: Jennifer Negrey, MOT, OTR/L, BCP, CLT and Julie Jasinski, MOT, OTR/L
Jennifer Negrey, MOT, OTR/L, BCP, CLT
Children's Hospital Comfort Champions
This project will help make vaccines and needle procedures less scary and more comfortable for pediatric patients through the use of distraction kits, novel devices and provider training.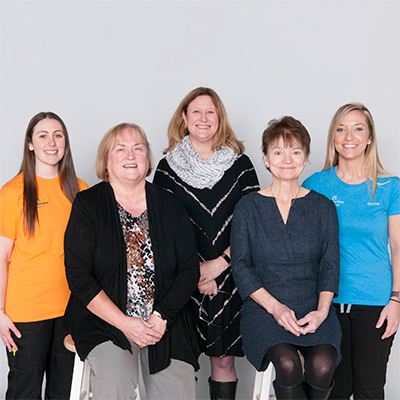 Pictured Left to Right: Diana Swinehart, MS, CCLS, Salena Ramsey, BA, CCLS, Shannon Sonnhalter, BS, CCLS, Jane Hartman MSN, APRN-PNP-BC, Judith Meyer, RN, CPN
Shannon Sonnhalter, CCLS
Cleveland Clinic Hospice Virtual Reality Headset Program
Virtual reality software will provide hospice patients with the ability to engage in interactive, once in a lifetime experiences such as riding a rollercoaster or walking with elephants.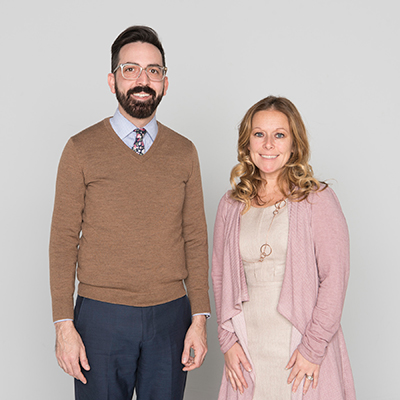 Pictured Left to Right: J. Brandon Walters, MD and Jessica Marzulli
Jessica Marzulli, Medical Operations
Clinical 3D Printing for Pediatric Congenital Heart Disease
The ability to hold an exact replica of the heart with these 3D printed models enables the surgeon to better examine the anatomy and design the appropriate surgery.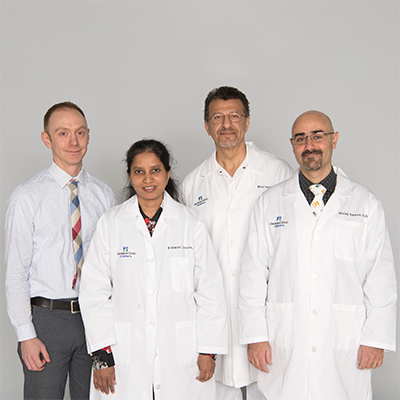 Pictured Left to Right: Ryan Klatte, BSBME, Rukmini Komarlu, MD, Hani Najm, MD, Malek El Yaman, MD
Ryan Klatte, Lerner Research Institute
Contribution of Maternal Genetics to In Utero Inflammation Mediated Autism Spectrum Disorder
This study will provide proof of concept for the importance of maternal genetics in determining severity of in utero inflammation and incidence/severity of Autism Spectrum Disorder (ASD).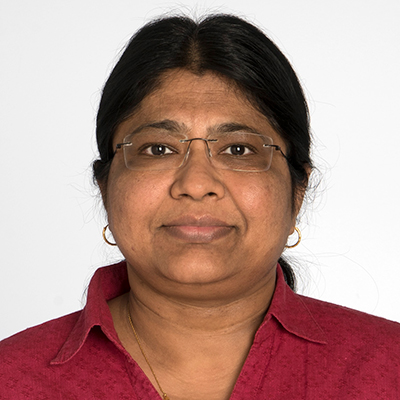 Ritika Jaini, PhD, Lerner Research Institute
Determining the Anatomical Factors Associated with the Quality of the Rectal Resection in Curative Rectal Cancer Surgery
The aim of this study is to determine the anatomical factors associated with the quality of the rectal resection in curative rectal cancer surgery to improve the quality of rectal cancer surgical outcomes.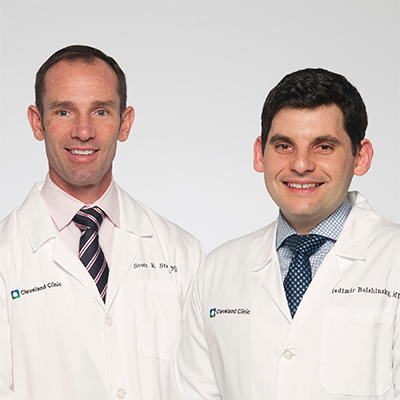 Pictured Left to Right: Scott Steele, MD and Vladimir Bolshinsky, MD
Vladimir Bolshinsky, MD
Discovery of Gene Mutations that Govern Sensitivity to Radiation: Advancing Precision Radiotherapy
Unfortunately, the impact of most gene mutations on radiotherapy remains unknown. This project will conduct a large profiling effort to identify gene mutations that affect survival to radiation therapy.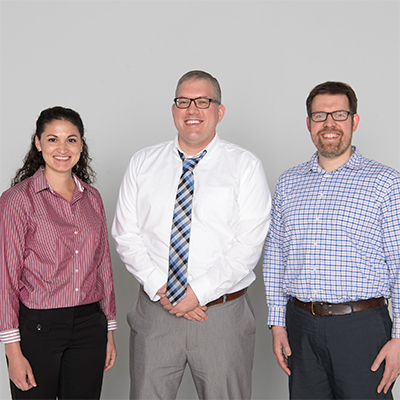 Pictured Left to Right: Jessica Castrillon, MS, Brian Yard, PhD, Aaron Petty, MS
Brian Yard, PhD, Lerner Research Institute
Empowering People in Warrensville Heights with Home Blood Pressure Monitors
This project will serve to increase individual awareness of blood pressure and help facilitate people taking better control of their own health.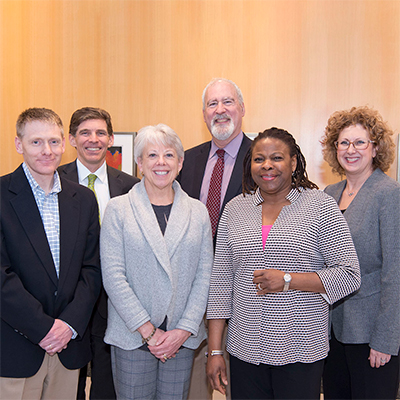 Pictured Left to Right: Jonathan Leizman, MD, David Pauer, MPH, Patricia Zirm, RN, BSN, MPH, Bruce Rogen, MD, Margaret McKenzie, MD, MS
Jonathan Leizman, MD
Exoskeleton for MS Rehabilitation
Exoskeletons are a novel technology that compensate for severe weakness by providing support for standing and power- assisted movement tailored to a person's abilities and needs. This project will fund a preliminary study to evaluate the therapeutic use of exoskeletons for patients with MS.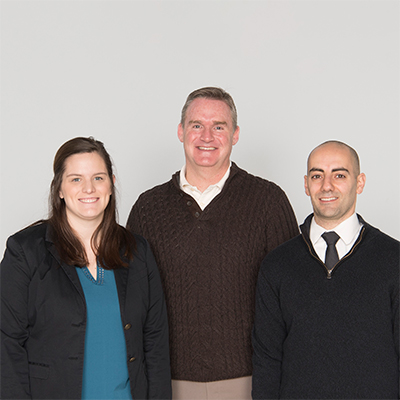 Pictured Left to Right: Kellie Adams, PT, DPT, Matt Sutliff, PT, DPT, MSCS, Randy Karim, PT, DPT, NCS, CBIS (Not Pictured: Project lead, Francois Bethoux, MD)
Francois Bethoux, MD
First Voices
"First Voices" is a program where staff will use a recording program to record parents' voices to be played at various time throughout the day for their children in the NICU to foster the attachment between parents and their newborn and aid in newborn development.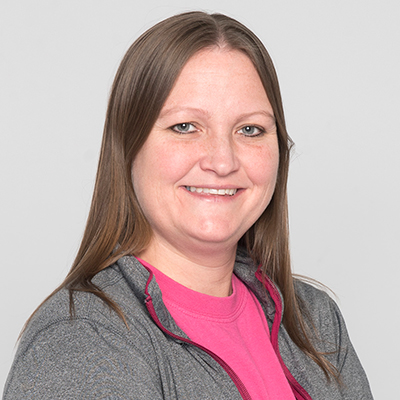 Jessica Timms, MS, CCLS
Homelessness Initiative
This project aims to optimize how homeless patients are being identified and treated within the Cleveland Clinic Health System. By taking care of the homeless individuals around us, and connecting them with other community partners, we can help improve the Fairfax neighborhood and Cleveland in general.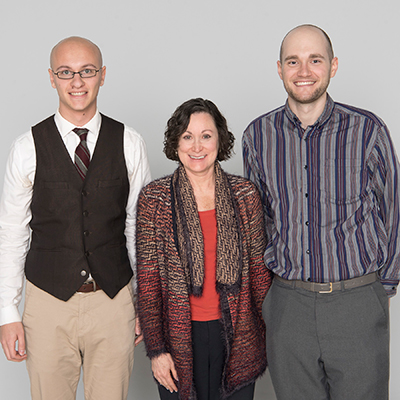 Pictured Left to Right: Jeremy Weleff, DO, Karen Jacobs, DO, Jesse Wilson, DO
Jeremy Weleff, MD
Kids Try MRI and Increasing Adult Patient Experience
This project will promote an overall more positive MRI experience by decreasing anesthesia, purchasing more headphones and implementing interactive demonstrations with pediatric patients.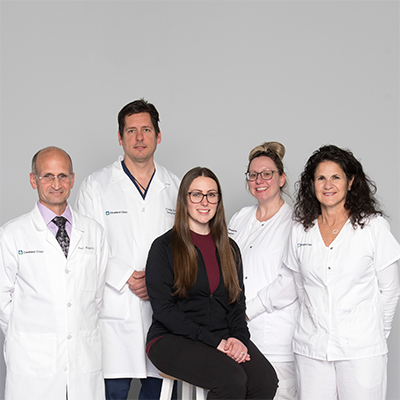 Pictured Left to Right: Paul Ruggieri, MD, Craig Lisicki, RT (R)(MR)(MRSO), Salena Ramsey, BA, CCLS, Julie Byrne, MSN, RN, CMSRN, Phyllis DeSantis, BSN
Salena Ramsey, BA, CCLS
Legacy Projects for Cancer Patients: Using Arts to Create Memories
This project will provide art supplies for use with late stage cancer patients so that they may leave a meaningful legacy project for their families.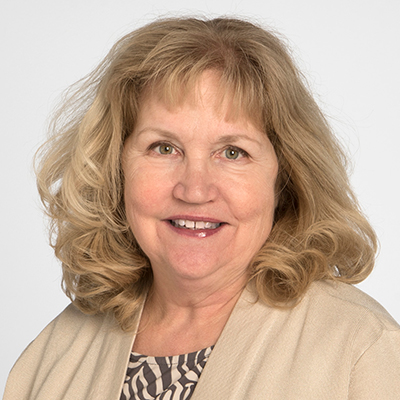 Lisa Shea
Next Level Necessities for Hospice of Visiting Nurse Service
The money will be utilized for important patient programs that would not otherwise have funding, including Camp Promise, a summer camp for children ages 6-11 years old who have suffered a loss. The popular camp offers music, art and pet therapy activities.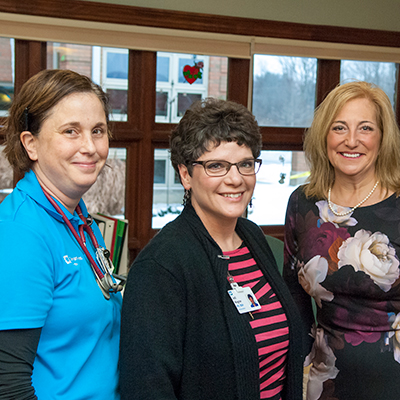 Pictured Left to Right: Jennifer Duckett, RN, Jodi Wagner, Laura DePiero, RN, BSN, CHPN
Laura DiPiero
Nitrous Oxide for the Treatment of Complex Regional Pain Syndrome
Complex Regional Pain syndrome CRPS can be exceedingly difficult to treat, and current approaches come with lots of potentially harmful side effects. Nitrous Oxide could be a much more comfortable and safe treatment option.

Pictured Left to Right: Jijun Xu, MD, PhD and Jason Hale, MD
Jason Hale, MD
Overcoming Barriers: Succeeding with Sickle Cell
This project will provide wellness bags, pillbox lock, and establish a financial hardship fund to help remove barriers for patients with Sickle Cell Disease (SCD) and to help them better manage their health.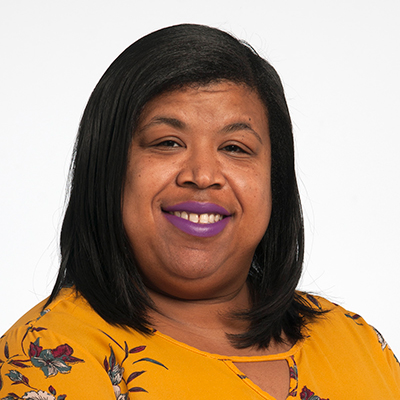 Milvon Wright, MSW, LSW
Patient Experience Early Immersion Program
A partnering program that pairs medical students with patients who live with chronic conditions (such as Parkinson's disease) to meet and interact one-on-one outside of typical clinical encounters.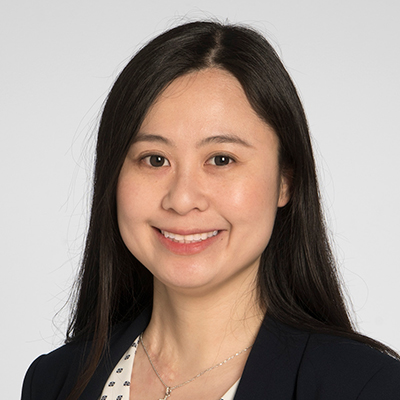 Xin Xin Yu, MD
Project BASIC
BASIC stands for "Building A Sensory Inclusive Culture." This project will purchase sensory items to help children with sensory issues be more comfortable during their hospital visits. It would also educate caregivers on creating a better environment for these children.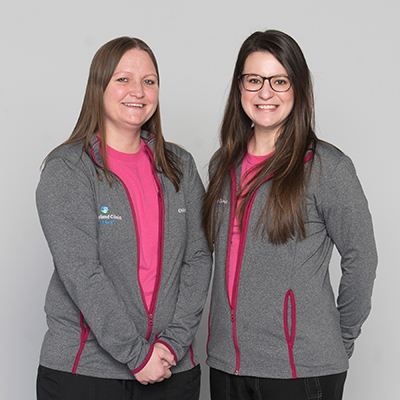 Jessica Timms, MS, CCLS and Katie Eureka, CCLS
Protective Equipment and Training Program
Specialized equipment will be purchased and made readily available for caregivers treating patients with high levels of severe aggression and self-injurious behaviors.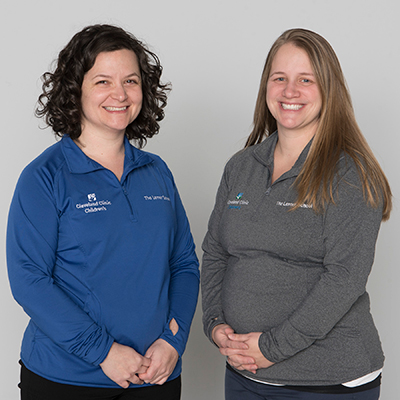 Pictured Left to Right: Rebecca Rothstein, MA, BCBA and Laura Howk, MS
Rebecca Rothstein, MA, BCBA
RISE in Cleveland
There is a serious shortage of women and minorities in biomedical research. By training and educating RISE students, we hope to develop a diverse pipeline of talent for the future.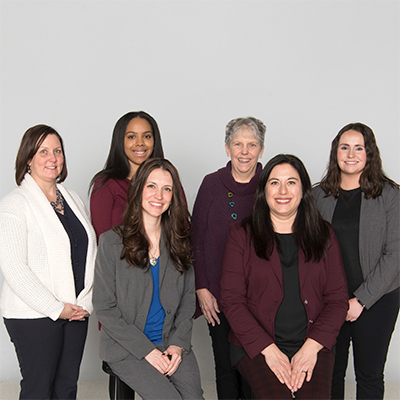 Pictured Left to Right: Kim Swaggard-Svec, BA, MEd, Aziah Chavers, MBA, Angela Steitz, MBA, Donna Driscoll, PhD, Michelle Perez, MA, Janet Hill, BA
Donna Driscoll, PhD, Lerner Research Institute
Sarcoma Patient Fund
To receive optimal treatment, sarcoma patients need to remain close to the hospital for an extended period of time. Current resources such as the Ronald McDonald House are often at capacity. This fund will alleviate financial hardship for patients who need specialty sarcoma care at the Cleveland Clinic.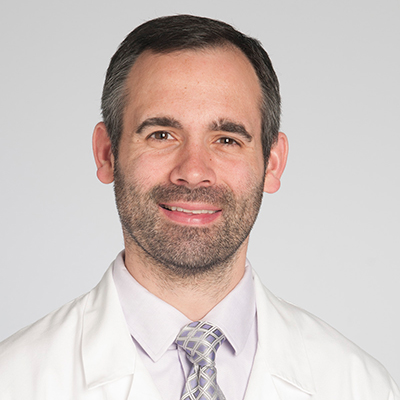 Nathan Mesko, MD
The Influence of Amyloid on Cognition
Cognitive decline has been reported as the most bothersome symptom to patients and their families. There has been limited research and few breakthroughs regarding treatment for cognitive decline in PD, and this study would work with already recruited patients.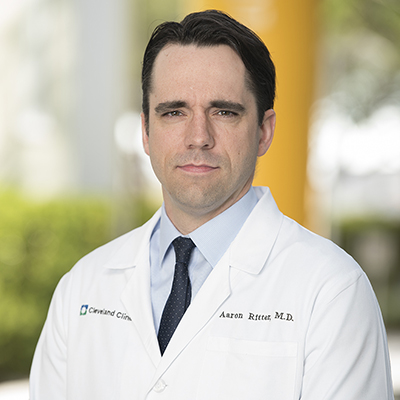 Aaron Ritter, MD
Tracheostomy Care Path
This project will improve quality of care, decrease readmissions and complication rates, save money, and ensure appropriate de-cannulation per standardized protocol.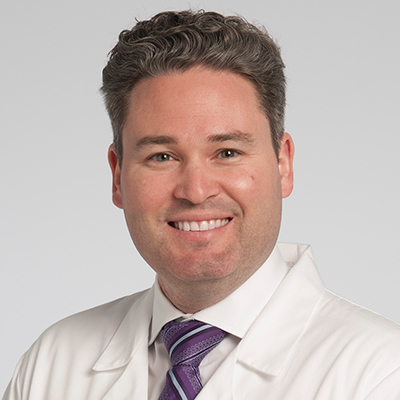 Brandon Hopkins, MD
Using Virtual Visits to Improve Patient Education and Satisfaction with Lung Transplantation
This project will study the utilization of a Virtual Visit program for lung transplant patients to improve patient engagement, satisfaction and retention of transplant education material.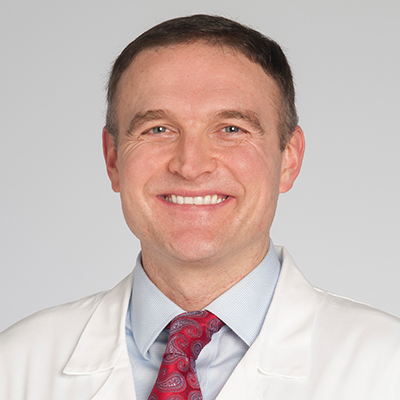 Jason Bernard Turowski, MD