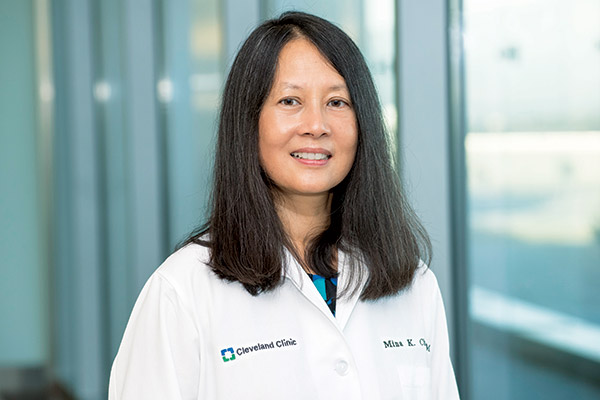 There are approximately 6 million people in the U.S. living with Atrial Fibrillation (Afib), an irregular beat in the heart's upper chambers.
"Once it starts, AFib typically worsens over time, with episodes becoming longer and less likely to stop on their own," says Mina Chung, MD, Director of the Center of Excellence in Cardiovascular Translational Functional Genomics at Cleveland Clinic. "Despite intense effort, there are few effective and safe therapies for AFib."
Dr. Chung's team, which includes specialists from the Lerner Research Institute and the Sydell and Arnold Miller Family Heart, Vascular & Thoracic Institute, has been working collaboratively for nearly 20 years. The researchers have published more than 40 major papers together, making significant contributions to the field of AFib mechanisms and cardiac genomics.
With philanthropic support from a variety of generous donors, they had the funds in 2017 to establish a Center of Excellence, which proved to be a catalyst for additional funding.
In 2018, the American Heart Association (AHA) awarded their center a $3.7 million grant for atrial fibrillation research. Led by Dr. Chung, the multidisciplinary team will focus on questions in AFib care, seek new therapies, and test lifestyle change programs that show promise in preventing worsening AFib.
Cleveland Clinic was one of six research institutions across the country selected to receive funding from the AHA's new AFib Strategically Focused Research Network. The goal is to improve outcomes for patients with AFib.
"New therapies for AFib are critical," Dr. Chung says, "and we are hopeful this award will have an extraordinary impact by leading to improved, personalized therapies for patients with this debilitating condition."
She notes that her team also is working on extending this research to other conditions, including vascular, aortic, coronary, heart failure, pericardial and inherited cardiovascular diseases.