Major Announcement at Dedication of Health Education Campus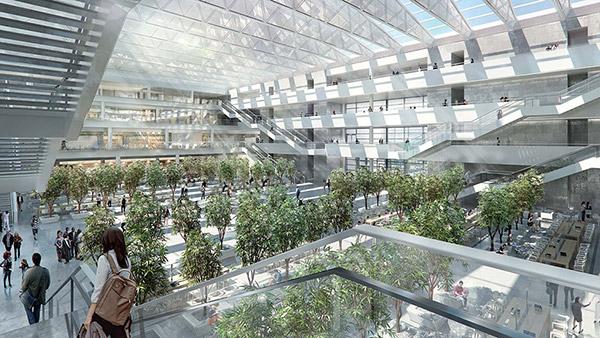 Gift From Bob and Mindy Rich Honors Legacy of Former Cleveland Clinic CEO and President Toby Cosgrove, MD
At the dedication of the Health Education Campus (HEC) on April 9, 2019 at Cleveland Clinic, Bob Rich, outgoing Chair of Cleveland Clinic's Board of Directors, publicly announced that he and his wife, Mindy, have made a gift to honor the vision and leadership of Toby Cosgrove, MD, former Cleveland Clinic CEO and president.
The significant donation names the Delos M. Cosgrove Courtyard inside the Sheila and Eric Samson Pavilion. The 80-foot high, 27,000-square-foot atrium-style courtyard is centrally located in the structure and serves as the heart of the building.
"In making our gift, we believe we found the right way to ensure that Toby's impact remains a part of Cleveland Clinic for all time," said Bob Rich, Chairman of Rich Products Corp. "We saw the excitement on Toby's face each time he talked about the potential of this education collaboration between Cleveland Clinic and Case Western. We knew from day one that this healthcare education campus was deeply personal and that there was no stopping him in making it happen."
Mr. Rich and Dr. Cosgrove are longtime friends who have worked tirelessly to advance Cleveland Clinic. Since 2011, when Mr. Rich took on the role of Chair of the Board of Directors, the two have overseen the global expansion of the health system, with the opening of Cleveland Clinic Abu Dhabi in 2015 and London, which is set to open 2021. Under their guidance, Cleveland Clinic's presence in Northeast Ohio and Florida has expanded as well. The two men share a visionary approach to Cleveland Clinic and a strong commitment to furthering its mission to provide better care of the sick, investigation into their problems, and further education of those who serve.
The partnership between Cleveland Clinic and Case Western Reserve University (CWRU) to create the HEC was championed by leaders at both institutions. The project is funded through generous philanthropic support, with more than $275 million raised for the $515 million project.
The leading-edge 477,000-square-foot campus will welcome students from Cleveland Clinic's Lerner College of Medicine and CWRU's dental, nursing, medical and applied social sciences schools. The building also will house an innovation laboratory, where students and faculty can develop and test new technologies; digital anatomy labs; and an augmented reality simulator allowing students to learn how to treat patients in an ambulance and an emergency transport helicopter.