How do I start a virtual visit?
How do I start a virtual visit?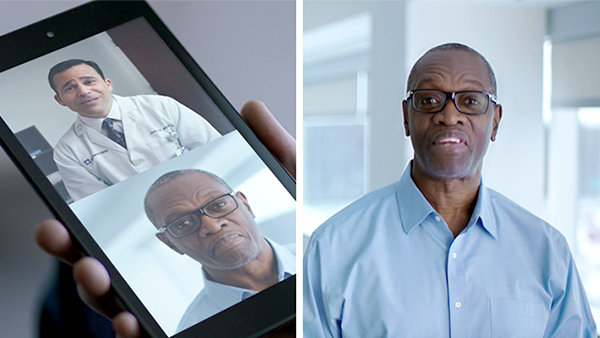 You don't need an appointment. Just a connection.
When you need to find care, let us bring a healthcare provider to you. From your mobile device or computer, it's never been easier for you and your family to instantly access world class care at home or work. For nonemergency concerns, patients ages 2 and older can get a diagnosis or prescription online from a healthcare provider in about a 10-minute virtual visit. Our Express Care Online service allows you to choose between an on demand visit right away or to schedule a virtual follow-up visit for a later date. If you encounter any technical difficulties during your Express Care Online virtual visit please call 1.866.569.7530 (US toll free), any time 24/7.
What are the benefits of virtual visits?
Fast and Convenient: See a doctor by live video and get a diagnosis from your home or work instead of driving to a medical office. When appropriate, you also can get a prescription to the pharmacy of your choice.
Affordable: Virtual visits may be a covered benefit, depending on your insurance company and plan. Without insurance, the cost of a virtual visit starts at $55.
Secure: Your personal health information is safe and sound during your virtual visit.
Scheduled Virtual Visits
Scheduled Virtual Visits
The current coronavirus (COVID-19) outbreak has caused us to postpone many in-person appointments at Cleveland Clinic Florida until further notice. But know that we're still always here for you, making sure you have a way to schedule virtual follow-up visits with your healthcare providers at Cleveland Clinic Florida.
During this public health emergency, the Department of Health and Human Services (HHS) has temporarily relaxed the Health Insurance Portability and Accountability Act of 1996 (HIPAA) laws. This means you have more options to connect online with your healthcare provider, including many popular video chat apps that aren't normally available for virtual visits.
Many Cleveland Clinic Florida primary and specialty care providers are now able to offer scheduled virtual visits for a variety of concerns and conditions.
Below are options you can use for these scheduled virtual visits with a Cleveland Clinic Florida provider. The particular options may vary depending on your healthcare provide or the type of specialty care that you need.
You may also call 877.463.2010 to have our appointment team schedule your virtual visit, and get you instructions on how to get started.
Preferred (Secure) Option
Cleveland Clinic Express Care® Online
Currently, the following specialties are providing scheduled virtual visits through Express Care Online:
Internal Medicine and Family Medicine (Primary Care)
Endocrinology & Metabolism
Orthopaedic Surgery & Rheumatology
Additional Options
All primary and specialty-care providers can now offer scheduled virtual visits using these options:
Facetime (iOS)
Duo (Android)
Spanish-speaking providers or translators are available for scheduled virtual visits. Please ask about this option when you schedule your virtual visit.
Please note: These additional options are "unsecure" third-party applications, which can potentially introduce privacy risks. Patients should enable all available encryption and privacy modes when using them. Not all of these choices may be available. Your provider will let you know what options are available and what arrangements you'll need for your appointment.
Frequently Asked Questions
Frequently Asked Questions
When do I use this service?
Special situations:
I feel like I should probably see a doctor, but can't really fit it into my over-booked schedule.
I'm flying tomorrow and can't get out of work.
It's difficult for me to get a doctor's appointment.
I'm not sure if I should go to the ER or not.
My doctor's office is closed and I don't want to go to an urgent care clinic or hospital.
I just moved and don't know any doctors in my area.
I just need a second opinion.
I'm between jobs and have no coverage.
I have a question about a loved-one's health and would like some advice.
Commonly treated conditions:
Allergies (Seasonal)
Asthma (For Adults Only)
Back Strains and Sprains (For Adults Only)
Bronchitis (For Adults Only)
Conjunctivitis (Pink Eye)
Common Cold
Influenza (Flu)
Minor Burns or Lacerations
Painful Urination (For Adults Only)
Rashes
Sinus Infections
Upper Respiratory Illness
Urinary Tract Infections (For Adults Only)
Yeast Infections (For Adults Only)
Can they diagnose my condition?
Yes, if medically appropriate. The healthcare provider will decide based on what he or she learns during your consultation if a diagnosis is possible, or if you need further examination (e.g. tests, a physical exam, another specialty visit) just like an in-office visit.
Can they write me a prescription?
Yes, if medically appropriate, and allowed in your state. Prescription writing is at the healthcare provider's discretion. A consultation is not a guarantee of prescription.
What happens during an actual virtual visit?
The first time you use a virtual visit provider you will need to set up an account with Cleveland Clinic Express Care Online. You will need to complete the patient registration process to gather medical history, pharmacy preference, primary care physician contact information, insurance information and payment information.
Each time you have a virtual visit, you will be asked some brief medical questions, including questions about your current medical concern. If appropriate, you will then be connected using secure live audio and video technology to a doctor licensed to deliver care in the state that you are in at the time of your visit. You and the doctor will discuss your medical issue, and if appropriate, the doctor may write a prescription* for you.
*Prescription services may not be available in all states.
What information will I need to provide as part of the virtual visit registration?
To register, you will need:
Email address
State in which you live
Date of birth
Current phone number
Is my virtual visit covered by insurance?
Most insurance companies are paying for virtual visits for COVID-19 positive diagnoses. Cleveland Clinic will waive financial responsibility you may have. For services for non-COVID-19 positive diagnoses, some insurance companies are paying for virtual visits. Cleveland Clinic will only bill you for your financial responsibility after we have billed your insurance. Insurance companies are beginning to change their coverage of virtual visits for non-COVID-19-related symptoms, so it is best to confirm your benefits with your insurance company prior to care. Virtual visits are still an option for you, even if your insurance company does not cover it.
How can I obtain a receipt for my virtual visit?
Receipts can be accessed from the Express Care Online portal under your account information, or through MyChart. If more detail is needed to submit a claim to your insurance company, please call 866.621.6385 and speak to a customer service representative.
Are additional languages (besides English) supported by virtual visit provider groups?
Yes, but only for providers that note they can speak other languages.
Can I use Express Care Online when I travel outside the United States?
No, the patient must be within the United States for their visit.
Can patients who live outside the United State use Express Care Online?
Yes, but only if they are in the United States during the time of their visit, or if they are seen in a Cleveland Clinic facility outside the U.S.
Need help getting started?
Need help getting started?
Download our step-by-step guides to help you finish setting up your account for your upcoming scheduled virtual visit.