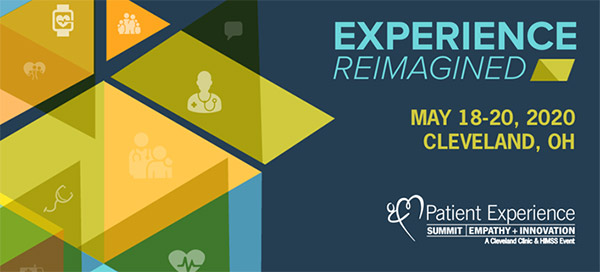 The Patient Experience Summit is celebrating its 11th year on May 19 & 20, 2020 with preconference symposiums on May 18. Cleveland Clinic is once again partnering with HIMSS (Healthcare Information and Management Systems Society) to create another exciting event!
Register Now
About This Year's Summit
This year's theme is "Experience Reimagined", which will explore honest commentary on what has and hasn't worked in the movement to improve the healthcare experience through empathy and innovation. The annual summit provides a forum for industry leaders from around the world to work together to deliver the best clinical, physical and emotional experience to patients and families. From the keynote speakers and diverse workshops, to immersive experiences and networking opportunities, the conference is devoted to improving the human experience and reflect on what's still needed. It convenes leading physicians, executives and caregivers to examine what patients and families want and how quality, safety, experience, design and tech can be reimagined to build the ideal patient experience.
Featured topics include:
Access
Technology
Design thinking
Leadership
Quality
Innovation
Burnout
Communication
Continuous Improvement
Engagement
Nursing
Workplace safety
Reimagine the Care Experience
Reimagine the Care Experience
Led by co-chairs, Adrienne Boissy, MD, MA and Kelly Hancock, DNP, RN, NE-BC, the summit will address which systems, tools and insights revolutionize the role of the patient and the caregiver.
We'll explore patient perspectives and clinical considerations to understand how empathy and innovation must be incorporated as integral pillars to deliver the best clinical, physical and emotional experience in healthcare.