Overview
Overview
Developed, tested, and refined across the Cleveland Clinic Health System, The Cleveland Clinic Continuous Improvement Model (CCIM) enables us to create practices through which every caregiver is capable, empowered, and expected to make improvements every day.
Continuous Improvement helps improve all aspects of our care including:
Patient Safety
Patient Quality
Patient Experience
Caregiver Experience
Affordability
Over the last 5 years, we have successfully engaged over 10,000 caregivers across clinical and nonclinical areas, inpatient and outpatient, across specialties and locations using this model.
About Us
The Continuous Improvement Department is a group of professionals with backgrounds in lean, six sigma, and project management. We support the enterprise by building capability for all caregivers to solve problems. Led by our Chief Improvement Officer Dr. Lisa Yerian, Associate Chief Improvement Officer Dr. Sarah Sydlowski, and Senior Director of Continuous Improvement Tony Blamer, this team aligns their support to the organization's priority areas.
To contact us, email improve@ccf.org.
Improvement Model in Action
Improvement Model in Action
Continuous Improvement is transforming the way Cleveland Clinic caregivers approach their work. It is a way of thinking supported by tools that engages caregivers to deliver better quality at a lower cost.
Cleveland Clinic is working to build a culture in which every caregiver is empowered and expected to make improvements every day. Those improvements come in all sizes and take place in every corner of our organization.
Download a copy of the Cleveland Clinic Improvement Model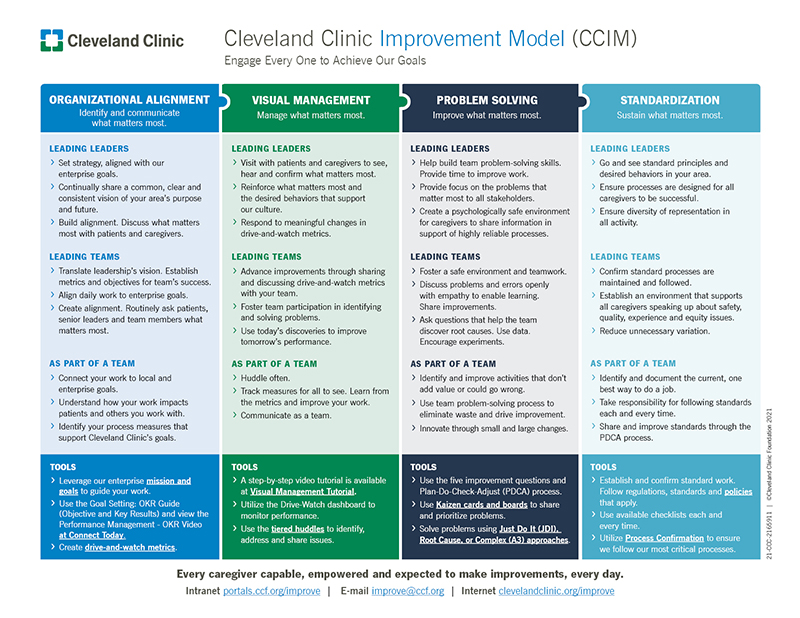 Additional Information
See and hear the cultural impact of the improvement model on both our patients and caregivers as our CEO visits with the teams across the enterprise.
Publications
Publications
Cleveland Clinic Improvement Model in Writing
Lean Enterprise Institute – the path to create the model & view from the ground floor
Mark Graban's Blog – the elements of the model and their tie to best practices
Association for Talent Development
Catalysis – Inspiring Healthcare Leaders Featured Article